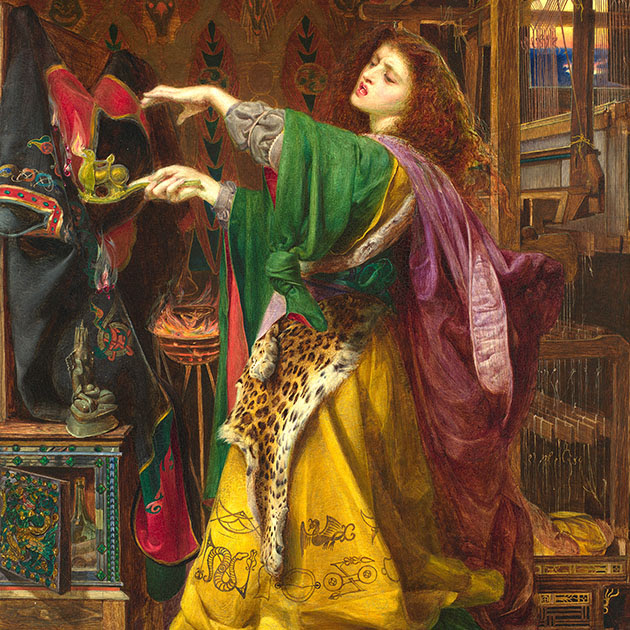 In these Dickensian times as the rich get rich and the poor get poorer, it seems only fitting that the Seattle Art Museum present a new exhibit that showcases the glorious best of Victorian art. It's their soon to open Victorian Radicals: From the Pre-Raphaelites to the Arts & Crafts Movement (June 13–September 8, 2019) which will feature paintings, drawings, textiles, jewelry and decorative arts from a vast array of major Victorian artists like Edward Burne-Jones, William Holman Hunt, John Everett Millais, William Morris, and Dante Gabriel Rossetti. 
It's less than than two weeks until the free Community Opening Celebration from 5–9 pm on opening day on Thursday, June 13th at SAM, 1300 1st Avenue in downtown Seattle.
Even though it's a free event you should reserve your spot and register for your free tickets here:
Bring your family and friends—the whole community is invited! Celebrate the opening of Victorian Radicals: From the Pre-Raphaelites to the Arts & Crafts Movement with a free public opening featuring live performances, music, and art making!

5:30-7:30 pm
Join the Seattle JazzEd Girls Ellington Project for a special Art of Jazz performance! The ensemble is composed of female-identified students grades 9-12 from across Seattle, under the direction of Kelly Clingan.

7:30-9 pm
Jazz vocalist Gail Pettis and her band will deliver soulful renditions of American Songbook songs and other classics.

All Night Long

Help grow our flowering installation inspired by the works in Victorian Radicals. Use recycled metals to emboss, cut, and color with artist Jennifer Lawrence Bennett.

Create an immersive wallpaper pattern inspired by William Morris combining technology, ecology and design with artist Allison Kudla, PhD.

Take art out side the museum and collaborate with artist Gabrielle Abott as she creates a chalk-based work inspired by the works in Victorian Radicals.

Free and open to the public; RSVP requested
There will be all sorts of special events for this show all summer long including something called
The Great Victorian Radicals Bake Off
on June 20th that involves local bakeries making grand Victorian desserts….and, the Victorians were known for their over the top confections.
Here's more info on this fascinating exhibit:

The Seattle Art Museum presents Victorian Radicals: From the Pre-Raphaelites to the Arts & Crafts Movement (June 13–September 8, 2019), exploring how three generations of rebellious British artists, designers, and makers responded to a time of great social upheaval and an increasingly industrial world. Organized by the American Federation of Arts and the Birmingham Museums Trust, the exhibition features 150 works from the collection of the Birmingham Museum of Art—many of which have never been shown outside of the United Kingdom—including paintings, drawings, books, sculptures, textiles, stained glass, and other decorative arts. They reveal a passionate artistic and social vision that revolutionized the visual arts in Britain.

Victorian Radicals features work by notable Pre-Raphaelite and Arts & Crafts artists including Ford Madox Brown, Edward Burne-Jones, William Holman Hunt, John Everett Millais, William Morris, and Dante Gabriel Rossetti. Playing out against the backdrop of late 19th-century England, these influential movements were concerned with the relationship between art and nature, questions of class and gender, the value of the handmade versus machine production, and the search for beauty in an age of industry—all relevant issues in our current era of anxiety amid rapidly evolving technologies.

"This exhibition is perfect for Seattle right now," says Chiyo Ishikawa, SAM's Susan Brotman Deputy Director for Art and Curator of European Painting and Sculpture. "These artists wanted art to infuse every aspect of life, believing it could be a force for social good. Somewhat paradoxically, they looked back to England's medieval past for inspiration, revering nature, authenticity, and the handmade—and in doing so, they brought up questions about the purpose of art in society that future generations would continue to grapple with."

ABOUT THE EXHIBITION

Victorian Radicals is presented chronologically, tracing a 60-year period across the turn of the 19th century.

The First Industrial Nation

In the late 1840s, London's Royal Academy of Arts dominated artistic practice with a focus on the classical European tradition of painting and sculpture. Artists such as Sir Edwin Landseer, Charles Eastlake, and William Etty were admired by Queen Victoria for their large, dramatic paintings inspired by Renaissance artists. The exhibition opens with an introduction to this tradition that the Pre-Raphaelites would come to reject: a hierarchal reliance on the grand style of history painting. Also at this time, new technologies—including electroplating and the introduction of steam power—were rapidly increasing the speed and output of manufacturing, and the mass-produced objects made, particularly from the hub of Birmingham, were highly ornate.

The Pre-Raphaelite Avant-Garde

Led by Dante Gabriel Rossetti, John Everett Millais, and William Holman Hunt, the Pre-Raphaelite Brotherhood was founded in 1848 with the intent of returning modern art to the simplicity, clarity, and honesty of European painting before the time of Raphael (1483–1520). Drawing inspiration from literature, the Bible, and modern life, these artists insisted on depicting only "what they could see," with an ethos that revered nature and the immediacy of vivid colors and human emotion. There was also a social interest in the value of labor and the inequities furthered by rapid industrialization.

A highlight of this section is Hunt's Two Gentlemen of Verona, Valentine Rescuing Sylvia From Proteus (1851), which goes directly to nature to depict a scene from Shakespeare. The artist engaged friends as models and took advantage of new chemical pigments to produce strikingly vivid jewel tones that at the time were seen as garishly bright. Also, John Everett Millais' The Blind Girl (1854-56) reveals the Pre-Raphaelites' interest in the primacy of the senses, depicting vision, sound, smell, and touch in a tender scene of modern life. Decorative objects such as handmade silver and gilded vessels crafted in refined, Gothic Revival styles reflect a similar interest in honesty and simplicity.

Secular Ministry

A second wave of Pre-Raphaelites emerged after 1857, brought together around the charismatic figure of poet and painter Dante Gabriel Rossetti. This group was even more inspired by the culture and religion of the Middle Ages, especially the rich colors, importance of narrative, and idealistic approach to beauty. This section also features the Kelmscott Chaucer, elaborately illustrated by Edward Burne-Jones and produced by William Morris, as well as several examples of Morris's textiles, which remain a major influence in the design world.

Artists such as Frederick Sandys and Edward Burne-Jones explored feminine archetypes—both positive and negative—in their work. Rossetti's Beata Beatrix (begun 1877) imagines the death of Beatrice, the beloved of the medieval Italian poet Dante Alighieri, as a visionary trance; it was also a tribute to artist and muse Elizabeth Siddall, who died of a laudanum overdose in 1862. Also in this section are Burne-Jones' four Pygmalion paintings depicting Ovid's myth about a sculptor's love for his creation.

Utopias for a New Century

As the new century approached, new art schools throughout England's industrial cities emphasized the practical teaching of crafts, alongside organizations inspired by medieval craft guilds. Birmingham became the center of the burgeoning Arts & Crafts Movement, which held that art could directly improve people's lives and was influenced by socialist utopian ideals. In this arena, women played a key role, becoming leading makers and teachers in these new art centers.

On view in this section are notable examples of Arts & Crafts decorative objects, including George James Frampton's "Christabel necklace" (1893-94), featuring the sculptor's pioneering work in enamel; numerous examples of Martin Brothers Pottery, which embraced a free and humorous style of decoration; and an embroidered textile by Birmingham Municipal School of Art teacher Mary Jane Newill, which will be presented as intended on a bed.

The paintings on view in this section echo the Pre-Raphaelite interest in precise lines and brilliant color, revealed in works by Maxwell Armfield, Joseph Edward Southall, and Arthur Joseph Gaskin. Kate Elizabeth Bunce's Musica (ca. 1895-97) depicts a female figure playing a lute against a detailed background of flowers and decorative objects, reminiscent of those produced by the Birmingham School.

EXHIBITION CATALOGUE

A 280-page exhibition catalogue (including 320 color illustrations) published by the American Federation of Arts and Prestel will be available for purchase in SAM Shop ($65.00). Also titled Victorian Radicals: From the Pre-Raphaelites to the Arts & Crafts Movement (ISBN: 978-3-7913-5763-8), it features essays by the curators of the exhibition: Tim Barringer, Paul Mellon Professor of the History of Art at Yale University; Martin Ellis, a freelance curator, lecturer, broadcaster, and former Curator of Applied Art at the Birmingham Museum and Art Gallery; and Victoria Osborne, Curator of Fine Art for Birmingham Museums Trust in England.

RELATED PROGRAMS AND EVENTS

In conjunction with the exhibition, SAM will present a dynamic lineup of programming, including Art Beyond Sight and docent tours and a series of public programs. The programs will explore timely connections between themes of craft, labor, and nature that preoccupied these artists and Seattle today, with highlights including a free community opening celebration on June 13, free drop-in art workshops, and an in-gallery response space.
(Visited 7 times, 1 visits today)