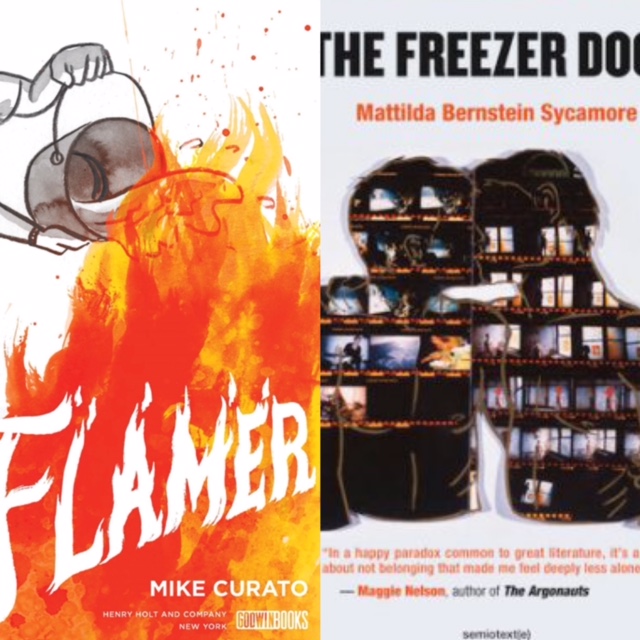 Two writers with Seattle connections grabbed nominations when the 33rd annual Lammy Award nominations were announced on Monday, March 15th by Lambda Literary Foundation. Former long time resident Mike Curato's young adult graphic novel FLAMER picked up a nomination in the LGBTQ Young Adult category while current Seattle resident Mattilda Bernstein Sycamore earned recognition for their memoir THE FREEZER DOOR in the Transgender Non-fiction category.
Both books have been well reviewed by both the LGBTQ press as well as mainstream media with the NY Times and Washington Post both showering love on The Freezer Door and NPR doing the same for Flamer.
Nominations were announced in 24 categories…check out all the nominations at the Lambda website. And, more on the nominations:
For more than 30 years, the Lammys have celebrated the very best in LGBTQ literature. This year, the Lammys honor books across 24 categories and feature works by debut authors, self-published authors, and writers from big and small presses alike. 

"By celebrating LGBTQ books, we celebrate LGBTQ life," said Sue Landers, executive director of Lambda Literary. "As a community often under threat of legislative and actual violence, the Lammys offer a necessary space to come together in joy."

Since their inception in 1989, more than 3,500 books have been named a Lammy finalist or winner, an imprimatur that bookstores, libraries, and individuals use to stock their shelves.
Virtual ceremonies will be held June 1st via Zoom with Grammy-nominated Artist Meshell Ndegeocelloto scheduled to perform. The event is free but donations to Lambda will gladly be accepted. "In a year when we are not able to fundraise at the Lammys gala in the way we typically would, we hope you will consider making a donation to Lambda Literary when you reserve your seat. Your contribution will help bring LGBTQ books into schools, support emerging queer writers, and expand the audience for LGBTQ books." Reserve Your Seat
Tags: Flamer, Lambda Literary, Lammie Awards, Lammies, LGBTQ Book Awards, LGBTQ Books, Mattilda Bernstein Sycamore, Mike Curato, Seattle LGBTQ Writers, The Freezer Door