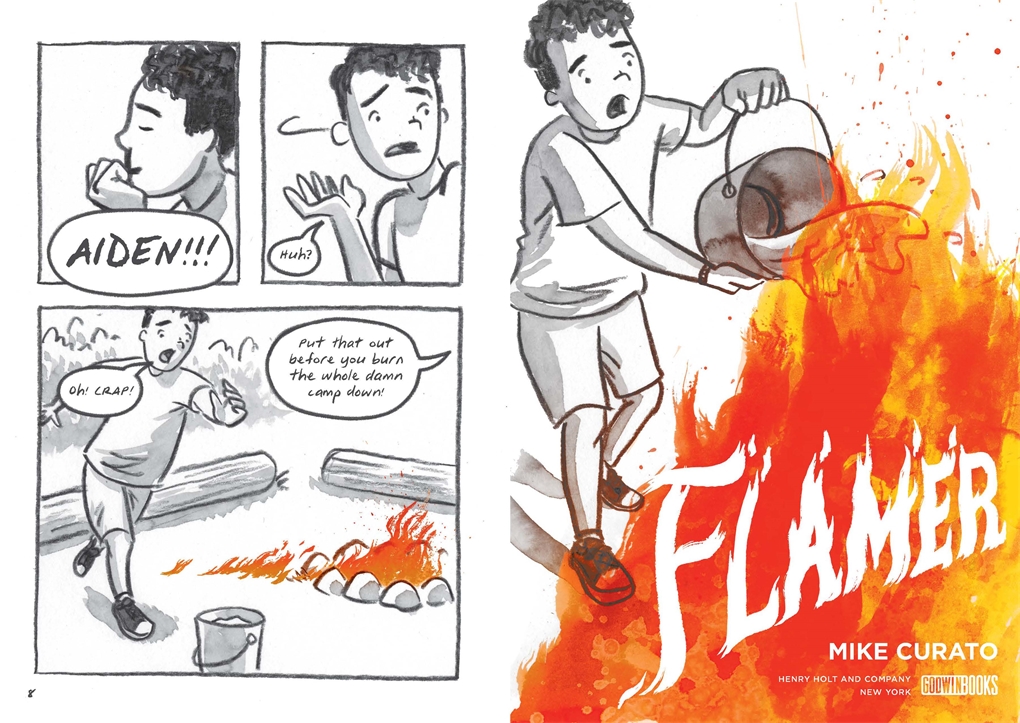 Congratulations are in order for former Seattleite MIKE CURATO, the illustrator and author who won a Lambda Literary Award for outstanding LGBTQ Young Adult Book for his graphic novel FLAMER, which was released last fall to great acclaim (read more about that HERE!)
The 33rd annual Lammy Awards were announced today in a virtual online ceremony hosted by writer Rakesh Satyal and included a performance by Meshell Ndegeocello and an appearance from "Special" star and creator Ryan O'Connell.
Curato, who lived for many years in Seattle and performed on area stages as Homo Arigato, is the only former Miss Bacon Strip winner we're aware of, that has been a New York Times best selling author and a Lambda Award literary winner. He accepted his award at the ceremony by dedicating it to: "all the sissies, all the queers, all the Pinoy boys who feel unseen, I see you. And for anyone who has dwelt in darkness, there is light inside you even if you can't see it."
Congratulations to Mike Curato and all the nominees and winners for this year's Lammy Awards! AND, Seattle folks can snag a copy of Flamer via Elliott Bay Bookstore!
All the winners:
Announcing the 33rd Annual LAMBDA LITERARY AWARDS WINNERS
New York, NY, June 1, 2021 – Lambda Literary, the nation's premier LGBTQ literary organization, announced the winners of the 33rd Annual Lambda Literary Awards (a.k.a. the "Lammys") this evening at a live Zoom ceremony hosted by Rakesh Satyal, who won a Lambda Literary Award for his debut novel, Blue Boy.
As they have done for over three decades, this year's Lammys again celebrate powerful, necessary writing that centers the LGBTQ experience. With last year's award ceremony cancelled due to the COVID-19 pandemic, this year's virtual celebration was a welcome return for an organization dedicated to honoring the absolute best in LGBTQ literature. Throughout the evening, presenters and winners highlighted the impact the Lammys have had in uplifting queer voices. Novelist Torrey Peters, author of Detransition, Baby, kicked off the festivities speaking of her joy to be presenting for "an organization for which trans writing and trans authors aren't an afterthought." Alex Gino, who won a Lammy in 2016 for their middle grade debut, George, highlighted the importance of the explosion of books featuring queer characters for young people while noting that across the country just one in five queer students experience course work that includes positive representations of LGBTQ people and history. John Paul Brammer, author of Hola Papi: How to Come Out in a Walmart Parking Lot and Other Life Lessons, began his presentation by noting, "As a gay person from rural America, books were some of the only community I had growing up," while Ryan O'Connell, creator, and star of Special, joked, "I love books and I love gay, and I love it when books and gay go together."
Representing the diversity of the LGBTQ experience, this year's Lammy winners once again highlight Lambda Literary's reputation for recognizing queer literature in all of its many forms, and many winners acknowledged that diversity in their speeches. In accepting the Lammy for Transgender Nonfiction for The Black Trans Prayer Book, J Mase III & Dane Figueroa Edidi said, "We hope that this work is a tool that helps to celebrate and heal our community." Mohsin Zaidi, whose A Dutiful Boy: A Memoir of a Gay Muslim's Journey to Acceptance won the Lammy for Gay Memoir/Biography, noted that he had been told there wouldn't be much interest for his book in the U.S., but continued, "Stories don't have a nationality and I think that's even more true of our stories, of stories from the queer community." Joshua Whitehead, winner of the LGBTQ Anthology Lammy for Love after the End: An Anthology of Two-Spirit and Indigiqueer Speculative Fiction, ended his speech with a joyous, "welcome to the Two-Spirit Indigiqueer, fem glittery, fantastic, trans, Indigenous future we deserve," while Mike Curato, winner of the LGBTQ Young Adult Lammy for Flamer claimed his award for "all the sissies, all the queers, all the Pinoy boys who feel unseen, I see you. And for anyone who has dwelt in darkness, there is light inside you even if you can't see it."
The evening's celebration, which has always doubled as a fundraiser to help support Lambda Literary's programs, concluded with a performance by Grammy Award nominated artist and lesbian icon, Meshell Ndegeocello. "This year's ceremony was a true celebration for us after what has been an unimaginably difficult year for so many," said Sue Landers, executive director of Lambda Literary. "While we couldn't be together in person again this year, we are so excited to be back honoring LGBTQ literature and all of the wonderful writers who make up our community.  Congratulations to all of this year's winners."
The Lammys are the most prestigious award in LGBTQ publishing. Please join us in celebrating the following authors and their literary accomplishments.
Lesbian Fiction
Fiebre Tropical, Juli Delgado Lopera, Feminist Press
Gay Fiction
Neotenica, Joon Oluchi Lee, Nightboat Books
Bisexual Fiction
You Exist Too Much, Zaina Arafat, Catapult
Transgender Fiction
The Thirty Names of Night, Zeyn Joukhadar, Atria Books
Bisexual Nonfiction
Wow, No Thank You.: Essays, Samantha Irby, Vintage
Transgender Nonfiction
The Black Trans Prayer Book, J Mase III & Dane Figueroa Edidi, The Black Trans Prayer Book
LGBTQ Nonfiction
The Lonely Letters, Ashon T. Crawley, Duke University Press
Lesbian Poetry
Funeral Diva, Pamela Sneed, City Lights Books
Gay Poetry
Guillotine, Eduardo C. Corral, Graywolf Press
Bisexual Poetry
Salt Body Shimmer, Aricka Foreman, YesYes Books
Transgender Poetry
I Love You and I'm Not Dead, Sade LaNay, Argos Books
Lesbian Memoir/Biography
My Autobiography of Carson McCullers, Jenn Shapland, Tin House Books
Gay Memoir/Biography
A Dutiful Boy: A Memoir of a Gay Muslim's Journey to Acceptance, Mohsin Zaidi, Square Peg
Lesbian Romance
Written in the Stars, Alexandria Bellefleur, Avon Books
Gay Romance
The Ghost and Charlie Muir, Felice Stevens, Self-published
LGBTQ Anthology
Love after the End: An Anthology of Two-Spirit and Indigiqueer Speculative Fiction, Joshua Whitehead, Arsenal Pulp Press
LGBTQ Children's/Middle Grade
King and the Dragonflies, Kacen Callender, Scholastic
LGBTQ Young Adult
Flamer, Mike Curato, Henry Holt Books for Young Readers
LGBTQ Comics
Apsara Engine, Bishakh Som, Feminist Press
LGBTQ Drama
The Book of Mountains and Seas, Yilong Liu, New Conservatory Theatre Center
LGBTQ Erotica
The Nerves, Lee Suksi, Metatron Press
LGBTQ Mystery
I Hope You're Listening, Tom Ryan, Albert Whitman & Company
LGBTQ Science Fiction/Fantasy/Horror
Everyone on the Moon Is Essential Personnel, Julian K. Jarboe, Lethe Press
LGBTQ Studies
Becoming Human: Matter and Meaning in an Antiblack World, Zakiyyah Iman Jackson, NYU Press
---
During this year's ceremony, Lambda Literary announced a new honorary award, the Randall Kenan Prize for Black LGBTQ Fiction. Kenan, who won a Lambda Literary Award in 1992 for his novel Let the Dead Bury Their Dead, passed away in August of 2020 and the prize bearing his name honors writers whose work explores themes of Black LGBTQ life, culture, and history, with its winner receiving a $3,000 cash prize. Ana-Maurine Lara is the inaugural recipient of the prize. Other special prizes announced throughout the evening included Brontez Purnell and Sarah Gerard winning the Jim Duggins Outstanding Mid-Career Novelist Prize, a $5,000 prize given annually to two LGBTQ-identified authors who have published multiple novels and show promise to continue publishing high quality work for years to come. Nancy Agabian won the $2,500 Jeanne Córdova Prize for Lesbian/Queer Nonfiction, granted to a writer committed to nonfiction work that captures the depth and complexity of lesbian and queer life, culture, and history. The Judith Markowitz Award recognizes two writers whose work demonstrates exceptional potential, and T Kira Madden and Taylor Johnson were awarded this year's $1,000 prizes. More information on these winners and their prizes is available here.
---
About Lambda Literary: Lambda Literary nurtures and advocates for LGBTQ writers, elevating the impact of their words to create community, preserve our legacies, and affirm the value of our stories and our lives. Our programs include the Lambda Literary Awards, the Writers Retreat for Emerging LGBTQ Voices, and LGBTQ Writers in Schools.
(Visited 25 times, 1 visits today)