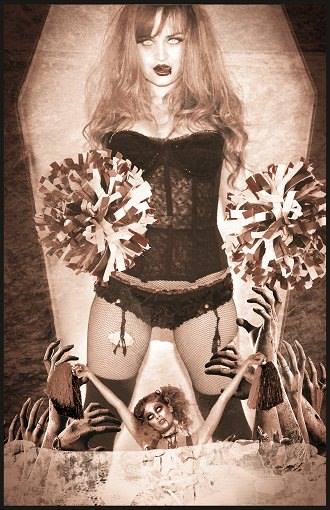 Those sexy kids from Can Can Cabaret down in the Market are bringing back TWO classic Halloween shows for the Spooky Season we all love and j'adore. At their home base in the Market they'll be producing ZOMBIE CHEERLEADERS FROM HELL! from October 6 through the 31st and returning to The Triple Door a few blocks away, they'll bring back the very popular THIS IS HALLOWEEN tribute show to Tim Burton's "The Nightmare Before Christmas" from October 21 through the 31st. Both feature the very talented and zexy dancers of the Can Can and their luxurious costume, prop and decor designs.
Tickets now on sale for both…more info!
Can Can Announces Single Ticket On Sale Dates For Its
Annual Halloween Productions:
ZOMBIE CHEERLEADERS FROM HELL!
THIS IS HALLOWEEN
October 21-31
at The
Triple Door
ZOMBIE CHEERLEADERS FROM HELL!
Find out what goes bump in the night with The Heavenly Spies this Halloween season in their annual Can Can production, Zombie Cheerleaders From Hell!. This is a spooky-sexy evening of terrifying masks and pretty pasties, black cats and twerking booties, sweet transvestites and dancing cuties. In true Can Can form, Zombie Cheerleaders From Hell! celebrates revelry with the finest in Market fresh food, craft cocktails, and the company's unique brand of playfully bawdy entertainment. Come eat, drink, and be scary!
The Heavenly Spies have been sleuthing, slinking, and sparkling across Seattle stages and beyond for over a decade, having solidified their presence in the scene with their 2007 win in Burlesque's most prestigious competition, The Miss Exotic World Pageant. These glamorous showgirls are made up of Seattle-based singer/performer Caela Bailey, Baby Kate (Can Can company member), Annya Pintak (original Heavenly Spie), Alissa Bliss (Can Can company member and Cornish grad), and Seattle burlesque hunk Trojan Original (ModCarousel, Land of the Sweets: The Burlesque Nutcracker).
WHEN:
Thursday –
7:00 p.m. & 9:30 p.m.
Friday, Saturday –
7:00 p.m.
,
9:30 p.m.
, &
11:45 p.m.
Monday, October 30
–
7:00 p.m.
Tuesday, October 31 – 7:00 p.m. & 9:30 p.m.
Early shows 17+ /
Midnight
Shows 21+
WHERE:
Can Can Cabaret
Pike Place Market
94 Pike St B, Seattle
TICKETS:
$35-$65 – AUGUST 22, 2017
THIS IS HALLOWEEN – Seattle's Halloween Tradition
Follow the misadventures of Jack Skellington, the pumpkin king and most-acclaimed citizen of Halloween Town in THIS IS HALLOWEEN, Can Can's original, dark fantasy musical adaptation of "The Nightmare Before Christmas." Weary of his usual terrifying antics and no longer seeing a point in scaring people, Jack takes a walk through the forest that will change Halloween Town – and Seattle — forever! When Jack stumbles upon Christmas Town, full of beautifully decorated trees and a warm spirit, the plot thickens. Featuring live orchestral music and vocal performance, cabaret, burlesque, all new scenic design, and video projections inspired by the original Tim Burton classic, this Halloween extravaganza is choreographed by Fae Phalen (former Seahawks Seagal and Heavenly Spies), with video design by TJ Davis (Bassnectar, Decibel Festival) – prepared to be spooked!
WHEN:
Tuesday, Wednesday, Thursday –
7:30 p.m.
Friday, Saturday –
7:30 p.m. & 10:30 p.m.
Sunday –
5:00pm & 8:00pm
.
Tuesday, October 31
–
6:30 p.m. & 9:30 p.m.
Early shows 17+ / Late Shows 21+
WHERE:
The Triple Door
216 Union Street
Seattle
TICKETS:
$29-$49 – ON SALE NOW
SOCIAL:
#CanCanSeattle
ABOUT CAN CAN KITCHEN & CABARET
Winner of 
Seattle Weekly's
prestigious "Best Burlesque" 2017, Can Can Cabaret is an original show that celebrates over a decade of dance, theatre, and music while also offering a market fresh menu of seasonal delights and libations carefully curated and prepared by Chef John Gilbert. Founded in 2005 by artistic director Chris Pink and nestled underneath the world-famous Pike Place Market, Can Can's intimate underground setting is evocative of Paris at the turn of the 20th Century. At the heart of the institution is Can Can's core creative team whose transformation of the unique venue with each new show features ever-changing scenic design, choreography, music, costuming, and more several times a year. In addition to its celebrated dinner shows, Can Can also produces seductive late nights, all ages matinee brunch shows, and various live music, variety extravaganza's both at Can Can as well as its sister venue FRED Wildlife Refuge, and with various venues in Seattle. Can Can also welcomes the public into its Absinthe and Craft Cocktail Bar, open
5:00 p.m.
to close from Wednesday-Sunday with no cover.
TheCanCan.com
(Visited 1 times, 1 visits today)