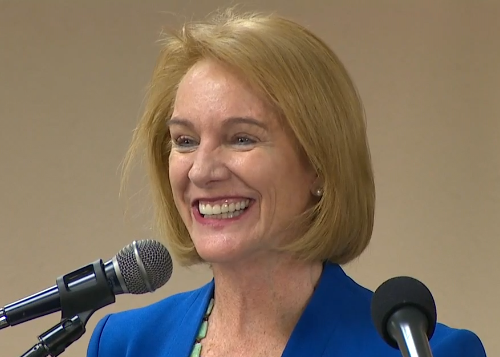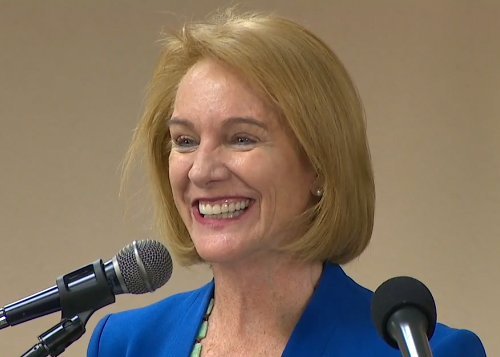 Attorney Jenny Durkan was sworn in as Seattle's 56th mayor earlier this afternoon. Ms Durkan is the first female mayor in nearly a century; Bertha Knight Landes was the last female mayor from 1926 to 1928. Mayor Durkan is also the first out lesbian to hold that office and the second out LGBTQ person elected to the office of Seattle mayor following Ed Murray who was elected to that office in 2013 but resigned on September 12th of this year after allegations of sexual abuse ended his political career. 
Backed by a well funded campaign and major endorsements, Durkan easily defeated Cary Moon in Seattle's municipal elections earlier this month.
Pledging to tackle Seattle's challenges of affordability, social and racial injustice, homelessness, and housing, Jenny A. Durkan was sworn in as Seattle's 56th Mayor in a ceremony at the Ethiopian Community Center in Rainier Beach. U.S. District Court Judge Richard A. Jones administered the oath to Mayor Durkan. 

"It is a great opportunity to serve as your Mayor; but with the honor comes a deep responsibility," said Mayor Durkan. "Our challenges are real, but people across our City are ready to work together to tackle our shared challenges and seize the opportunities that will continue to make Seattle the great City we love. We are the place that invents the future — and there is no doubt in my mind that working together, we will continue to look out to the horizon and create that better future for the next generation."
Mayor Durkan will visit several Seattle neighborhoods on her first day in office:
Rainier Beach Ceremony:
Ethiopian Community Center
8323 Rainier Ave S, Seattle, WA 98118
3:00 – 4:30 PM

West Seattle Ceremony:
Youngstown Cultural Arts Center
4408 Delridge Way SW, Seattle, WA 98106
4:15 – 5:45 PM

Chinatown – International District Ceremony:
Wing Luke Museum
719 S King St, Seattle, WA 98104
5:45 – 7:30 PM

Phinney Ridge Ceremony:
Phinney Neighborhood Association
6532 Phinney Ave N, Seattle, WA 98103
7:00 – 8:30 PM

Lake City Ceremony:
Elliott Bay Public House and Brewery
12537 Lake City Way NE, Seattle, WA 98125
8:00 – 10:00 PM

If you aren't able to attend, make sure to check out the Livestream of the Rainier Beach, West Seattle, and Chinatown events on The Seattle Channel, or on http://seattlechannel.org/eventLive!
(Visited 1 times, 1 visits today)