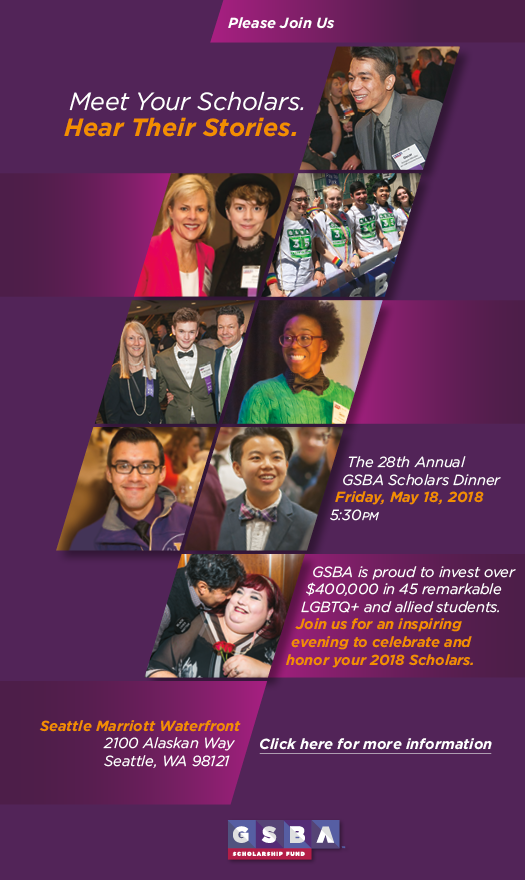 One of the Greater Seattle Business Association's biggest mandates is their stewardship of their "GSBA Scholarship Fund" which has awarded over $3 million dollars in scholarships to deserving LGBTQ students over the years. 
The 2018 GSBA Scholarship Dinner is not that far away…Friday, May 18th at Seattle Marriott Waterfront and now is a good time to start planning if you'd like to attend or if you just want to support the Scholarship Fund by making a donation if you're unable to attend.
At each annual dinner, you get to see, hear and meet the students who have been awarded these funds to help further their education and their commitment to being strong members of our community. 
More info on the event and a link to purchase your tickets:
Date: Friday, 18 May 2018
Time: 05:30 PM
Fee:
Price: $150.00
Address: 2100 Alaskan Way, Seattle, WA
Location: Seattle Marriott Waterfront
Phone: 206-363-9188
SCHEDULE & ATTIRE
5:00pm
VIP & Scholars Reception
5:30pm
Registration & Reception
6:00pm
Ballroom doors open
6:15pm
Dinner and program begins
8:30pm
Event concludes
Attire: Business
---
MENU CHOICES
Baby greens salad
Golden raisins, nib almonds, grape tomatoes and champagne vinaigrette
Pan seared Top Sirloin
Horseradish mashed yukon potatoes
Tomato mushroom ragu
Red peppercorn demi
Honey peppercorn salmon
Roasted peppernata
Wild rice pilaf
Balsamic reduction
Blackened cauliflower wedge
Black bean cassoulet
Smoked tomato demi
Key Lime cheesecake
Mango, compote
Triple mousse
Raspberry coulis
REGISTRATION
HOST A TABLE
(Eight seats for you and your guests and two seats for a scholar and their guest)
Ruby Slipper Table | $2500
(includes VIP & Scholars reception, premium placement, champagne, and $1000 donated directly to the GSBA Scholarship Fund)
Scholars Table | $1500
INDIVIDUAL TICKETS
Host a Scholar | $150
Individual Registration | $150
Fair market value is $100.
UNABLE TO ATTEND?
You can still make a difference in a young person's life by hosting a scholar or making a direct donation to the GSBA Scholarship fund.
Host a Scholar | $150
please call (206) 363-9188 or
email for details
Make a donation
to the GSBA Scholarship Fund.
---
Seattle Marriott Waterfront is offering a promotional discount for our guests. Book by 4/13/2018 to receive the special rate of $249 the night of the event.
(Visited 1 times, 1 visits today)