There's always stuff to do in Gay Seattle!
See below!
Talent Show:
The Doll House
Tuesday March 20th
Capital Lounge
916 East Pike St/Capitol Hill
9pm-2am
$7 cover/No Cover for performers!
21+ w/ID
Tuesdays are a hard sell in this city but a wonderful show to get out and support is Roxy Doll's weekly open mic night The Doll House. This show has started the career's of several well known performers in Seattle. This is a open mic/open stage and no one is ever turned away! What I love about this event is you have no clue what you're going to get at this show! One act can be drag Burlesque the next act could be a clown pulling balloons out of their ass. (Not really, but you get my point…)
(Psssst: Roxy is always looking for performers! Click on the link to the FB invite to learn how you can become a STAR!)
RSVP here:
https://www.facebook.com/events/832296460306484/?ti=icl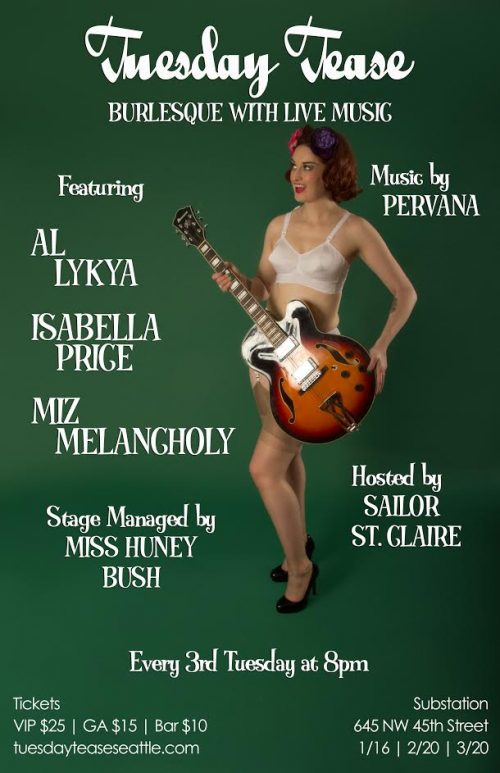 Burlesque:
Tuesday Tease
Tuesday, March 20th
at the Substation
645 NW 45th St/Ballard
8pm-10pm
VIP: $25 / GA: $15 / Bar: $10
21+ w/ID
-Wheelchair accessible
Seattle has one of the most diverse Burlesque scenes in America. If you're looking to step out of your usual gay scene haunts I highly recommend this event! (Note: At a very queer friendly venue!) No one is doing Burlesque like this in Seattle. This monthly event incorporates live accompaniment for the dancers. This alone separates this show from the average Burlesque events around Town. With your smart mouthed host Sailor St. Clair you are sure to have a good time. Be sure to RSVP to let them know you're coming.
Facebook event page:
https://www.facebook.com/events/1378824818893126/?ti=icl
Drag/Live Music:
Vanity White Wednesdays
Wednesday, March 21st
Barça Lounge
1510 11th Avenue/Capitol Hill
9pm-11pm
No cover! Free! Bring dollar bills!
21+ w/ID
-Wheelchair accessible
I've seen A LOT of drag in my day. But I must say one of my favorite faces in Seattle drag today is the lovely and talented Vanity White. I've been to her monthly event a few times now and I always enjoy myself. To be honest I don't think I've ever seen a drag performer who plays a guitar as part of their gig. Her dialogue is intelligent and witty. Her covers of songs makes you think and feel. And with the gothy vampire atmosphere of Barça you are in for a night of classy drinking and a show.
Facebook event page. RSVP to let her know you're coming:
https://www.facebook.com/events/256148481593167/
(Visited 2 times, 1 visits today)