PLUG AWAY! Stuff to do in Gay Seattle this weekend, (Thursday, March 22 through Sunday, March 25) with the Tony James Seal of Approval!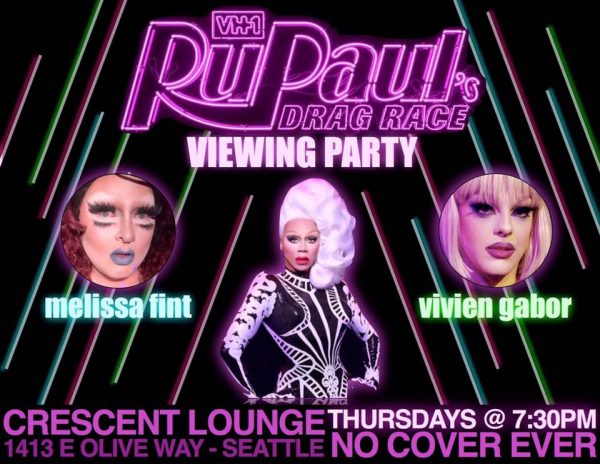 Thursday
March 22nd
Events All over town!
It's back! Ru Paul's Drag Race Season 10! There are a million places to watch this show in Seattle but of course I'm going to invite you to the Crescent Lounge hosted by Vivian Gabor and Melissa Fint. There is something special about the dive bar charm of The Crescent Lounge. I like to call it the vortex because once you have one drink you're stuck there the rest of the night in a strange Karaoke mist. I also like the fact that there's TVs everywhere! No matter where you're sitting you have a good seat.
https://www.facebook.com/events/2087578308179555/?ti=icl
For other Thursday Events and RPDR Viewing Parties check out the SGS Calendar HERE.
Music
Friday March 22ed
Darrell's Tavern
18041 Aurora Ave N
9pm
21+ w/ID
Door $10
I asked myself when I started this gig "Tony are you going to promote your own work on here?"
"Hell yes I am!"
Every now and then anyway… So here it is. I know a lot of our gay readers are only interested in gay bar stuff but I challenge you to explore all the fun things Seattle has to offer. The Seattle queer band scene is growing fast. Drag bands are popping up all over town. However, Seattle's first butt rock/glam/punk/Metal/gender queer band was started by me and my friends. T-rox is unlike any band in the scene. With songs like "Death by Dildo" you're sure to be laughing your ass off as you head bang your way through our amazing music!
We are playing Darrell's Tavern this Friday! It's a retro 60s dive bar a few miles north of your usual Homohood but it's a Seattle must do experience.
All the details are in the link below:
https://www.facebook.com/events/1865166390192141/?ti=icl
Karaoke
Saturday March 14th
4-7pm
Free!
The Crescent Lounge
1413 East Olive Way
Seattle's oldest gay bar
Wheelchair accessible
21+ w/ID
Do you like to sing karaoke? Do you get sick of waiting a hour or more to sing when you go out? Well, at Day Gay Karaoke you can become part of the show. Every Saturday I host a afternoon singing party. I have some fantastic regulars that come sing for me. This is a perfect weekly event for all you brunch queens. Happy hour prices!
Dance Party
Saturday March 24th
10pm-3am!
$10 cover
The Cuff Complex
1533 13th Avenue @ Pine Street/Capitol Hill
Wheelchair accessible
21+ w/ID
The Cuff is turning 25!
Back in the 90's I was a twink. I know it's hard to believe but I was. I did what most twinks do today. I danced the night away at Neighbours or The Brass Connection. (Shout out to all my people that remember that trashy ass bar) I was scared to go to The Cuff back then! Leather daddies wanted this ass! But now that I'm a leather daddy without the leather I love this bar complex! And when I say complex I mean it! The Cuff has one of the biggest dance floors in Seattle. With international producer DJ Danny Verde on the bill I guarantee you will be dancing all night!
Here's the Facebook event page. RSVP and let them know you're coming:
https://www.facebook.com/events/153960652087201/?ti=icl
Sunday
Karaoke w/Julia D'Poon
4-7pm
Free!
The Crescent Lounge
1413 East Olive Way
Seattle's oldest gay bar
Wheelchair accessible
21+ w/ID
Do you know Julia D'Poon? If not you should. You ever wonder who's eyes are on the inside wall of the Crescent? Artist James Crispinell was commissioned to paint her eyes on the east wall of the bar back in 1996. Forever watching over her kingdom. Julia hosts "Sunday Fun Day with the Poon" every Sunday from 4-7pm. Day time Karaoke drinking realness! Karaoke the rest of the night!
For MORE options that may or may not involve Mr. Tony James, check out the Seattle Gay Scene Calendar which is chock-full of goodness.
(Visited 3 times, 1 visits today)