It's just around the corner…the 13th annual Translations: Seattle Transgender Film Festival produced by Three Dollar Bill Cinema and happening May 3 to 12 at various venues around Capitol Hill and Seattle. One of the first and largest transgender specific film festivals, Translations also features other special events that incorporate other forms of artistic expression including live performances.
In a year where a transgender themed film won the Best Foreign Language Film Academy Award, (the Chilean film, Sebastián Lelio's "A Fantastic Woman"), it's important to recognize the power and artistry of films by and for the transgender community.
Here's a look at highlights. Tickets and passes are now on sale HERE!
World's Largest Transgender Film Festival in Seattle,

May 3-12
2018 Translations: Seattle Transgender Film Festival
Seattle, WA – Now in its 13th year, Translations: Seattle Transgender Film Festival is back and ready to build community, challenge political climate, and encourage fun. Translations explores stories of transgender people from around the world to reaffirm that they are not alone, that they are beautiful, and that they deserve love and respect. The festival spans two weekends from
May 3 to 12
, with 50 films from 15 different countries including Kenya, Japan, Brazil, Ukraine and the Netherlands, continuing as the largest transgender film festival in the world! Throughout the festival there are a plethora of fun non-film events: THE MISSING GENERATION by Sean Dorsey Dance presented by Translations and Velocity Dance plus two dance workshops, an All-Bodies & All Genders Swim, a Speed Friending event, an El Sanchez Stand-Up Comedy night, and a return of our How To Be A Trans Ally workshop for folks who are new to the community. Translations will be in venues around Seattle's Capitol Hill, including the Erickson Theatre, Northwest Film Forum, 12th Avenue Arts, Pound Pictures and Velocity Dance Center. Additional venues around town include the Seattle Public Library University branch and the Rainier Beach Pool.
ABOUT TRANSLATIONS:
Translations: Seattle Transgender Film Festival is the largest transgender film festival in the world. It is a groundbreaking event that provides the Pacific Northwest with a venue for films by, for, and about transgender people and the issues facing the transgender community. It's one of only a few transgender film festivals in the world, and strives to place emphasis on visibility and positive representations.
MAN MADE

Opening Night! West Coast Premiere!

Thursday May 3 at 7pm

Erickson Theatre

This powerful documentary will be presented by special guests director T Cooper and subject Dominic Chilko in person! This powerful documentary follows a group of FTM bodybuilders as they bravely define what it means to be a man, contextualizing that through the social, racial, and economic realities of their lives. For the men of MAN MADE, it's not about winning-it's about stepping on stage and being seen for everything they are. You won't want to miss it! Website for MAN MADE. Trailer for MAN MADE.

THE MISSING GENERATION by Sean Dorsey Dance

Special Event presented by Translations and Velocity Dance!

May 3-6

at

7:30pm

Velocity Dance Center

This dance-theater work by award-winning transgender and queer choreographer Sean Dorsey gives voice to longtime survivors of the early AIDS epidemic through full-throttle dancing and intimate storytelling by a multigenerational ensemble: Sean Dorsey, ArVejon A. Jones, Brian Fisher, and Nol Simonse . Be sure to check out the dance workshops too! Website for THE MISSING GENERATION. Trailer For THE MISSING GENERATION. Velocity press release here.

SHORTS PROGRAMS

Saturday May 5 at 2:30pm

Erickson Theatre

Saturday May 12 at 2:30pm

Erickson Theatre

There are two different shorts programs to choose from this year. Be inspired by these courageous trans folks living their lives proudly in LIVE IN YOUR POWER shorts which includes the highly anticipated film HAPPY BIRTHDAY MARSHA by Reina Gossett and Sasha Wortzel. Website for HAPPY BIRTHDAY MARSHA.

IN THE FAMILY shorts reminds us that while we can't choose our biological family, we can choose to be ourselves, unapologetically, and hope in turn that those closest to us choose to learn who that is.

Website for THE STATION.

CLOSE KNIT

Closing Night! First transgender-themed film from Japan! Teddy Special Jury Award at Berlinale!

Saturday May 12 at 7:15pm

Erickson Theatre

This quietly beautiful film tenderly questions the definitions of both family and motherhood as it tells the tale of a young girl abandoned by her mother but taken in by her uncle and his trans partner. Chosen family looms large in this wistfully photographed tale of love in a time of great strife, which also peels back the layers of provincial Japanese transphobia. Website for CLOSE KNIT.
THEY

Premiered at Cannes Film Festival!

Saturday May 5 at 7pm

Erickson Theatre

THEY is the hauntingly beautiful journey of J, a nonbinary youth in the Chicago suburbs who struggles daily to understand their place in the world-and their own mind and heart. This debut film by writer-director Anahita Ghazvinizadeh gives viewers as close to a first-hand experience of transitioning as possible, as well as a glimpse of what life would be like if being trans were normalized. Allowed to evolve, think, and grow, Rhys Fehrenbacher as J portrays one of the most fully developed trans characters on screen. Ghostly cinematography by Carolina Costa brilliantly supports the naturalistic performances in this movingly poetic film.

JESUS IS DEAD

Friday May 4th 7pm

Erickson Theatre

"Jesus is dead," declares Iyay, the matriarch of the family, igniting this delightfully absurd and utterly charming road comedy. Jesus is her estranged husband, so she and the reluctant children-transgender son Jude; Hubert, who has Down syndrome: Jay the slacker; and puppy Judas-all set off through the picturesque Philippine countryside to the wake. Full of gloriously strange and wonderfully weird characters, this rollicking film recalls the random and quirky nature of classic comedies like LITTLE MISS SUNSHINE, while also dealing with personal heartbreak and relationships in a genuine and affecting story, redefining what it truly means to be a family.

SIDNEY AND FRIENDS

Friday May 11 at 7pm

Erickson Theatre

Filmed over three years, this documentary explores the hopes, dreams, and everyday reality of Kenya's intersex and transgender communities. When Sidney's family disowns him and threatens his life, he flees to Nairobi, where he meets a group of transgender friends. The four comrades share what it's like to grow up and live as trans and intersex people in the face of prejudice and transphobia, disclosing painful secrets of their struggles, sometimes with humor. Together they fight harsh discrimination and discover life, love, and self-worth.

HOW TO BE A TRANS ALLY Workshop

Thursday May 10 at 7pm

 Pike/Pine room at 12th Avenue Arts

Translations is continuing our successful program specifically for allies and folks who are new to the transgender community. The evening features a screening of the film 

CREATING GENDER-INCLUSIVE SCHOOLS

 followed by an introduction to transgender concepts and an open discussion led by 

Gender Diversity

's Michael Woodward and Nikki Neuen. This is a great opportunity for anyone who wants to support our community.
Tickets & More Information

Regular Screenings: $13 General Admission, $10 Member / Youth (25 & Under) / Senior (65+) / Disabled
Free Screenings / Events:
All screenings at 12th Ave Arts
Dance Your Story: Movement + Self-Expression Workshop – Velocity Dance
Trans Shorts + Speed Friending – Seattle Public Library University branch
El Sanchez: Live Stand-Up Comedy Show – Women in Film Space
Screenings at

Noon

: Free for students, $5 General Admission
Specially Priced Events:
THE MISSING GENERATION – Velocity Dance: $20 General Admission (Online), $25 General Admission (Walk-Up), $17 Members, $15 Youth Under 25 with ID
Trans + Ally Dance Class… Terrified Beginners Welcome! – Velocity Dance: $15 General Admission, $12 Members
All Bodies & All Genders Swim – Rainier Beach Pool: $5 Suggested Donation
Three Dollar Bill Wednesday – Northwest Film Forum: $13 General Admission, $3 Members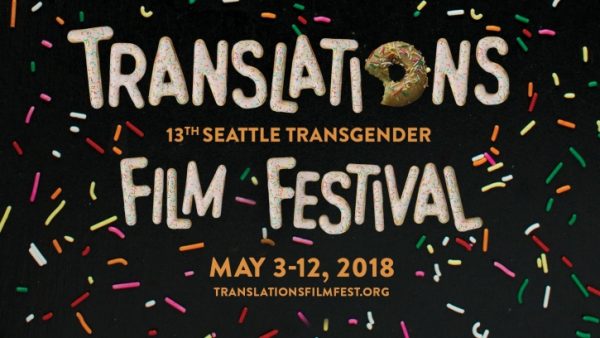 Tags: Dance Theater, Sean Dorsey Dance's THE MISSING GENERATION, Three Dollar Bill Cinema, Transgender Film, Transgender Film Seattle, Translations Film Festival, Translations Film Festival 2018