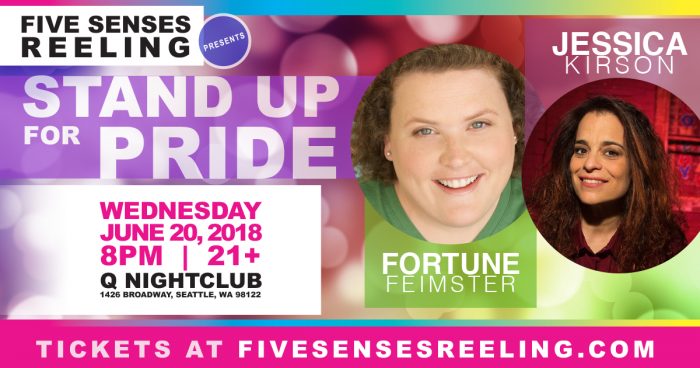 Five Senses Reeling is bringing a seriously HOT ticket of comedy to town on Wednesday, June 20th. STAND UP FOR PRIDE will feature two of the hottest female comedians around as Jessica Kirson and Fortune Feimster take the stage for a night of hilarity.  DJ Ricki Leigh will be providing the pre show tunes, Caitlin Weierhauser will be the opening act, and the one and only Mama Tits (fresh back from her Sold Out Run in Puerta Vallarta, Mexico) is slated to host.  An amazing way to kick off your Pride weekend!
Jessica Kirson's unique style and captivating stage presence captures the attention of audiences and club bookers everywhere she performs. Her wide variety of characters brings a diverse energy to her routine. Once you have seen her amazing talent, it is easy to understand why she was selected to perform at the Hamptons, Toyota, Marshall's Women in Comedy, Comedy Central's South Beach, Montreal, and HBO's Las Vegas comedy festivals.
A stand-up comedian, writer and actor, Fortune Feimster crushed it with her stand up set on LATE NIGHT WITH SETH MEYERS. She can be seen in a fun role for the Amblin Pictures feature film, OFFICE CHRISTMAS PARTY. Amblin has also recently acquired BAD COP, BAD COP a feature which she co-wrote and is attached to star. Fortune has performed stand-up on TBS's Conan, Comedy Central's @midnight and has her own Comedy Central half hour special. Fortune now headlines the best comedy clubs across the country and is one of the fastest rising stars in comedy.
LA Kendall had a chance to catch up with these two ladies for a quick Q & A.  Read on for some insight into how they came to comedy, what it's like being a female comedian, and what you can expect when you STAND UP FOR PRIDE….
---
LAK: What brought you to comedy?
Jessica Kirson: I was always the class clown. My grandmother took me aside one day and told me I should be a   comedian. I ended up taking a comedy class, and performing, and fell in love with it.
Fortune Feimster:  It started as a hobby. I had moved to LA and it was hard to meet people so I started taking  improv classes at the Groundlings as a way to make friends. Soon it became a passion and  eventually became a career.
LAK: How would you characterize your style of comedy?
JK: Very real, honest, and I do a lot of characters. It's very personal, about my life. I talk about   family and my observations of the world.
FF: I would say my comedy is definitely on the sillier side. I want people to come to my show and   enjoy themselves; to forget about the crazy things going on in the world for a little bit and just   laugh. So I try to keep things positive. I also tell a lot of stories. My comedy is not set up, punch   line. It's more of a journey through something with funny moments along the way. And   hopefully it ends up being things people can relate to.  
LAK: Has being a female comedian in the business been a boom, a bust, or a mix of both in regards to   building your career, equal pay, and opportunities available to you?
JK: It's not an issue is most cases. The only time it gets hard is when it comes to equal pay. There   are times when male comics get paid more. All in all, I have gotten a lot of opportunities.
FF: It's so hard to say because I've never experienced this business as anyone other than a woman.   So I don't know what it's like on the other side. For me personally it has been a very positive  experience. I've been given a lot of great opportunities and I've been lucky enough to work for a   long of strong, smart, successful women like Chelsea Handler, Mindy Kaling, and Tina Fey.   They've given me some great advice and taught me how to navigate this business as a woman.   Hopefully I can do the same for others.
LAK: Do you do impressions – name your favorite!
JK: I do impressions of the people in my life. My favorite character is my grandmother.
FF: I'd say the impression people mention to me the most is Sarah Huckabee Sanders. I played her a   handful of times on Chelsea's Netflix show and it was super fun. I got to put my Southern accent  to good use. All I had to do was act overly confident and uninterested in the truth.
LAK: The time we live in is so fraught with division and political strife.  It can be extremely depressing and folks tend to lean into the arts during times like these to seek solace and an outlet.    I know as someone who has followed you, I have found cathartic moments in your comedy concerning, let's say "Current World Problems". How do you deal personally with the times we find ourselves in, in regards to your comedy?
JK: I think it is so important to be silly at times like this. I don't talk about politics a lot at all on   stage. I feel that I can divide the audience and make people tense. I tried to stay silly and talk   about lighter topics. It is hard for me at times to be funny when I feel down about what's going   on in the world. I try to focus on giving people humor and laughing.
FF: I used to watch the news all the time but I can't anymore. It's all way too negative. Right now   I'm trying to focus on more positive things so I think that then becomes reflected in my comedy.   Like I do this silly thing on Instagram where I dance with ice cream. It's so simple and so silly but   people seem to love it. And at the end of the day, I get to eat ice cream!
LAK: In one word, what can Seattle expect from you on the 20th of June?
JK: Silliness
FF: Lots of fun. Wait…that's three words.
---
Catch Jessica Kirson and Fortune Feimster in STAND UP FOR PRIDE, Wednesday, June 20th at Q Nightclub.  Get your tickets NOW – limited space available and this event WILL SELL OUT.  
Purchase tickets at: https://standupforprideseattle.brownpapertickets.com/
(Visited 16 times, 1 visits today)