Broadway's hottest dancers and two explosively responsive audiences came together for a fierce and steamy evening of fun and sensational striptease at Broadway Bares: Game Night, this year's record-breaking edition of the annual spectacular.
Produced by and benefiting Broadway Cares/Equity Fights AIDS, Broadway Bares: Game Night raised $1,875,090 with two standing-room-only performances on Sunday, June 17, 2018, at New York City's Hammerstein Ballroom.
The number was choreographed by this year's directors, Nick Kenkel, who returned to direct Broadway Bares for the sixth year, and Laya Barak, an accomplished dancer and choreographer whose work has appeared in the last four editions of Broadway Bares. The opening number was written by Troy Britton Johnson, with music by Lynne Shankel and lyrics by Amanda Greene.
To start the show, four friends out on an adventure – recording artist Mila Jam, Jay Armstrong Johnson (The Phantom of the Opera), Marissa Rosen (The Marvelous Wonderettes) and L. Steven Taylor (The Lion King) – stumbled on the mansion and its delightfully devious maid and butler, played by Olivier Award winner Lesli Margherita and Wesley Taylor (SpongeBob SquarePants).
Sexy seamen were ready to sink battleships and strip to their skivvies in a number choreographed by Barak and Jonathan Lee. Led by Robert Walters (Hamilton) and Juan Zapata, this explosive and hardcore hip hop piece featured an all-male ensemble of irresistible sailors running tight ships.
A birthday party for Joe Beauregard (Kinky Boots) found his frolicsome friends playing a rousingly sketchy game of "Striptionary." Each time an article of clothing was drawn, Beauregard's handy friends stripped it off him.
A Ouija-playing Spencer Clark (Frozen) conjured up something mythically gorgeous in the form of aerialist Reed Kelly, who spun and flew above the stage in supernatural swirls of silk.
The classic board game Candy Land got a spicy twist with Donald Jones Jr. (Frozen) as a luscious Lord Licorice. Joined by fellow game characters Ehizoje Azeke, Justin Keats (Escape to Margaritaville) and Ricky Schroeder (Kinky Boots) and backed up by an ensemble of eye candy, the fabulous trio unwrapped Jones down to his gumdrops.
Though Matthew Skrincosky played the central character in an Indiana Jones video game, there's no doubt women cracked the whip when indomitable Tony Award nominee Ariana DeBose (Summer: The Donna Summer Musical) arrived with an ensemble of fierce, fabulous women.
The lights went down and the clothes came off in a rambunctious round of flashlight tag that enveloped the entire audience, led by Javier Perez and choreographed by John Alix.
"Old Maid" Karine Plantadit was dismissed by a full house of younger Kings, Queens, Jacks and Aces when she initially tried to keep pace with outdated dance moves. However, Plantadit proved she had a card up her sleeve when she stripped down to reveal her inner sultry, sexy seductress.
Sexy patient Nicholas Cunningham (The Phantom of the Opera) was just what doctor Kali Grinder (Frozen) ordered in choreographer Charlie Sutton's homage to Operation.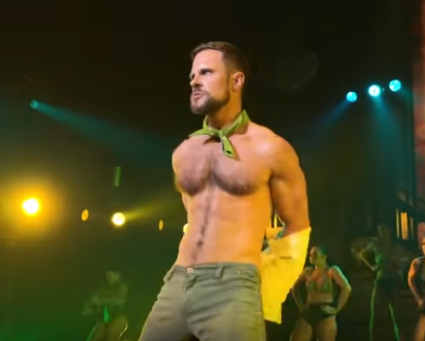 Pinball wizard Henry Byalikov (Dancing with the Stars) transformed into a skinball stripper when futuristic goddess Jena VanElslander emerged from the arcade game.
Celebrating Parcheesi's regal status as the royal game of India, choreographer Lisa Stevens delivered a high-spirited Bollywood number, led by Julius Rubio as a charmed snake.
In the show's finale, Margherita revealed that she was actually the mastermind behind the mysterious gaming mansion, powered by beauty and brains. And to reinforce the point that women run The Game of Life, she invited Broadway leading ladies Alison Luff, Ryann Redmond and Rema Webb (Escape to Margaritaville); Kirstin Maldonado (Kinky Boots and the Grammy-winning Pentatonix); Ashley Park (Mean Girls); Chondra Profit (The Lion King) and Lauren Zakrin (Natasha, Pierre and the Great Comet of 1812).
The Boys in the Band's Matt Bomer, Charlie Carver, Robin de Jesús, Zachary Quinto, Andrew Rannells, Michael Benjamin Washington and Tuc Watkins appeared as special guests.
(Visited 6 times, 1 visits today)