The huge bare ass annual fundraiser, " Broadway Bares" produced by Broadway Cares/Equity Fights AIDS happened Sunday night and raised over a million dollars for the group which has been putting on the iconic events starring the "gypsies" from Broadway shows for 24 editions. This year's production, "Rock Hard!" veered away from its more traditional Broadway based tunes formula and "rocked out".
Broadway Bares: Rock Hard!, a luscious, modern-day mix tape of sensual sights and sounds featuring 170 of New York's sexiest dancers, celebrated its move to a new home on June 22, 2014, by raising $1,386,105 to benefit Broadway Cares/Equity Fights AIDS.

Honoring iconic music moments and songs from Elvis to Pink, Aerosmith to Prince, the 24th edition of burlesque extravaganza got a crowd of more than 5,000 people rocking, jumping and cheering for more during two performances at New York City's Hammerstein Ballroom. Broadway Bares moved to Hammerstein after 15 years at the iconic Roseland Ballroom, which closed earlier this spring.

The 24 editions of Broadway Bares have now raised more than $12.6 million for Broadway Cares.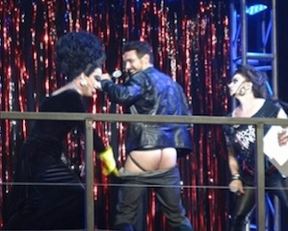 Fame whore/actor/artiste JAMES FRANCO showed up to again support a community he "finds fascinating" …makes me feel like a lab rat! He did a bit with "RuPaul's Drag Race" Season 6 winner Bianca Del Rio which resulted in the actor baring his tired old ass for a crowd that was visibly more excited about the presence of Miss Del Rio than the sight of James Franco's "hot dog filled hallway".
We also found this shot of cast members from the poorly reviewd "Rocky: The Musical" posing backstage at Broadway Bares. The idea of turning that movie into a B'way musical seems kind of stupid but we wholeheartedly approve and appreciate its hard working, dedicated cast of fine young men and the sacrifices they make in the name of charity!
(Visited 52 times, 1 visits today)