On the heels of the announcement of Adore Delano's impending takeover in August, the folks bringing America's Next Drag Superstar, Bianca Del Rio, have unleashed the ticket prices for her Seattle debut at The Baltic Room happening on July 24th. Jason Brotman, the owner of The Baltic Room, Sinfinite Productions and Revolution Thursday have all teamed up to bring you the current reigning RPDR Queen. The tickets vary from $40 to just $10, so you can pick 'n choose which event that you want to go to. Check out the handy dandy flier below and any other questions you may have can be asked on the event page. The tickets go LIVE at 12pm PST (in an hour), so get your cards ready!
UPDATE!

VIP Tickets sold out in FIVE MINUTES! But, Baltic Room announced they will work on adding more capacity…somehow. BUT, individual tix remain for the SINGLE events including QUEEN FOR A DAY, which is the best value Del Rio-wise because she's HOSTING and onstage for the entire 90 minutes or so of the show!
You have your OPTIONS as to what you can Experience with the Queen of Clowns. The VIP Package gets you access to ALL the events…or, you can just pick QUEEN FOR A DAY, the Sinfinite Production's event where Bianca will host as she auctions off ten local lovely drag divas to benefit Seattle Counseling Services. OR, go with the later in the night REVOLUTION choice.
Take yo' pick! But, hurry…this WILL sell out! The Baltic Room ain't huge and EVERYONE will want to see Miss Del Rio do her Mean Clown Thing. Beeatch's Liberry is ALWAYS open.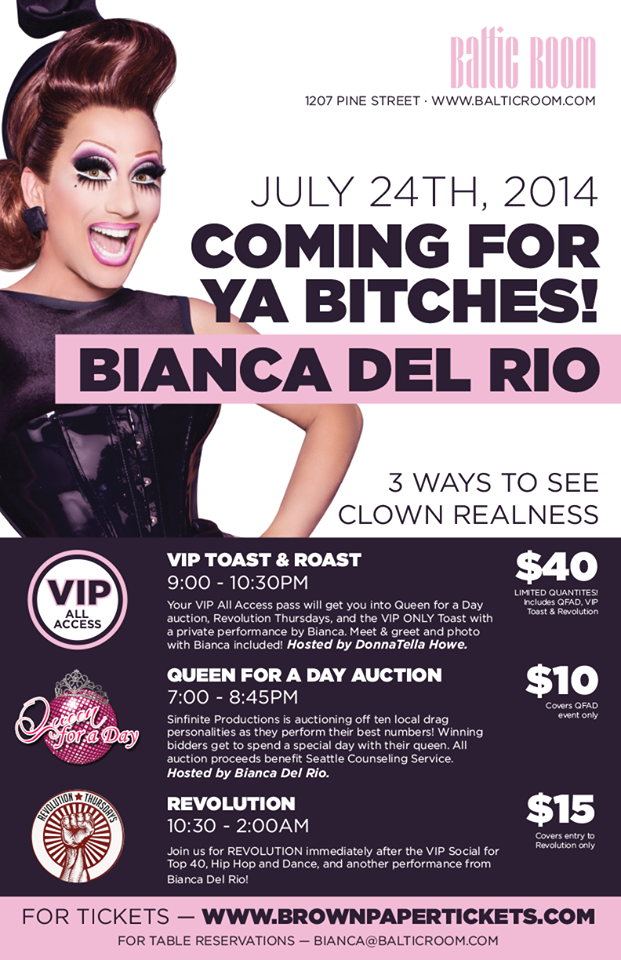 This event will sell-out. Trust and believe! Tickets can be purchased on the Brown Paper Tickets page for the event.
(Visited 1 times, 1 visits today)