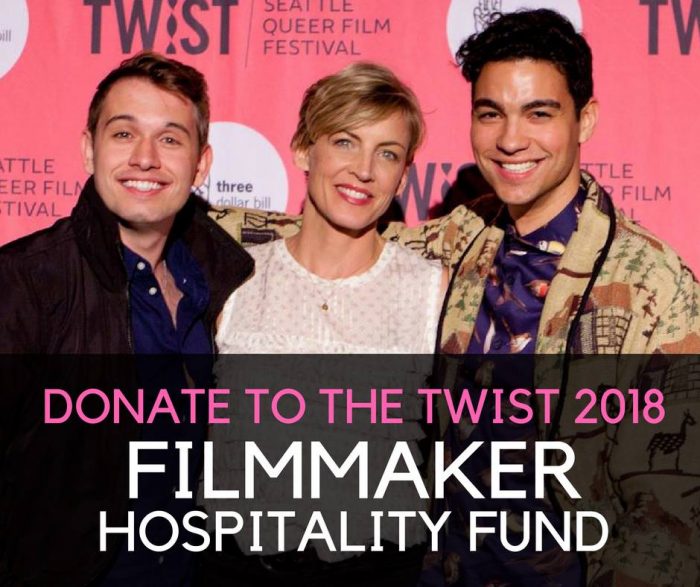 If you enjoy LGBTQ film and supporting the people who MAKE LGBTQ film then you might want to consider donating to Three Dollar Bill Cinema's current fundraising drive, the Hospitality Filmmaker Fund!
TWIST: Seattle Queer Film Festival is just around the corner (October 11 – 21, 2018) and Three Dollar Bill, the producers of the annual festival, want to be able to bring in as many out of town filmmakers as possible to be a part of this year's screenings. Having the filmmakers is fun AND fascinating and a change to interact with the artists behind the films that showcase our community. 
Below is more info on how you can help with your pledges and what those pledges will "buy". There are numerous levels you can donate at from a cup of coffee up to plane fare!
Help Us Welcome Filmmakers to TWIST 2018!

We are privileged to welcome directors, producers, writers, subjects, and actors from all over the globe to Seattle to converge for a weeklong celebration of Queer cinema. An important venue in the Seattle film scene—and the social event of the season—the festival provides unique opportunities for visiting and local filmmakers to engage and entertain over 10,000 attendees. This year, we need your help funding travel expenses for filmmakers for the 23rd TWIST: Seattle Queer Film Festival. Our goal is to raise at least $2,500 to supplement our Filmmaker Hospitality Fund to assist in covering airfare, lodging, transportation, and meals.

GIVING BENEFITS

Give as much or as little as you can, every donation helps to get us to the goal! Do you have airline miles, hotel points, or similar types of rewards you'd like to donate? We will work with you to get that started, contact development@threedollarbillcinema.org.

COFFEE POSÉE | $5 or more

Help a filmmaker shake off their jet lag with a morning cup of joe.

A Handwritten Thank You Card to express our gratitude!

BREAKFAST CLUB | $10 or more

Help a filmmaker fill their tummy with the most important meal of the day!

A Handwritten Thank You Card to express our gratitude!
Social Media Shout-Out!

LUNCH BUNCH | $25 or more

Energize a filmmaker for a long-haul afternoon of panels and screenings!

A Handwritten Thank You Card to express our gratitude!
Social Media Shout-Out!
Filmmaker Hospitality Funder shout out in TWIST Program Guide

AIRPORT TRANSPORTERS | $50 or more

Help a filmmaker get from SeaTac to SeaTown!

A Handwritten Thank You Card to express our gratitude!
Social Media Shout-Out!
Filmmaker Hospitality Funder shout out in TWIST Program Guide
Shout Out On-Screen during TWIST 2018

SUPPER SQUAD | $100 or more

Feed an filmmaker's belly, feed a filmmaker's mind.

A Handwritten Thank You Card to express our gratitude!
Social Media Shout-Out!
Filmmaker Hospitality Funder shout out in TWIST Program Guide
Shout Out On-Screen during TWIST 2018
Two Ticket Vouchers to the TWIST Screening of your choice

BAR TAB BENEFACTORS | $150 or more

Help get those creative juices flowing for visiting filmmakers.

A Handwritten Thank You Card to express our gratitude!
Social Media Shout-Out!
Filmmaker Hospitality Funder shout out in TWIST Program Guide
Shout Out On-Screen during TWIST 2018
Two Opening Night Film & Gala Tickets

HOUSING HELPERS | $250 or more

Provide a weary filmmaker a warm bed to sleep in at the end of a long festival day. You and guest will be (Three Dollar Bill Cinema's Executive Director) Ben McCarthy's guests at the VIP Reception at Opening Nigh.

A Handwritten Thank You Card to express our gratitude!
Social Media Shout-Out!
Filmmaker Hospitality Funder shout out in TWIST Program Guide
Shout Out On-Screen during TWIST 2018
2 Special Opening Night Gala VIP Reception tickets

ROUNDTRIP RIDERS | $500 or more

Sponsor a filmmaker's airfare from a far away destination. To say thank you, you will receive two Ultimate Party Passes for TWIST 2018 with priority Entry for Opening, Centerpiece, and Closing Films and Gala.

A Handwritten Thank You Card to express our gratitude!
Social Media Shout-Out!
Filmmaker Hospitality Funder shout out in TWIST Program Guide
Shout Out On-Screen during TWIST 2018
Two Ultimate Party Passes for TWIST 2018

ADOPT-A-FILMMAKER | $1,000 or more

Sponsor a filmmaker's entire trip: airfare, transport, hotel, and meals! As a thank you, you and a guest will enjoy lunch with Executive Director Ben McCarthy & Festival Director Kathleen Mullen prior to the festival to get exclusive top picks of the 2018 film line-up.

A Handwritten Thank You Card to express our gratitude!
Social Media Shout-Out!
Filmmaker Hospitality Funder shout out in TWIST Program Guide
Shout Out On-Screen during TWIST 2018
Two Ultimate Party Passes for TWIST 2018
Lunch w/Executive Director & Festival Director
(Visited 1 times, 1 visits today)