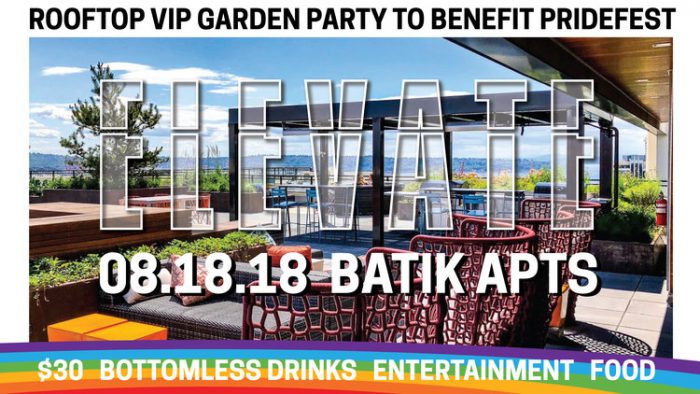 BOTTOMLESS DRINKS!!!!??!!!!!
(No, trampy ones….that doesn't mean you can take off your Speedo and get drunk….)
In order to insure Seattle's big fantastic Pride celebrations are FREE for everyone to attend, Seattle PrideFest has to raise MONEY to help pay for things, but they want these fundraisers to be FUN so on Saturday, August 18th they're throwing a fun cocktail party called ELEVATE at a lovely rooftop gathering place.
Yes….we're all gonna move on up to a dee-luxe fundraiser….in the SKYYYYYY!!!!!
(I've done this joke two days in a row now….I guess it's time to go re-watch "The Jeffersons"….)
Thirty bucks gets you entry into the summer party as well as those bottomless drinks we mentioned earlier, plus nibbles and entertainment….plus the self satisfaction of knowing you helped keep Seattle PrideFest free for everyone!
More poo and a ticket link to snatch those tix:
HELP KEEP PRIDEFEST FREE FOR ALL!

Every year, PrideFest does a fundraiser. This year, we're changing things up and having a cocktail event on the rooftop of one of the most exclusive addresses in Seattle: Batik, at 123 Broadway. $30 TICKET includes: bottomless drinks, entertainment, epic views, gourmet appetizers, and a fun, very VIP crowd.

21+ only. 

Saturday, August 18, 6-9pm

, Batik Apartments. $30

ELEVATE: Rooftop VIP Garden Party to Benefit PrideFest
(Visited 1 times, 1 visits today)