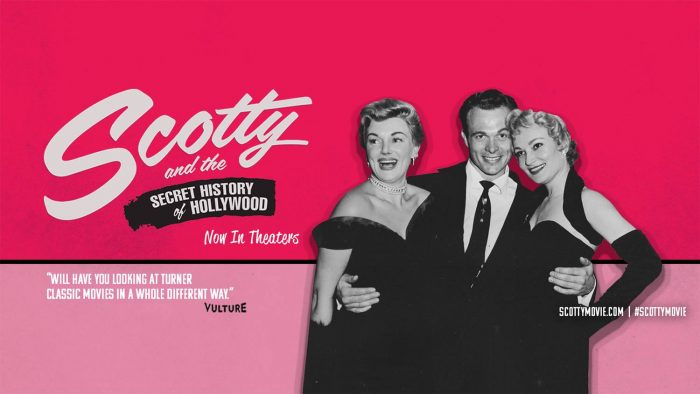 Don't let the very hetero banner image fool you…the one the makers of the scandalous new documentary SCOTTY AND THE SECRET HISTORY OF HOLLYWOOD have been using to promote the film. It features a 1950s photo featuring the  very handsome subject of this film, Scotty Bowers, a former marine turned gas pump jocked turned hustler to the stars and two female actresses looking very heteronormative. 
But, Mr. Bowers, while he did service and procure for, the most beautiful and famous women in Hollywood and Society over his 50+ year as a hustler and "go-between" for sexual services, he was most utilized as a sex worker hired by the beautiful and famous MEN of Hollywood and High Society during that time….stars like Walter Pidgeon and Rock Hudson and Cary Grant and Charles Laughton and…
Scotty Bowers was a mostly well kept secret outside those circles though he was eluded to in many biographies of those stars as "the gas station hustler/pimp who serviced everyone AND their car" during Hollywood's Golden Era, Mr. Bowers himself didn't "out" himself until the publication of his tell all memoir, "Full Service – By Scotty Bowers with Lionel Friedberg" appeared in 2012 and quickly became an infamous New York Times' bestseller. Gossip fans of Old Hollywood loved the juicy book which either confirmed many rumors about top stars or shocked with all new revelations while more old school fans were horrified with many expressing disapproval AND disbelief of the frank disclosures about their beloved icons.
Kate Hepburn and Spencer Tracy weren't actually star crossed lovers?
Kate was a predatory dyke?!?!?!
Spencer Tracy was a self-hating, alcoholic homo?!?!?
The Duke & Duchess of Windsor were swinging bisexuals who liked to "party" with hired hookers?!?!?
Charles Laughton and Tyrone Power enjoyed….let's just say, they liked the "brown hankie"…..
EWWWWWWWWWWWWW!!!!!
Though Scotty Bowers has been backed up and verified by many, including authors Gore Vidal and Armistead Maupin and historian William Mann, there were still many who screamed "no proof!" and "Scotty Bowers is a liar!!!" and "NONE OF THIS COULD POSSIBLY BE TRUE!!!!"
Personally, I don't know how the naysayers can prove that THEY are anymore "correct" than Mr. Bowers. How do THEY know that Kate Hepburn wasn't a lesbian? Because of her VERY carefully controlled image, which she worked very hard to maintain, for the duration of her professional life, promoting her and Tracy as THE Romantic Couple of the Golden Age of Hollywood…despite the fact the pair didn't actually ever live together and spent YEARS apart from one another. Or the fact that Hepburn lived the majority of her adult life surrounded by lesbian women.
The book wasn't particularly well written but it was highly entertaining and even shocking if you already weren't aware of Hollywood's shocking underbelly. (For those of us aware of that underbelly, it still was a thrilling read!) And, as for that underbelly, why is it even very shocking? People, even famous stars, have sexual lives…and, sometimes those sexual lives differ from traditional ones. Especially with artistic types and especially when artistic types have the money and the access to partake of "naughty" pleasures.
There's also those who poo poo the need for the rich and famous to hire some guy who worked at a Richfield gas station and as a part time bartender to service their needs, or hook them up with other sex workers. But, there weren't very many options for anyone if they were seeking out gay or lesbian encounters in a pre-Stonewall world. Straight men could go to madames (and Hollywood has always had them; still does!) with great ease but if you were a female seeking a male or female bed mate, or a gay man, it wasn't easy. Picking up people at work/on the street was very dangerous and any bar or club that identified as a queer business was prone to being raided with all the customers thrown in jail. Scotty Bowers, and others, provided a vital service to Hollywood professionals (as well as non famous names as well including behind the scenes people in the industry) seeking companionship and discretion.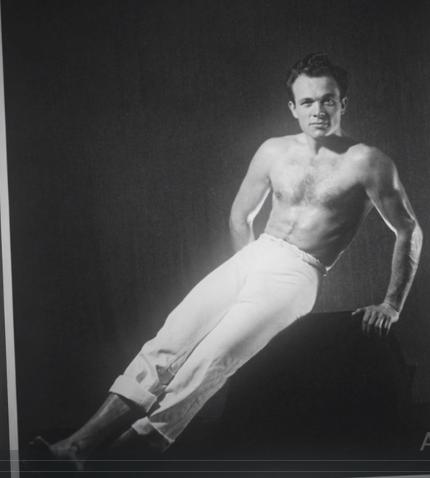 Director Matt Tyrnauer thought Scotty's story was ripe for a documentary film and filming actually began several years ago concurrent with the writing and publication of the book. The film actually opens with Scotty's 90th Birthday party, a rather macabre Hollywood event featuring VERY old peers of Mr. Bowers as well as a smattering of sexy young things to add a dash of firm flesh to the proceedings. 
The film roughly follows Scotty over several months/years and documents his everyday life puttering around one of the several houses he owns/resides in the hills of Hollywood, all of them packed full of the clutter of decades of hoarding. We also learn how he acquired his principal home; left to him by a satisfied client/friend. We also meet Scotty's long suffering wife Lois Bowers, a sweet woman who still sings in Hollywood cabarets, who expresses some doubt that they'd be together if she had known the full story of Scotty's life as Hollywood's Hustler to the Stars prior to their marriage.  She also expresses a lot of dismay when Scotty refuses to hire anyone to do badly needed chores around their dilapidated house; there are numerous shots of a 90+ Scotty tottering around on ladders and trimming trees much to Lois's horror.
We also meet still living peers, former clients and fellow hustlers from the era who also back up Scotty's tales, and provide their own, including a hilarious hustler/buddy (Paul "Al" Almastra) who tittle tattles on partying with a drunken Paul Lynde and the "Salamander" director George Cukor… There's even archival footage of wild parties at Emmy Award winning Hollywood choreographer Tony Charmoli's home featuring drag parades around a pool and blurred image of Scotty servicing party guests.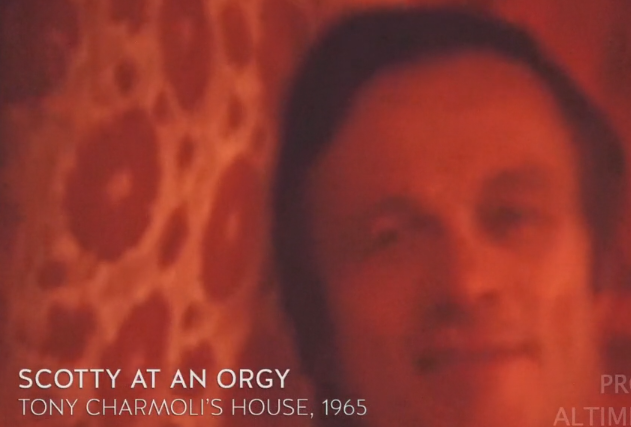 That's all fun to watch but the film is a tad long and rambling at times. It clocks in at 97 minutes and it wouldn't kill it to have it tightened up to about 85 or so. There's too much footage of Scotty puttering around various garages full of the crap he's accumulated over the decades.
But, there's also documentary gold scattered about including Scotty purloining cat food or being rather horrifyingly candid revealing his sexual exploits as a child, freely recalling the nice neighbor man he had sex with when he was 11. You can imagine some gasps in the audience as he declares, "oh, there's nothing wrong with it" and he seems quite proud of revealing he had numerous sexual encounters with many adults while still a child including legions of horny priests.
Bowers only seems to falter in his genial, happy persona a couple of times in the film. Once, while discussing his daughter who died young after a botched abortion, and then more emotionally and later in the film, discussing his service in the South Pacific during World War II and the trauma of seeing comrades and friends die in front of him. The most painful moment is Scotty Bowers recalling his older brother who died in the war. The happy go lucky veneer cracks as he breaks down, remembering the brother he lost.
Despite its tendency to ramble, Scotty and the Secret History of Hollywood is recommended for those honest moments as well as for the cheery scandalous gossip it dishes out. It would probably go over the head of most millennials who aren't into "Old Hollywood" but for anyone interested in those films and the people behind them, it's quite fascinating, as well as anyone interested in general gay studies of that time.
Scotty and the Secret History of Hollywood has a disappointingly short run in Seattle this week at SIFF's smallest venue, its home office screening room at SIFF Center at Seattle Center (located in the Northwest Rooms section of the park; SIFF Center is actually 2 blocks east of their Uptown Cinema on Queen Anne Avenue & Republican). See below for showtimes and tickets:
(Visited 24 times, 1 visits today)