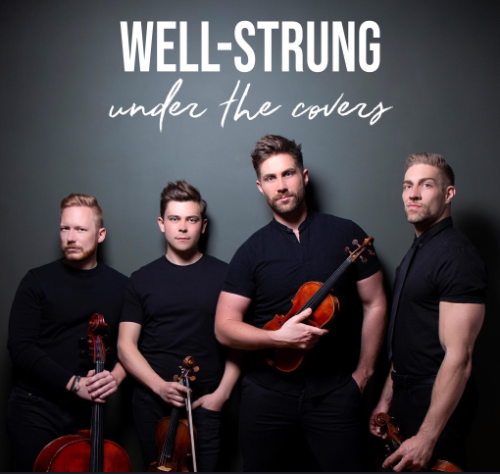 Humpy classical musician's group WELL-STRUNG, the cute quartet of classically trained musicians who sing AND play the strings combining classical sounds with pop music.
While wearing tank tops….
Their 3rd studio album UNDER THE COVERS was released last week and has already hit Billboard's Top 5 on the Classical charts.
The group have no scheduled appearances in the Pacific Northwest anytime soon but they will have a long residency in Puerto Vallarta this winter, Feb 16 to March 16 at Incanto.
MORE:
Under the Covers, the third studio album from the innovative and eclectic New York City-based string quartet, Well-Strung, has debuted in the top 5 on Billboard's Classical charts. The album ranked at #3 on the Classical Crossover Albums, #4 on the Classical Album Charts, #2 on Heatseekers Northeast (up and coming musicians), and #24 on overall Heatseekers. The quartet derives a unique blend of vocals and strings by marrying classical music with pop music of today.

Under the Covers was released September 14, 2018 and features a collection of covers that combine everyone from Lady Gaga and Vivaldi to Queen and Rossini; it's now available on iTunes, Amazon, and wherever music is sold.

The quartet, who have quickly gained international attention playing in London, Russia, Rome and Vienna and selling out venues all across the United States, features Edmund Bagnell (first violin), Christopher Marchant (second violin), Daniel Shevlin (cello) and Trevor Wadleigh (viola).

Out Magazine described them best when they said: "Aside from all being incredibly gorgeous, the men of the all-male singing string quartet Well-Strung are talented masters of turning pop hits into instrumental wonders." After the group's now manager Mark Cortale discovered Christopher Marchant playing the violin on the streets of Provincetown, MA, Well-Strung made their debut as a group in 2012. Since then, they've performed for President Obama, Hillary Clinton and at The Vatican, played alongside artists including Kristin Chenoweth, Audra McDonald, and Neil Patrick Harris, and covered everyone from the Beatles to Taylor Swift. Later this fall, following the release of Under the Covers, Well-Strung will embark on a two-week international US Embassy Cultural Engagement tour that includes performances in Russia, Istanbul, London and more.

www.well-strung.com
www.twitter.com/wellstrungnyc
www.instagram.com/wellstrung