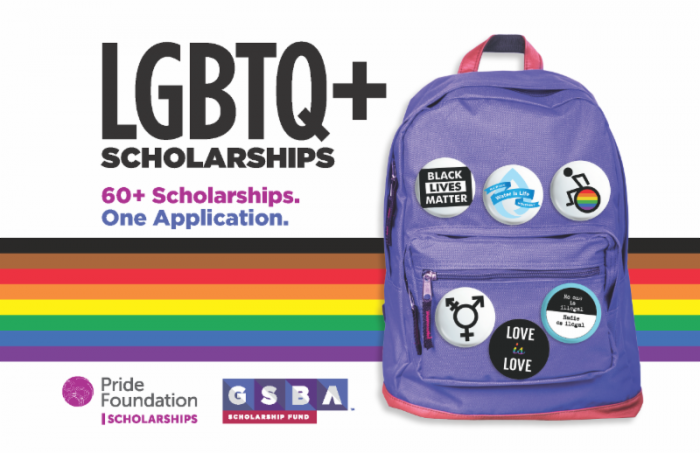 LGBTQ students of Washington State as well as Alaska, Idaho, Montana, and Oregon…scholarship applications are now open via the GSBA and Pride Foundation combined apps. You no longer have to go through multiple application processes to apply for over 60 different scholarships available to LGBTQ students!
All the skinny down below…and, if you're not in student mode, spread the word.
Scholarship applications are now open!
Apply online
Every year, the GSBA Scholarship Fund and Pride Foundation award scholarships to lesbian, gay, bisexual, transgender, queer, and allied students of any age from Alaska, Idaho, Montana, Oregon, and Washington.
Students pursuing any kind of post-secondary education—including community college, public or private colleges & universities, trade schools, apprenticeships, and certificate programs—are eligible!
60+ scholarships.
One application.
Applications are due January 11, 2019
at 4:00pm AKST | 5:00 pm PST | 6:00pm MST.
SCHOLARSHIP APPLICATION WORKSHOPS
To assist students applying for these scholarships, we will hold Scholarship Application Workshops throughout the Northwest and online in the fall. See the 
Pride Foundation
 website for specific times and locations.
HELP SPREAD THE WORD
If you don't plan to apply for the GSBA Scholarship Fund or Pride Foundation scholarships, you can help spread the word about these opportunities! Forward this email, share the news on social media, or 
download and print this flyer
 for your school, business, community space, or notice board.
We look forward to receiving applications and to another year of partnering with our communities to support tomorrow's leaders!
About the GSBA Scholarship Fund

The GSBA Scholarship Fund awards scholarships to LGBTQ and allied students who exhibit leadership potential, demonstrate strong academic abilities, and are actively involved in school and community organizations. The fund is a program of the Greater Seattle Business Association.

Mission

To invest in the education of a diverse group of lesbian, gay, bisexual, transgender, queer and allied students who have the capacity and vision to be the next generation of leaders working to create a better world for all.

Vision

Diverse leaders who have the vision, compassion and capability to solve global issues and secure human rights for all.

About Pride Foundation

Pride Foundation is a regional community foundation serving the Northwest region of Alaska, Idaho, Montana, Oregon, and Washington.

Mission

Pride Foundation inspires giving to expand opportunities and advance full equality for LGBTQ people across the Northwest.

Vision

We envision a world in which all LGBTQ youth, adults, and families enjoy the freedom to live safely, openly, and genuinely.
The GSBA Scholarship Fund is a 501(c)3 nonprofit. Learn more about supporting LGBTQ and allied students by 
making a contribution
 to the Scholarship Fund.
(Visited 1 times, 1 visits today)