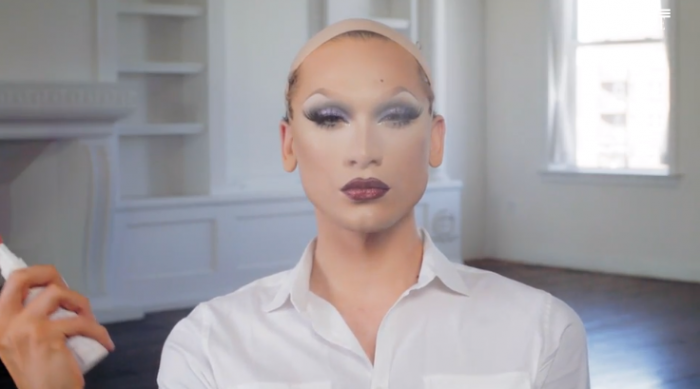 Elle.com has just released an interesting new video documentary piece on Drag and its huge influence on the Beauty Biz. The video (as well as an accompanying article on Elle.com) examine how drag has impacted make-up trends over the years, starting with RuPaul's significant contribution as the face of M.A.C.'s Viva Glam campaign in 1994, a line of cosmetics that benefited HIV/AIDS organizations. RuPaul's influence obviously continues to this day, not just via his hugely successful long running reality competition show RuPaul's Drag Race but also through the stars created through that show.
Several RPDR veterans have projects with make-up companies including Kim Chi and Trixie Mattel teaming up with Sugar Pill but also RuPaul who just announced that the Emmy Award winner has signed a deal to offer 18 make-up products with Mally Beauty.
The story also looks at how non drag celebrities have used/exploited drag make-up for their own gain with the most obvious example being Kim Kardashian jumping on the drag make-up bandwagon early in her career with her make-up tutorials on YouTube which blatantly used techniques used by drag stars, such as contouring. Soon, thousands of similar videos flooded the market with enthusiastic make-up mavens of all genders offering tutorials on every aspect of the beauty experience.
The video/story do make a case for the scenario of "KARDASHIAN MAKEUP IS INSTAGRAM MAKEUP IS DRAG MAKEUP"…while acknowledging that drag make-up itself evolved from theatrical make-up techniques created over many decades by theater artistes to project their faces to audiences.
On a side note, I wish the video acknowledged the fact that for many iconic drag make-ups, PROFESSIONAL make-up artists created those looks. Van Smith created the Divine look in those John Waters' films…..Mathu Andersen created RuPaul's "Super Model" look which made her a star.
VIA Elle.com:
"I don't think that the drag community gets the credit they deserve for the trends that are happening with makeup—so many trends started within the drag community. I would love to see drag get more recognition for it," Renny Vasquez, a celebrity makeup artist who works with Gabrielle Union, Jennifer Lopez, and Serena Williams says. "I think that we're moving into a moment where people are digging in a little bit deeper and they're like, 'Where does it come from?' [Drag queens] are starting to get some of the recognition. But, I do feel like it's long overdue."

Before YouTube, before Instagram, before "influencers," now-common knowledge makeup techniques like contouring and baking were used by drag queens in the dressing rooms of clubs. They were passed on by word of mouth, taught by either peers or older performers (called drag mothers) who'd take newcomers under their wings. The objective was to use makeup to transform the face into a character. Borrowing from theater tradition, makeup was about exaggerating features so the performer wouldn't be washed out under powerful stage lights, and their expression could be seen by someone sitting in the back of the room.
Check out the entire story and video.
https://www.elle.com/beauty/makeup-skin-care/a25426378/drag-influence-beauty-industry/
(Visited 8 times, 1 visits today)