OK….not ALL of them. 
But, most.
This coming weekend (December 6-8, 2018) welcomes the debut of the majority of this year's big gay winter holiday shows for Seattle…and, gay adjacent. And, it's a big year in the fact that so much has changed this year (which I've written about quite a bit…) with beloved shows ending (Ham for the Holidays) and shows moving (THE DINA MARTINA CHRISTMAS SHOW moving from grungy but beloved Re-Bar Place to fahncy and also somewhat beloved ACT Theatre) and shows mutating from one form to a SLIGHTLY different one (Homo for the Holidays reforming as "Slightly Different Homos for the Holidays Minus BenDeLaCreme" aka JINGLE ALL THE GAY).
There's also a couple of brand new holiday shows….SCOTT SHOEMAKER'S WAR ON CHRISTMAS at Re-bar filling the spot vacated by Ms Martina's defection (or, de-infection from Rebar to the soon to be newly infected ACT…) and A VERY DIE HARD CHRISTMAS at Seattle Public Theatre which might be best described as one of the "gay adjacent" options since it's not gay-gay but campy as hell.
Same thing goes for the return of BUTTCRACKER IV: THE FINAL COUNTDOWN the dance tribute to hair rock from the 80s at Capitol Hill's Erickson Theatre…it certainly is campy and since there are dancers involved, you know there's a gay or 5 involved someWHERE! Also, I'm contractually obligated to include Buttcracker since it's co-creator/producer Diana Cardiff lives down the hall from me in our exclusive apartment complex to the stars and she's crazy enough to steal my laundry if I don't plug her FAAAAAABULOUS show.
(If you love Butt Rock, it really IS fabulous!)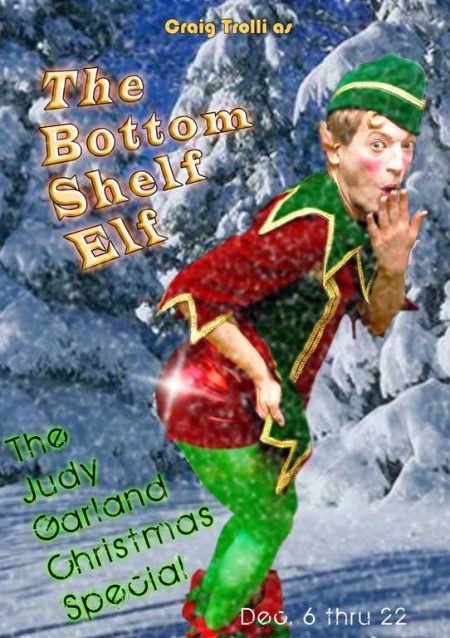 Oh, and there's the return, after a multi-year hiatus, of THE JUDY GARLAND CHRISTMAS SPECIAL at Theatre Off Jackson, the fun campy (that damn word again…) re-enactment of the real TV special from 1963 starring Ms Garland and her talented/not so talented children. The producers of this event keep insisting on calling that special a "trainwreck" but I beg to differ despite the fact they're the only local non-cheap skates who actually bought an ad for their show this year…(ahem). The actual 1963 show is charming (it's easy to find on YouTube) and it's not a "mess" at all. It's a product of a different era and Judy is fine here, not the drunky disaster she's made out to be. Judy was always very spontaneous on television; that's what made her GREAT!  If she seems a bit off, well…she (and the rest of the country) were all still in shock after the assassination of JFK…the special was filmed a couple days after he was killed. Give Judy some slack! And, go see this live show starring the wunnerful Troy Mink and frequent SGS contributor Craig Trolli.
Oooops…I digressed.
Back to all the damn Xmas shows!
There's also one off shows all over the place as well (go check out the SGS Calendar to find them all) but most especially you should check out MURRAY & PETER'S A DRAG QUEEN CHRISTMAS: THE NAUGHTY TOUR at The Moore on December 12th with a bevy of your favorite RPDR gals like host Miz Cracker and Raja and Latrice and many more! Not to mention a couple of very special one offs at Queer/Bar with RPDR fan favorite GIA GUNN appearing on December 7th and MAYHEM MILLER on December 14th.
Not to mention all the other seasonal shows like LAND OF THE SWEETS: THE BURLESQUE NUTCRACKER which has been running at The Triple Door since Jesus was in diapers.
And, some shows have already started like Mimosa Cabaret's annual Seussian parody A BOOB JOB FOR XMAS/HOLIGAYS/WHATEVER IT'S CALLED NOW at The Unicorn starring the fabulous Isabella Extynn and Tipsy Rose Lee.
The last arrival will be the new holiday teaming of the "OMG, I'M SO SICK OF DOING HOMO FOR THE HOLIDAYS!!!" BenDeLaCreme with "OMG, EVERYONE ELSE HAS A HUGELY SUCCESSFUL HOLIDAY SHOW EXCEPT MEEEEEE!!!!!" Jinkx Monsoon who are joining forces to delight audiences during the Yuletide while scooping in huge amounts of cash they only have to share with each other, as they tour the U.S. They'll end up in Seattle on the Weekend Before Xmas for a 5 show run at The Neptune with their new long windedly titled show: TO JESUS, THANKS FOR EVERYTHING! JINKX AND DELA! It appears to be almost sold out so you'd best DASH AWAY to snag those tix!
I think that's it…
If you can afford to go to all these shows, then you truly are blessed!
(Visited 1 times, 1 visits today)