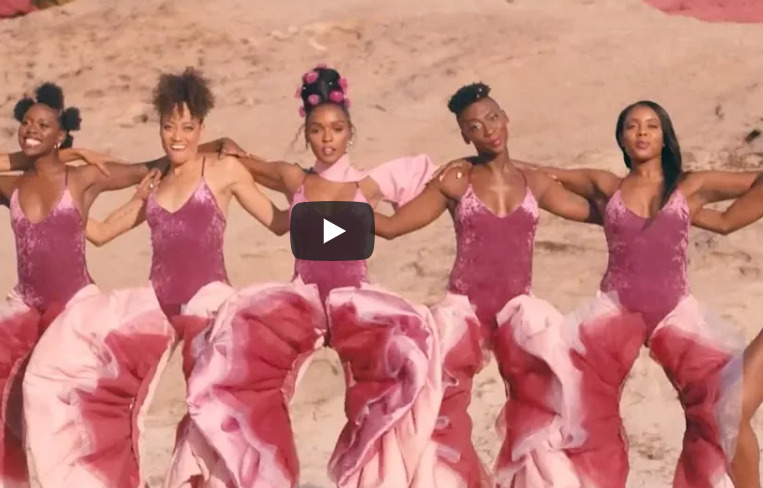 On what feels like the Eve of Impeachment, 2018 has come to a close and Trump's administration is steadily imploding. Y'all, we deserve all the joy and art we can derive from these seemingly insufferable years!
Queer musicians kept the love alive and the creativity flowing throughout 2018, inspiring future generations of LGBTQ leaders and giving veteran activists something to look forward to. These singers, songwriters, instrumentalists, and producers told stories of queer love, intersectional strife, heartache, self-empowerment, and hope.
Here we present, in no special order, 20 of the year's best songs by queer musicians.
Pynk, by Janelle Monáe
She came out as pansexual. She made her relationship with Tessa Thompson public. She toured the world. And she released the most stunning visual album of the year. 2018 is the year Janelle Monáe became Kwayne of the Kweers. While each song from Dirty Computer is a certified banger, "Pynk" is the album's standout as an iconic music video and a culture-shifting empowerment anthem celebrating queer/female/POC sexuality.
Dance to This, by Troye Sivan
Troye had several successful projects this year, including a wildly successful album in Bloom, a haunting cover song from the Freddie Mercury biopic Bohemian Rhapsody, a lauded acting role in the conversion therapy powder keg film Boy Erased, and an award-nominated single in the film's soundtrack. But his partnership with pop princess Ariana Grande has propelled the gay Australian singer to new heights in the American music industry. Don't blink.
Nite and Day, by Meshell Ndegeocello
After getting her start in 1993 with poetic R&B and unapologetically heartbreaking soul music, Meshell has maintained a steady creative canon of albums up through this year with the cover album Ventriloquism. Past projects have spanned collaborations with John Mellencamp, a Nina Simone tribute compilation, and 10 Grammy nominations. But this cover of "Nite and Day" by Al B. Sure! is representative of her dynamic compositional vision and her ability to transcribe the innermost spiritual essences from hip hop's early grooves.
Correct, by MNEK
Born in London as Uzoechi Osisioma Emenike, MNEK (get it?) is a hip hop phenom of Nigerian descent. Sure, he's had his hands in projects for Dua Lipa, JoJo, Kylie Minogue, and Beyoncé Herself. Sure, he's been nominated for multiple Grammy awards. And sure, he's released a delightful duet with Hailee Steinfeld. But his solo endeavor with the album Language has truly showcased his glorious femme sensibility and musical skill.
Promises, by Sam Smith
This British gospel singer turned pop powerhouse has ridden white women's heartbreak all the way to the bank, and cashed that fat check for some sexpot singles. His homage to the late and great Gay Zaddy George Michael revamped his brand from sad and sentimental to sensual and seductive. And now he's keeping audiences bopping with this lightning-in-a-bottle project with David Guetta, including a video celebrating queer vogue culture.
Waitin (the KAYTRANADA remix), by Kelela
Kelela, a Washington D.C. native, took the music scene by storm last year with the bombshell album Take Me Apart. It's no wonder then that Haitian-Canadian DJ KAYTRANADA took the queer artist's smooth dance hit "Waitin" and remixed it with technical finesse and an African sonic landscape. Kelela is now earning every ounce of her fame with her old-school R&B flavor and her fashion-forward lewks.
Love Me, by Claire Michelle
Now living in Seattle, Claire is a magnetic artist whose steady passion is as evident in her raw vocal musicality as it is in her acoustic guitar stylings. After writing "Fall," a song for 2017's somber Transgender Day of Remembrance, Claire has continued to evolve as a musician and as a voice for trans women.
Ghost Limb, by Jay Boogie
In this long-awaited return to the scene after his 2015 release of the ethereal album My H.O.E., queer rapper Jay Boogie spins a deeply affecting groove in this single with Billy-On. Jay is a Brooklyn native with Dominican roots and refuses to betray his femininity despite his hard-hitting beats. Perhaps we'll see him grace the screen in Season 2 of POSE, or produce records with other queer hip hop artists like Young M.A. and Todrick Hall?
I Can't Breathe, by Shamir
Shamir has been slowly building a career bit by bit. His first popular single "On the Regular" garnered millions of YouTube views. Since then the non-binary, Philly-based musician (who uses male pronouns) has released several hit music videos and appeared in Season 1 of Netflix's prolific Dear White People series. "I Can't Breathe" is a departure from Shamir's previous upbeat pop sound and, with a slow shoegaze rock tenderness, hauntingly narrates the horrors of police brutality against black Americans.
Walls, by Kenton Chen
An alumni of NBC's The Sing-Off, Kenton Chen is a singer, songwriter, and actor whose musical talent has expanded beyond his jazz beginnings. Fans will recognize the vocal purity and melodic instincts he demonstrates in "Walls," similar to those of Sara Bareilles, with whom he has performed. Kenton is one to watch as Broadway and Los Angeles compete for his astounding artistry.
Shallow, by Lady Gaga
Listen. If you haven't already, just come the fuck around on Lady Gaga. She's a Golden Globe winner for her spellbinding performance in American Horror Story: Hotel. She's a many-times-over Grammy winner. She's a deserving Academy Award nominee for her single "Til It Happens to You" which in large part helped spur Hollywood's #TimesUp conversation. Now, she's preparing to clean house at the Oscars for her work in A Star Is Born, perhaps not as Best Actress but certainly worthy of Best Original Song with "Shallow." Just accept it: This bisexual singer, composer, actress, and songwriter is a cultural phenomenon.
You Were the One, by Mario Jose
Mario is a lovable YouTube star who has collaborated with Pentatonix, John Legend, Paula Cole, and Prince. While his smoky tenor voice makes for a perfect choral blend with other artists, his solo career has blossomed with beautiful ballads and feel-good anthems. "You Were the One" artfully showcases the smooth vocals and sweet presence of this openly gay California singer.
Curious, by Hayley Kiyoko
If you're older than 25, you may not have heard of Hayley. But young fans stan this Los Angeles-based lesbian icon nearly as much as student loan forgiveness. She has appeared in multiple TV and film projects, but she also boasts a burgeoning pop music career. And in what might sound like a simplistic summer jam, Hayley narrates in "Curious" the sensual and painful cat-and-mouse pursuit of a sexual relationship with a "straight" woman.
Boys, by Lizzo
Basically it's Lizzo's world and we're all just here to witness her. She's a proud thick femme queer black woman and heaven help the greedy record executive or loudmouth naysayer who tries to stand in her way. Hailing from Houston and Minneapolis, Lizzo has released 5 studio albums—and fans are hungry for another. Get into it.
Gifts, by Katastrophe
Full name Rocco Katastrophe, the San Francisco rapper blazed trails in 2004 as a trans man with a hip hop album. After 4 studio albums, Katastrophe's musical output has slowed, but Inflower & Cosmet have remixed his original track "Gifts" and created a multilayered, transfixing auditory journey of sophisticated chord progressions. It's a departure from his hip hop discography but easily one of the musician's best projects to date.
We Don't Care, by Chris Willis
Chris Willis, a former gospel golden boy, now takes us to church with energetic in-the-pocket dance bops. The gay Ohio native has teamed up with David Guetta for past collaborations and topped the Billboard dance charts. This year, Chris elevated his consistently groovy career even further with this partnership with DJ Robbie Rivera.
Rent, by Big Freedia
Hailing from New Orleans is Freddie Ross, a self-identified gay man who has created the gender-fucking femme stage presence Big Freedia. Her hip hop career presence is small but mighty and blends an old-school rap sensibility with fresh, contemporary production values. But most of all, Freedia is known for her high-power live performances with choreographed numbers and audience participation twerk battles. "Rent" is a featured single on the 3rd Ward Bounce EP, a collection of tracks that slap like Dynasty.
Taxi (the Skyshaker remix), by Le1f
A New York rap wonder and skilled producer, Le1f is a gay man with a career to watch. He has released multiple EPs and singles, but his first and only studio album Riot Boi cemented Le1f's well-deserved throne in the indie hip hop pantheon. Now with this year's EP Blue Dream, he has continued his musical evolution with casual rhymes and deep soundscapes.
Maraschino-Red Dress $8.99 at Goodwill, by Ezra Furman
Frayed vocal aesthetics and a punk influence pervade Ezra's discography, both in his solo career and in his frontman role with bands like The Harpoons, The Boyfriends, and The Visions. Though music critics have mistaken his frequent femme fashion as a genderqueer or nonbinary identity, Ezra has clarified that he identifies as an androgynous bisexual man who simply does manhood differently than traditional gender roles have prescribed. And this commitment to an authentic self is as apparent in his interviews as it is in his albums.
The Joke, by Brandi Carlile
After another year of division and bigotry, turmoil and abuse, intersectional minority communities need each other more than ever. And with Brandi's consistently brilliant voice breathing life into this nurturing ode to hope, "The Joke" serves as an inspirational ballad calling upon us to be proud, bolster ourselves, and ride out the storm. It's no wonder the track is a Grammy nominee for 2018 Song of the Year.
As we march into 2019, keep supporting the LGBTQ artists who produce the inspirational, campy, heartbreaking, dance-worthy, and powerful music that keeps our stories affirmed and our spirits on the rise.
(Visited 5 times, 1 visits today)