Oh, look…it's almost Thursday which is actually October 31st thus the REAL day known as HALLOWEEN and while many venues and groups had their big Spooky Events this past Saturday, there are still some scary options for Thursday.
They include the Collide-O-Scope men putting on their big annual Halloween Video Night at the Egyptian Cinema on Capitol Hill plus a HOCUS POCUS themed party at Neighbours Night Club and even fun music at the Southgate Roller Rink in White Center with L80 and Jackie Hell singin' their hits!
All the options for Thursday plus more on our Calendar for EVERY day!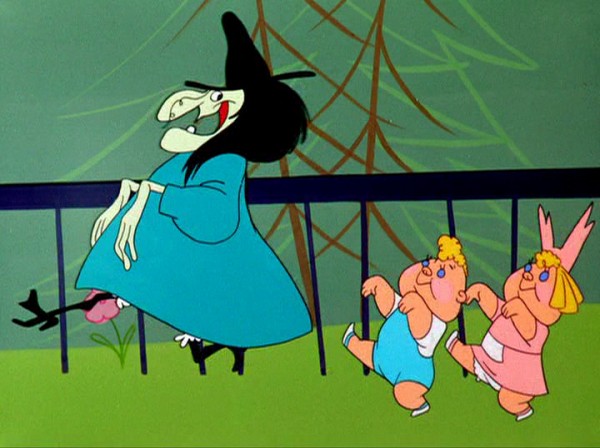 Events for October 31, 2019
ONGOING
October 25 @ 12:00 pm – November 3 @ 9:00 pmNorthwest Film Forum, 1515 12th Ave
Seattle, WA 98122 United States + Google Map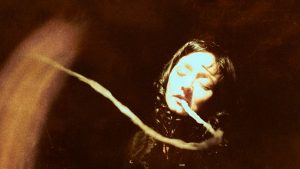 Never before seen films, never to be seen again. Seances presents a new way of experiencing film narrative, framed through the lens of loss. In a technical feat of data-driven cinematic storytelling, films are dynamically assembled in never-to-be-repeated configurations. Each exists only in the moment, with no pausing, scrubbing or sharing permitted, offering the audience […]Find out more »
5:00 PM
October 31 @ 5:00 pm – 1:30 amCopious Love Productions, 2220 NW Market St
Seattle, WA 98107 United States + Google Map

Join the Copious family as we celebrate Halloween with fun for everyone! There will be Trick or Treating for the kids and pets from 5:00-7:00pm, and of course the bar will be open for parents!! We will have a Costume Contest with categories for Best Group, Most Original, and Best in Show. The winners will […]Find out more »
6:00 PM
October 31 @ 6:00 pm – 12:00 amThe Lumber Yard Bar, 9619 16th Ave SW
Seattle, WA 98106 United States + Google Map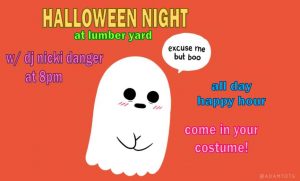 No tricks, just treats! Come celebrate Halloween night with us at the Lumber Yard. DJ Nicki Danger will be spinning jams starting at 8pm. Wear your costume and enjoy happy hour all night long!Find out more »
7:00 PM
October 31 @ 7:00 pm – 10:00 pmTimbre Room, 1809 Minor Ave.
Seattle, 98101 United States + Google Map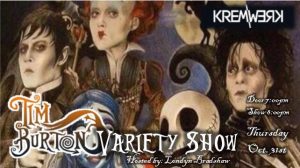 WEIRD proudly presents a very special variety show tribute to the works of filmmaker Tim Burton — just in time for Halloween! 🎃 TIX: bit.ly/TimBurtonHalloween 🎃 Hosted by Londyn Bradshaw A WEIRD Production ⎮ WEIRD: A new drag show tribute every month! Door: 7PM ⎮ Show: 8PM ⎮ 21+ 1809 Minor Ave. — — — […]Find out more »
October 31 @ 7:00 pm – 9:00 pmOddfellows West Hall Seattle, WA 98122 United States + Google Map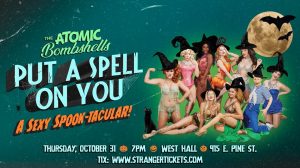 The Atomic Bombshells… PUT A SPELL ON YOU! When: Thursday, October 31st, Halloween Night Showtime: 7pm (Doors at 6pm) Where: West Hall, Oddfellows Building 915 Pine St. Seattle, WA Tickets: $35 GA/$42 Premium/ $200 VIP Tables www.strangertickets.com Premium Seating and VIP tables available! COMING THIS HALLOWEEN, ONE NIGHT ONLY: Must be the season of the […]Find out more »
October 31 @ 7:00 pm – 11:00 pmRPlace, 619 E Pine St
Seattle, WA 98122 United States + Google Map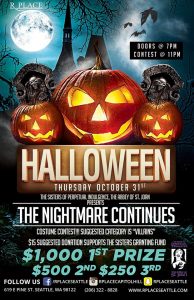 The category is… Villains. Your favorite Sisters of Perpetual Indulgence will host another spooky, kooky and all out fun night at Rplace. Our suggested theme is VILLAINS but we encourage you to bring your very best costume to the party! Come join us for the $1000 first prize, $500 second place prize as well as […]Find out more »
October 31 @ 7:00 pm – 10:00 pmKremwerk, 1809 Minor Ave
Seattle, WA 98101 United States + Google Map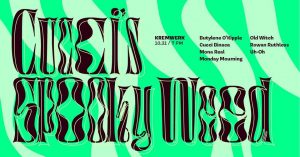 CUCCI'S SPOOKY WEED 😵 TIX: http://bit.ly/SpookyWeed 😵 the FEAR is back BAKED and AFRAID 10/31 at Kremwerk 7pm DOORS and outside BAKE 8pm SHOWS and inside HAUNTS Hosted by: Cucci Binaca Drag by: 🔮 Butylene O'Kipple 🔮 ⚰️ Old Witch ⚰️ 🍟Mona Real🍟 🔴 Uh-Oh 🔴 🥀 Rowan Ruthless 🥀 🌒 Monday Mourning 🌒 😱 […]Find out more »
8:00 PM
October 31 @ 8:00 pm – 10:00 pm|Recurring Event (See all)ACT Theatre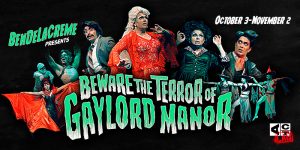 30 Shows! Oct 3 to Nov 2, 2019 Returning to haunt ACT Theatre for a third consecutive year, internationally acclaimed drag artist BenDeLaCreme is joined by an all-star cast of comedy, dance, cabaret and burlesque luminaries for a tale of Halloween horror sure to leave you howling! Pull up a seat in the heart of […]Find out more »
October 31 @ 8:00 pm – 9:00 pm|Recurring Event (See all)Queer Bar, 1518 11th Ave
Seattle, 98122 United States + Google Map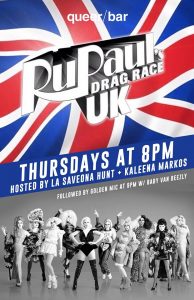 RuPaul's Drag Race is invading the UK! Queer/Bar will be bringing you all the fierce drama every Thursday at 8pm, on the big screen at queer/bar. Starting October 3rd, join our hosts La Saveona Hunt and Kaleena Markos as we watch the queens of Britain fight it out to be crowned the winner of the […]Find out more »
October 31 @ 8:00 pm – 11:00 pmSIFF Cinema Egyptian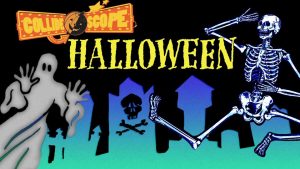 Collide-O-Scope's annual Halloween Eve celebration returns to the glamorous SIFF Cinema Egyptian! Join us for our one-of-a-kind found-footage Halloween bash – an inspired phantasmagoria of outrageous oddball video, bone-chilling musical mash-ups, hair-raising prize drawings, and a truly monstrous costume contest. Plus, this year we have a special musical performance by Seattle's own drag chanteuse Adé […]Find out more »
October 31 @ 8:00 pm – 10:00 pm|Recurring Event (See all)West of Lenin, 203 N 36th St
Seattle, 98103 United States + Google Map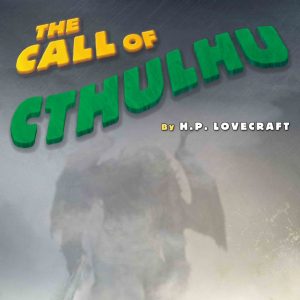 Adapted for the stage from Lovecraft's cult classic, THE CALL OF CTHULHU introduced the world to the iconic huge alien. Set in Providence in 1954, the story follows a university professor who is executor of her great-aunt's estate. While going through her papers she uncovers a mystery spanning eons of time and crossing the world, […]Find out more »
October 31 @ 8:00 pm – 10:00 pm|Recurring Event (See all)Northwest Film Forum, 1515 12th Ave
Seattle, WA 98122 United States + Google Map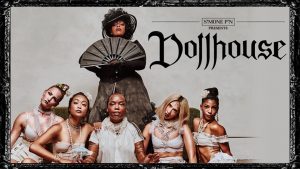 Simone Pin presents Dollhouse, a Southern Gothic burlesque. Welcome to the dark side, y'all… where you can find a dose of sinister, a dash of grotesque, and a whole lotta sin. What twisted secrets are Mama and her Dollhouse Coven keeping? What delusional dreams nest behind those charming doll eyes? Prepare to have a hauntingly […]Find out more »
October 31 @ 8:00 pm – 12:00 amNeumos, 925 E Pike St
Seattle, WA 98122 United States + Google Map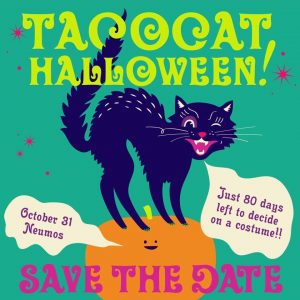 Tacocat with Sundae Crush at Neumos Age Restrictions: 21 and over only Important Notice: All tickets are nonrefundable and nontransferable with the exception of event cancellation. Support acts are subject to change. Biography: When Seattle band Tacocat—vocalist Emily Nokes, bassist Bree McKenna, guitarist Eric Randall, and drummer Lelah Maupin—first started in 2007, the world they […]Find out more »
October 31 @ 8:00 pm – 9:00 pm|Recurring Event (See all)RPlace, 619 E Pine St
Seattle, WA 98122 United States + Google Map

Join us every Thursday as we spill all the (English) tea on the British drag scene for the debut season of RuPaul's Drag Race UK! 🍻 Hosted by Cookie Couture & Mila Skyy 🍻Find out more »
October 31 @ 8:00 pm – 10:00 pm|Recurring Event (See all)12th Avenue Arts, 1620 12th Ave
Seattle, 98122 United States + Google Map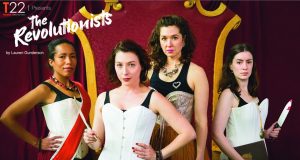 Directed by Julie Beckman THE REVOLUTIONISTS is a story about four badass women who lose their heads (literally) in this irreverent comedy set during the French Revolution's Reign of Terror. Playwright Olympe de Gouges, assassin Charlotte Corday, deposed queen Marie Antoinette, and Haitian rebel Marianne Angelle tell their stories together and try to beat back […]Find out more »
October 31 @ 8:00 pm – 12:00 amMuseum of Pop Culture, 325 5th Ave N
Seattle, WA 98109 United States + Google Map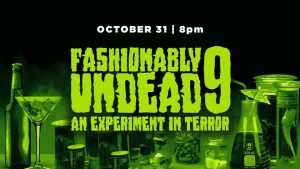 Win a $750 CASH prize courtesy of Champion Party Supply! Come dressed in your horror best to the creepiest Halloween costume contest in town — MoPOP's Fashionably Undead 9: An Experiment in Terror. Passionate polymaths who didn't stop to think if they should and screwy scientists who refuse to let the sleeping dead lie take […]Find out more »
October 31 @ 8:00 pm – 2:00 am|Recurring Event (See all)The Union Seattle, 1200 2nd Avenue
Seattle, WA 98101 United States + Google Map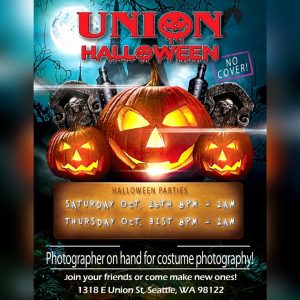 Join us tomorrow, Oct 26th and Saturday Oct 31st at Union to get your free costume photos! Hope to see you there!Find out more »
9:00 PM
October 31 @ 9:00 pm – 2:00 am|Recurring Event (See all)RPlace, 619 E Pine St
Seattle, WA 98122 United States + Google Map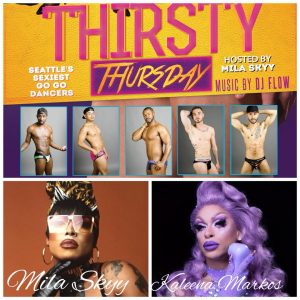 THIRSTY THURSDAYS! It's Thirsty Thursday again! Join us tonight, with DJ FLOW, MILA SKYY, and special guests! And don't forget the hardest working dancers on the West Coast, the TWERK TEAM! Check Facebook for updates on guests! Show starts at 10! The best drink specials in town! DJ Flow spins all night with Seattle's Sexiest […]Find out more »
October 31 @ 9:00 pm – 2:00 am|Recurring Event (See all)Neighbours Nightclub & Lounge, 1509 Broadway
Seattle, WA 98122 United States + Google Map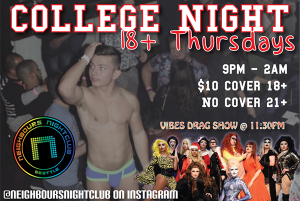 Come see us Thursday for College Night! 18+ 9pm to 2am! $10 experience charge 21+ No Cover!!! VIBES is Seattle's only 18+ dance night and drag show, every Thursday at Neighbours Nightclub. Sativa of The Chaos Angels is joined by a sickening cast with Angela Visalia and Babyguuurl and hosts Whispurr Watershadow and Irene DuBois! […]Find out more »
October 31 @ 9:00 pm – 11:30 pm|Recurring Event (See all)Queer Bar, 1518 11th Ave
Seattle, 98122 United States + Google Map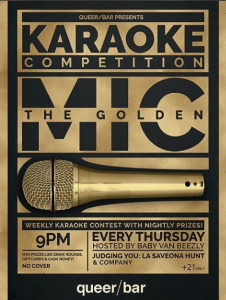 Weekly Singing Competition! | Free | Every Thursday Think you got the pipes or performance to win some prizes!? Come take over our stage with the full experience of lights, production, and sound! Queeroake host Baby Van Beezly, a two time Washington stage karaoke champion, and our very own dancing diva, M.X host Lasaveona […]Find out more »
October 31 @ 9:00 pm – 2:00 amNeighbours Nightclub & Lounge, 1509 Broadway
Seattle, WA 98122 United States + Google Map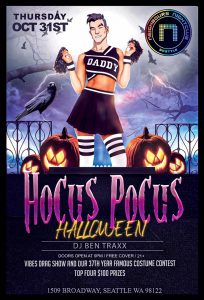 Halloween, Thursday, Oct 31 No Cover-21+ Vibes Drag Show and Costume Contest Four $100 Top Prizes + Special Prizes w/DJ Ben Traxx!Find out more »
October 31 @ 9:00 pm – 1:30 amSwallow Bar, 9608 16TH Ave SW
White Center, WA 96108 United States + Google Map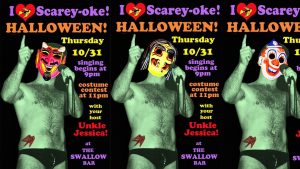 Come celebrate All Hallows Eve at The Swallow, with an extra-spooky edition of our I HEART Karaoke night! Prizes for best costumes, drink specials, and fantastic song selection! Singing begins at 9pm Costume Contest at 11ish Hosted by Unkle Jessica!! No Cover!!Find out more »
October 31 @ 9:00 pm – 2:00 amPony, 1221 E Madison St
Seattle, WA 98122 United States + Google Map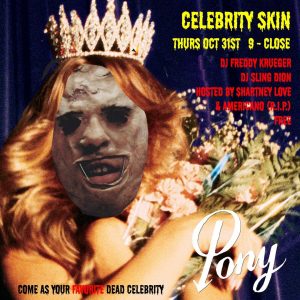 We all know that on the night of Halloween the veil between the living and the dead is at it's thinnest. It's the one night of the year we to gather together and honor those that have passed before us. Well at Pony we're gonna take it up notch and celebrate our favorite DEAD CELBS! […]Find out more »
October 31 @ 9:00 pm – 2:00 amFred Wildlife Refuge, 128 Belmont Ave E
Seattle, 98102 United States + Google Map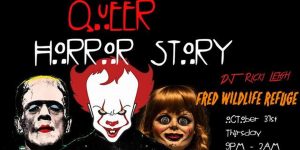 Queer Horror Story is a gender inclusive, body positive, sexually fluid, queer Halloween party. Grab your costumes and wildest fantasies and find a spooky sexy or silly soul to dance with. $10 tickets before 10/15 $15 regular till 10/30 $20 cash at the door Featuring: – DJ Ricki Leigh & DJ Reece's Pieces – Halloween […]Find out more »
October 31 @ 9:00 pm – 12:00 amSouthgate Roller Rink, 9646 17th Ave SW
Seattle, 98106 United States + Google Map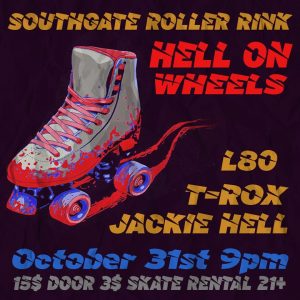 Welcome to the most exciting 2019 halloween night event in the Seattle area! We have the scariest drag queen in town Jackie Hell! Jackie has been haunting the streets of Seattle for over a 100 years! Seattle drag icon! L80 (pronounced like "lady") Is a Seattle based pop performance art duo that brings all the […]Find out more »
October 31 @ 9:00 pm – 10:00 pmQueer Bar, 1518 11th Ave
Seattle, 98122 United States + Google Map
It's our favorite time of year! Join us for a spooky edition of The Golden Mic Karaoke Contest. Hosted by La Saveona Hunt with pop-up performances from Kaleena Markos and Kristie Champagne. 1st prize: $250 cash & 2 tickets to see Ginger Minj 2nd prize: $150 queer/bar giftcard 3rd prize: $50 Cupcake Royale giftcard best […]Find out more »
9:30 PM
October 31 @ 9:30 pm – 12:30 amJewelbox Theater at The Rendezvous, 2322 2nd Ave
Seattle, WA 98121 United States + Google Map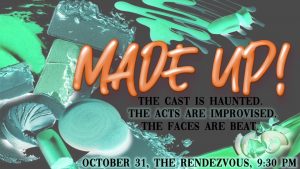 ~ ✨💀 MADE UP! 💀✨ ~ The cast is haunted. The acts are improvised. The faces are beat. ~ ✨💀✨ ~ Join us on October 31 for MADE UP! v. 2: Tricks & Treats A group of Very Brave Souls have volunteered to doll themselves up (…way, WAY up! 💅) and face the unknown in […]Find out more »
October 31 @ 9:30 pm – 12:30 amThe Ruins Seattle, 570 Roy St
Seattle, WA 98109 United States + Google Map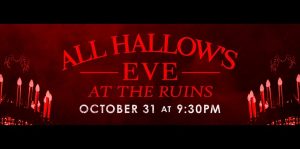 "YOU ARE INVITED to the most decadent Halloween party in the city! Step inside the walls of The Ruins – an indulgent palace (hidden inside a warehouse) where gold drips from the walls..and so does the blood.. The Ruins opens its doors on Halloween night to host a debaucherous evening of music, dancing, drinks, and performance. Experience a […]Find out more »
10:00 PM
October 31 @ 10:00 pm – 2:00 amTimbre Room, 1809 Minor Ave.
Seattle, 98101 United States + Google Map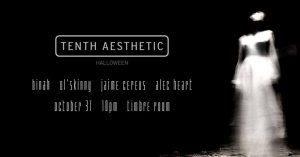 Lost in the moment, they were savage, they were superb. Tragic, fearful, the darkest thing I heard. Ominous and stately as a hush fell around, Wide-eyed and magnificent, they never touched the ground. "You will be lost," they were lowering their voice, "Be loyal to the nightmare, the nightmare of your choice." Something's pure about […]Find out more »
October 31 @ 10:00 pm – 2:00 amKremwerk, 1809 Minor Ave
Seattle, WA 98101 United States + Google Map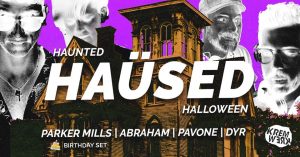 Haüsed, your new weekly destination for house & techno EVERY Thursday at Kremwerk ️🎉! Join us for a scary edition with… Parker Mills Abraham Pavone DYR Happy Hour Specials until 11 PM… 🍺$8 Beer-Shot Combo 🍹Discounted Wells $5 before 11 PM, $10 After Kremwerk 1809 Minor Ave. Seattle, WA kremwerk.com/ 21+Find out more »
(Visited 1 times, 1 visits today)