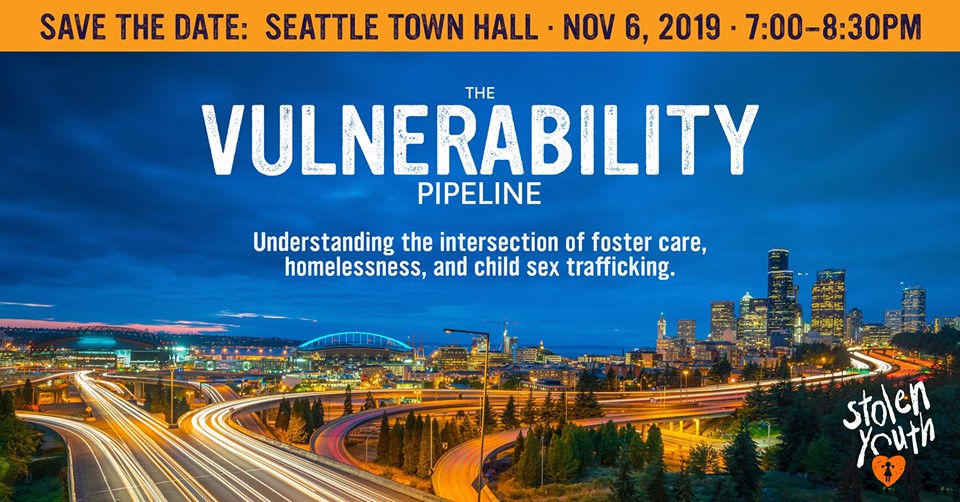 It's not a very "fun" topic to have to think about but being aware of sex trafficking is important…to know the signs of it and be aware of the dangers youth can face, especially vulnerable LGBTQ kids.
The Seattle advocacy group Stolen Youth holds community forums and town halls every year to raise awareness about this serious issue and the next one entitled "The Vulnerability Pipeline" is scheduled for Wednesday, November 6th at Town Hall Seattle, 1119 8th Ave (First Hill by Downtown).
Tickets are available here.
More info:
StolenYouth hosts a 'town hall' each year to raise awareness about the growing problem of child sex trafficking in our region. In King County alone, more than 600 children and youth are bought and sold for sex annually, some as young as 11 years old.
This year, StolenYouth's Town Hall will focus on the links between foster care, homelessness and child sex trafficking. Speakers include Washington State Department of Children, Youth and Families (DCYF) Secretary Ross Hunter, Dr. Melinda Giovengo, CEO of YouthCare (Keynote), Mark Putman, Executive Director of Accelerator YMCA, and Washington State Representative Tina Orwall. Kelly Mangiaracina, King County CSEC Task Force Coordinator, will serve as moderator for the discussion.
We will also hear from a survivor who became a sex trafficking victim while in foster care in King County.
StolenYouth's goal is to call attention to the "pipeline of vulnerability" that leads to far too many children being bought and sold for sex in Seattle and across Washington state, and to identify a legislative and policy agenda that we can all work to achieve.
(Visited 2 times, 1 visits today)