Very late reviews of two area productions…one is great fun while one is a dreary chore.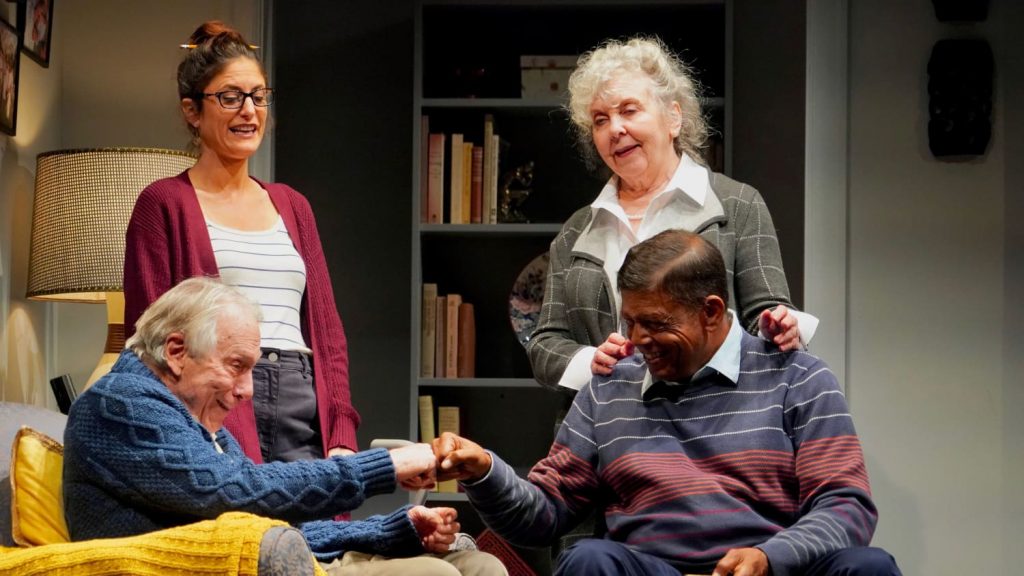 Review: THE GREAT MOMENT by Anna Ziegler. Produced by Seattle Repertory Theatre. Directed by Braden Abraham. Scenic Design by Catherine Cornell. Costume Design by Heidi Zamora. Lighting Design by Robert J. Aguilar. Original Score and Sound Design by Obadiah Eaves. With Alexandra Tavares, Eugene Lee, Greg Mullavey, Kathryn Grody. Onstage at Seattle Repertory Theatre from October 11 to November 17, 2019.
The "chore" is the alleged play known as THE GREAT MOMENT and I say alleged because it feels more like someone's therapy session than a piece of dramatic literature. It's the latest work by the up and coming playwright Anna Ziegler who won much praise for her Photograph 51 which received many highly lauded productions all over the world including a well liked one at Seattle Repertory Theatre a few years back (which I sadly missed), also the home of this latest work where the Rep was instrumental in the creation of the play through their New Works Program.
While Ziegler has tackled historical moments with Photograph 51 (about Rosalind Franklin and the discovery of DNA structure) and ripped from the headlines kind of stories like the family drama Boy (based on the life of a child raised as a girl after a circumcision operation gone wrong), in The Great Moment, the playwright gets self referential by examining her own life and the life of her family and coming to terms with aging, death and the passage of our own lives.
If this sounds like fun to you, then stop reading and go check out this play which runs at Seattle Rep through November 17th! It does have a great cast including terrific local actor Alexander Tavares in the lead role of "Sarah" the stand-in for Anna Ziegler, as well as three fantastic out of town veteran actors: Eugene Lee (so good last year in the Rep's Two Trains Running), Kathryn Grody and TV veteran Greg Mullavey (best known for "Mary Hartman, Mary Hartman" as Mary's dim husband). It's a talented and respectable ensemble of actors.
But, if that premise sounds worrisome, then let me go further to confirm your worst fears; The Great Moment is a tiresome and annoying navel gazing piece of pure tedium. It's the kind of stuff we think about as we try to go to sleep on a restless night, fretting and worrying about getting older and our parents getting older and our kids getting older and Madonna getting older. And, wondering 'what does it all mean?' and nagging worries that life might be passing us by and 'why I am growing hair/not growing hair in various corners of my body' and…
Ugh.
You don't need to spend $50 to see a play ask the same depressing questions we ask ourselves at 1am. (I mean, save yourself the money and just do what the rest of us do and whine on social media…) And, you could certainly argue than many forms of drama and literature have pondered these exact same things but the only difference is, Chekhov did it with great style, wit and artistry instead of this 90 minute tedious therapy session on stage with a dreary character like "Sarah/Anna".
Other than the fine cast and some handsome design elements I cannot recommend this turgid play that's rather blandly directed by Braden Abraham. As the play emphasizes over and over and over again, life is short and then you're dead. Why waste those precious moments of time on Anna Ziegler's angsty drivel?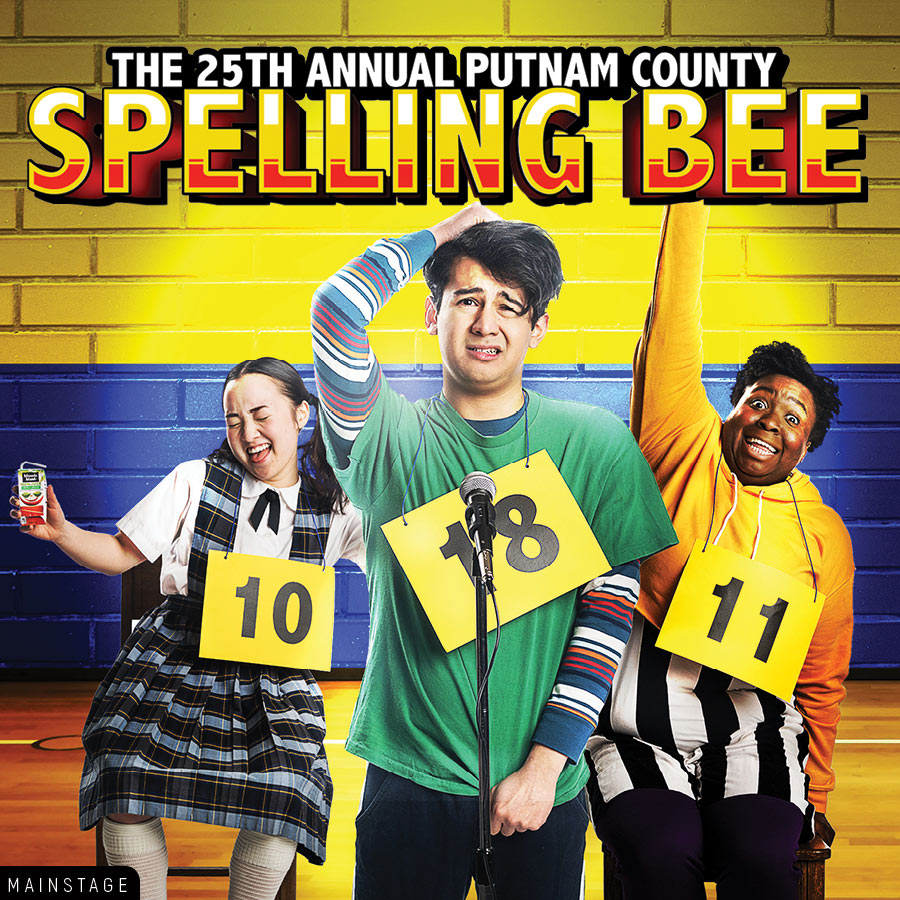 Review: THE 25TH ANNUAL PUTNAM COUNTY SPELLING BEE. Music & Lyrics by William Finn. Book by Rachel Sheinkin. Conceived by Rebecca Feldman. Additional Material by Jay Reiss. Produced by Village Theatre. Directed by Brandon Ivie. Choreography by Trina Mills. Musical Direction by Tim Symons. Scenic Design by Julia Hayes Welch. Costume Design by Brynne McKeen. Lighting Design by Robert J. Aguilar. Sound Design by Brent Warwick. With Justin Huertas, Sarah Russell, Rafael Molina, MJ Sieber, Arika Matoba, Taylor Niemeyer, Jessica Skerritt, Brian Lange, Nicholas Japaul Bernard. Onstage in Issaquah from Sept 12 to Oct 20 and in Everett, at the Everett Performing Arts Center from Oct 25 to Nov 17, 2019.
Instead, head up to Everett for the second and final half of the production run of Village Theatre's delightfully charming THE 25TH ANNUAL PUTNAM COUNTY SPELLING BEE, the 2005 Tony Award winning musical about…well, the 25th annual Putnam County Spelling Bee where adorable young students try to spell their way to the National Spelling Bee in Washington D.C.
"Spelling Bee" is one of those rare, kind of perfect musicals that through a combination of a witty and charming book and clever songs and a delightful and not particularly difficult premise, are a perfect choice to produce for many kinds of theater. (I'd put Little Shop of Horrors on that short list, too.)
In other words, it's kind of hard to eff it up.
But, that's not to take anything away from Village's lovely production. Obviously, it's ideal to have a show in the hands of a professional theater company that can spend some money on it and cast the ideal actors and design talents to come up with a fully realized and glorious staging of the show. And, they've done that here with this strong ensemble of talented actors and fantastic designs from Julia Hayes Welch (the cute gym set) and Brynne McKeen's colorful and whimsical costumes to the lighting design by Robert Aguilar and Brent Warwick's sound work. Not to mention a delightful staging by Brandon Ivie with fun choreography by Trina Mills and Tim Symons' great musical direction.
The cast is pretty damn cute with Rafael Molinas mostly stealing the show as Leaf Coneybear, the part that ALWAYS mostly steals the show not to mention cutie pies like Arika Matoba and Taylor Niemeyer and Justin Huertas and Sarah Russell all vying to make away with the show as well. MJ Sieber is also very funny as main speller William Barfee though kinda/sorta obviously a wee bit older than the rest of his fellow spellers…which is fine, just a bit…obvious.
The adult characters, who aren't really designed to shine as much as the kids, are very good here as well, with Nicholas Japaul Bernard as the community service serving master at arms, and the delightful (as always) Jessica Skerritt as a dazzling former winner of the Bee and the very funny Brian Lange utilizing some sharp comedic timing skills as Vice Principal Doug Panch.
Looking for some very light hearted musical theater fun before the onslaught of holiday themed shows? Then head to Everett to check out this FANTABULOUS show through November 17th!
Fantabulous: "Something that is both fabulous and fantastic."
F-A-N-T-A-B-U-L-O-U-S
(Visited 6 times, 1 visits today)