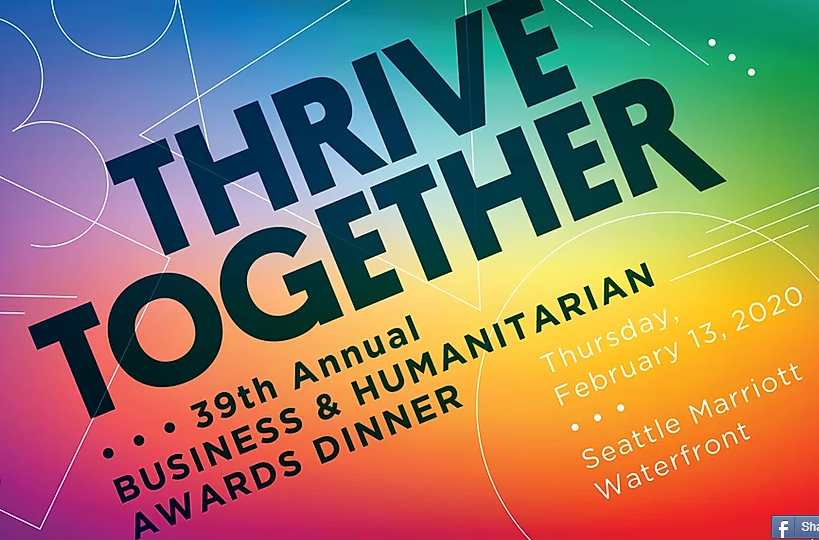 Via press release:
GSBA RECOGNIZES EXCELLENCE IN WORKPLACE DIVERSITY & INCLUSION
39th Annual Business & Humanitarian Awards honors business and community leaders
SEATTLE (January 16, 2019) — GSBA announces the recipients and finalists of their annual business & humanitarian awards. Each year, GSBA honors small businesses, corporations and business and community leaders who exemplify the highest standards of their profession, promote diversity and inclusion in the workplace, demonstrate leadership, visibly support the LGBTQ community and invest time and resources into other community-wide causes.
"Celebrating success and philanthropy lifts us all up," said Louise Chernin, president and CEO of GSBA. "Each year, at GSBA's annual Business & Humanitarian Awards Dinner, we reflect back and honor those business and nonprofit leaders who run outstanding agencies and also give back to their communities. It takes courage, vision and skill to open a business or lead an organization and coming together to applaud that spirit, energizes us all to do more to enrich our lives and our community."   
On Thursday, February 13, 2020 GSBA will honor the following recipients and finalists at Thrive Together: The 39th Annual Business & Humanitarian Awards Dinner at the Seattle Marriott Waterfront.
New Business of the Year
Thyme Well Spent Catering
Chantel Jackson, owner
Chef Chantel "The Lunch lady" Jackson is a native to Tacoma's Hilltop neighborhood. Her culinary journey started in 2016 when she was tired of cooking under corporate companies, so she took a leap of faith and launched her private chef business – Thyme Well Spent, LLC – and also opened CJs Philly's, a food truck business. This then led her to create her own curriculum on how to start a food truck business, which has been contracted through several colleges and programs across the state. Chef Jackson is in high demand in the PNW and has catered for companies including Amazon, Facebook, Starbucks, T-Mobile and more.
Finalists
Bahthoh, Bobbie Yanoupeth & Michael Sing
Lilith Tattoo, Jude Le Tronik
A Sensible Theatre Company, Paul Flanagan & Jared Michael Brown
The Lumber Yard Bar, Nathan Adams & Michale Adams-Farrar
Business of the Year
Wezee's Plumbing
Louise Hansen, owner
Established in 2007, Wezee's Plumbing was started by Louise Hansen, at the time owner of a Seattle-based general contracting company. Not being satisfied with what she saw from plumbers, Louise used her extensive plumbing experience to create the type of plumbing company she wanted to be working with. Louise Hansen has created a culture of compassion at Wezee's and supports many community organizations, including Seattle Counseling Service and Camp Ten Trees.
Finalists
Nuflours Bakery, Phebe Rossi & Kathryn Jenkins
Olympic Hot Tub, Don Riling
Business Leader of the Year
Nat Stratton-Clarke, owner of Café Flora, Floret and The Flora Bakehouse
In a crowded restaurant industry that does not prioritize inclusivity or sustainability, Nat Stratton-Clarke has modeled his business to embody the values he holds close. Through the Café Flora Family, he fosters a haven for vegetarians and vegans at the table and as a transgender business owner has prioritized a safe, respectful and diverse environment for guests and his 100+ employees. He continues to learn and develop opportunities to support LGBTQ folks, womxn and people of color. He and his wife Erin are raising their 2-year-old twins down the street from Café Flora in Madison Valley.
Finalists
Jeff Pelletier, Board & Vellum
Danielle Hulton, Ada's Technical Books & Café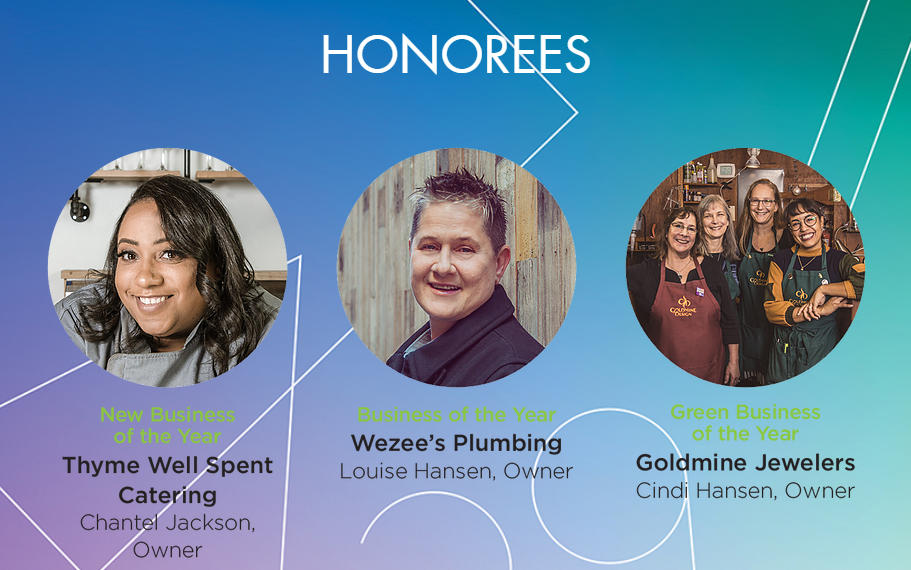 Corporate Leader of the Year
Alaska Airlines
For over 85 years, Alaska Airlines has been guided by integrity, caring, ingenuity, professionalism and a unique spirit that has grown out of their geographical roots. A long list of aviation milestones paired with countless stories of people being remarkable to help others has helped Alaska grow from a small regional airline to an international carrier with more than 44 million customers a year and a route system spanning over 115 destinations and four countries.
Non Profit of the Year
QLaw Foundation
The QLaw Foundation of Washington bridges the divide between the LGBTQ community and legal professionals. The Foundation offers a free legal clinic that provides legal advice on LGBTQ issues and a summer fellowship program that partners with non-profit organizations to fund a summer internship position for law and graduate students working on projects that benefit the LGBTQ community and/or people living with HIV/AIDS. The QLaw Foundation also develops educational materials and presentations for the broader legal and non-legal community and works to address the needs of LGBTQ youth.
Finalists
Rainbow Center Tacoma, Manny Santiago, Executive Director
UTOPIA Seattle
Community Leader of the Year
Dominique Stephens
Dominique Stephens is a native of Seattle, whose roots run deep in civil rights and social justice. She attended Tennessee State University, where she studied Philosophy and Religious Studies. In 2012, Dominique created Artisan Event Logistics, focusing on public relations, events, brand marketing and fund development for small businesses and non-profit organizations. She now works for the City of Seattle as a Senior External Relations Liaison for Mayor Jenny Durkan. She is a former Seattle LGBTQ Commissioner and board member for Equal Rights Washington (ERW). Currently, Dominique sits on the board for the Coalition of Immigrants, Refugees and Communities of Color (CIRCC), AU Collective, Earth Pearl Collective and POCCAN. In her spare time, you can find Dominique performing as drag king, D. Dynasty.
Finalists:
Gunner Scott
Monserrat Padilla
Green Business of the Year
Goldmine Jewelers
Goldmine Design is a small workshop of fine artisan jewelers. For over 20 years they have been making jewelry in their shop located steps from Pike Place Market. They help translate their customers' ideas and inspirations into beautiful and unique designs. Their designs are as individual and varied as their customers and their design process has worked for 16,000+ pieces without making the same ring twice. They use 100% recycled precious metals and ethically sourced gemstones and diamonds.
Finalists
Soaring Heart Natural Bed Co., Michael Schaefer
Lumenomics, Marti Hoffer
Special Recognition: Voice for International Social Justice
OutRight Action International
OutRight Action International, formerly IGLHRC (the International Gay & Lesbian Human Rights Organization) fights for the safety, dignity, freedom and equality of LGBTIQ people around the world. In 71 countries, same sex relationships are illegal, with more than 2 billion people living in countries where being queer can result in arrest, incarceration or even the death penalty (as evidenced by the recent enactment of the final phase of Sharia law in Brunei). OutRight monitors and documents human rights violations, supports grassroots activists on the frontlines and holds governments accountable.
Board Chair's Award
Marci Flanery, FlaneryCPA
Marci Flanery is a CPA specializing in the taxation of individuals and small business entities. Marci's Seattle office is located in the Madison Park neighborhood. Before starting her own tax practice in Seattle, Marci worked as a principal in a large San Francisco CPA firm, specializing in the taxation of registered domestic partners (RDPs), same-sex married couples and investment-related pass-through entities. Based on this experience, Marci wrote "Guide to the Federal Taxation of Washington State Registered Domestic Partners," and she has taught for both the Washington and California State Society of CPAs on this and other topics.
Tickets to Thrive Together: the 39th Annual Business & Humanitarian Awards Dinner are $175 for individuals, $1750 for a table of 10 and $2250 for a VIP table of 10 (includes premium table placement and access to the Honoree Reception) and are available at www.gsbaevents.com.
About GSBA

Established in 1981, GSBA is Washington State's LGBTQ and allied chamber of commerce. It represents over 1,400 small business, corporate, and nonprofit members who share GSBA's values of promoting equality, equity, diversity, and inclusion in the workplace. GSBA is widely respected throughout the region for its effectiveness in business development, representing the business voice, connecting community through business, advocating for civil rights and business, promoting LGBTQ tourism through Travel Out Seattle, and investing in the next generation of leaders through the GSBA Scholarship Fund. For more information on GSBA, visit www.thegsba.org.
(Visited 1 times, 1 visits today)