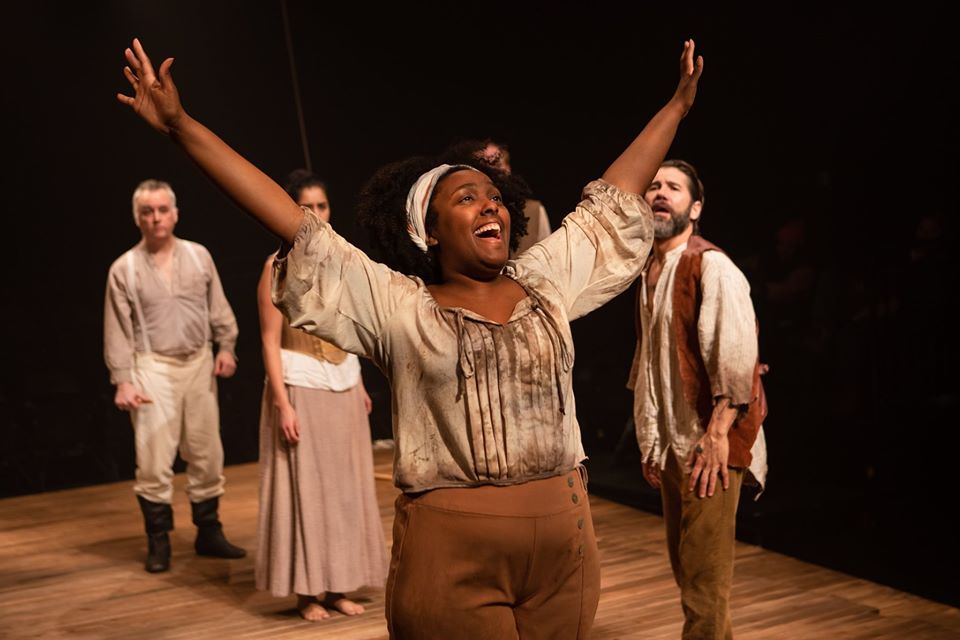 Review: OUR COUNTRY'S GOOD by Timberlake Wertenbaker based on the novel "The Playmaker" by Thomas Keneally. Produced by Strawberry Theatre Workshop. Directed by Leah Adcock-Starr. Scenic Design by Adam Zopfi-Hulse. Costume Design by Taya Pyne. Lighting Design by Bryce Bartl-Geller. Sound Design by Kyle Thompson. With Maya Burton, Miguel Castellano, Yadira Duarte, Mark Fullerton, Hisam Goueli, Sharon Barto Gouran, Tim Gouran, Sydney Maltese, Pilar O'Connell, Galen Joseph Osier, Tré Calhoun. Onstage at 12th Avenue Arts from January 23 to February 22, 2020.
The country in question in the title of the play OUR COUNTRY'S GOOD is not the United States, which is probably a good thing since our country is actually a bit of a mess right now, but instead it's about the creation of a different country…Australia.
Actually, Australia is a sister country to the United States; after all, both were colonized by the British and both were used as dumping grounds by the British to get rid of pesky vagrants and criminals while at the same time establishing a claim on lands already occupied by aboriginal peoples as well as being a useful way of warning off other countries from trying to stake their own claims on land none of them had any right to control.
But, I digress.
Our Country's Good is the British-Australian Origin Story set in 1788/89 and for the 99.9% of the U.S. population unaware of that story, here's the Wikipedia version in a paragraph:
On 13 May 1787, the First Fleet of 11 ships and about 1,530 people (736 convicts, 17 convicts' children, 211 marines, 27 marines' wives, 14 marines' children and about 300 officers and others) under the command of Captain Arthur Phillip set sail for Botany Bay. A few days after arrival at Botany Bay the fleet moved to the more suitable Port Jackson where a settlement was established at Sydney Cove on 26 January 1788. This date later became Australia's national day, Australia Day.
The play takes place some time after the first arrival and centers on a proposal for the prisoners to put on a production of a comedy play called The Recruiting Officer in an effort to improve morale. The governor of the colony, Arthur Phillip and young Second Lieutenant Ralph Clark support the idea while others, including Major Robert Ross are hostile and antagonistic towards the idea. Lt. Clark is put in charge and casts a number of the more troublesome convicts in roles with the hope of it helping them integrate better into the workings of the colony. The play cuts back and forth between various plot lines involving the rehearsing of the play and the individual lives of convicts and officials and how they interact with each other.
It's all a mostly true story (with some changes and embellishments) and most of the characters in the play are real people, or composites of various people. The play, written in 1988 by the gloriously named Timberlake Wertenbaker and based on a novel called The Playmaker by Thomas Keneally (itself based on the real events) was staged in London at the Royal Court Theatre in 1988 and then made its American debut on Broadway in 1991 where it received several Tony Award nominations (but no wins) and despite positive reviews, had a very short run.
The play has a huge cast of characters which requires (and specifies) that 11 actors mostly double or even triple up on roles; only the actor playing Lieutenant Ross has a sole role. And, that's part of the fun of Our Country's Good, seeing the actors play multiple roles as well as having to play characters from both sides of the "fence" so to speak; both convicts and their jailers. It's a showcase for actor's talents.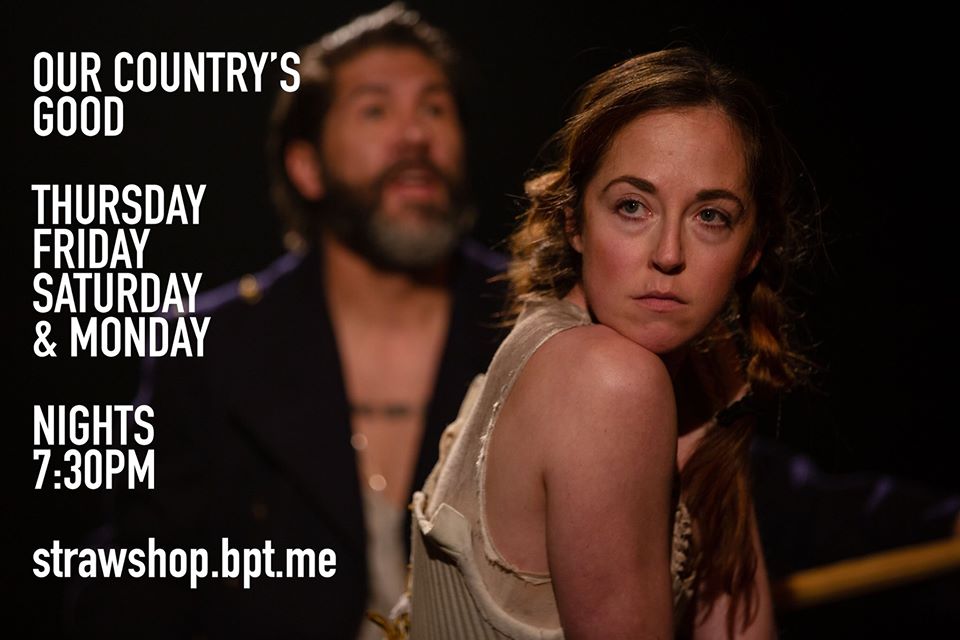 And, for the most part, Strawberry Theatre Workshop's production of Our Country's Good is just such a showcase. The play itself is beautifully written; a smart piece of historical drama with a fascinating variety of characters and plot lines. Leah Adcock-Starr has done a superb job of staging this huge cast and complex plot utilizing not only the terrific strengths of this very diverse cast but also the clever set designed by Adam Zopfi Hulse who has created a simple but multi-functional set that mimics the ships that brought these people to this land. It's a handsome looking show overall with Bryce Bartl-Geller's great lighting design making terrific use of lanterns; Kyle Thompson's haunting sound design and Taya Pyne's gorgeously textured costumes all in harmony with the total look/sound/feel of the production (aka for those of you who took"Intro to Theatre" in school, the " Mise-en-scène" to use a $12 phrase I'm compelled to use at least once a year.)
It's a strong and excitingly diverse cast, too, and I call attention to that because this cast looks terrific onstage; not just within the "what they look like" spectrum but in a fantastic "taking up physical space" sort of way. We have a variety of different shapes and heights and builds and ages and personalities on stage which leads to some beautiful compositions of the actors inhabiting the space of the play and this specific production. It's something that very much helps the play create a sense of specific community here…that all kinds of people make up a society and culture. It's something I love seeing in theater; that attention to detail in creating the world we see being portrayed on that stage. It's theatrical yet organic.
The ensemble looks compelling but there are also some very strong performances here as well with Galen Joseph Osier outstanding as both compassionate governor Arthur Phillip and as a Jewish convict named John Wisehammer who yearns to write his own plays. They're both "kindly" roles so it's not like Mr. Osier gets to show off by playing hugely contrasting types but by playing two not dissimilar personalities yet giving each one their own unique vitality he actually showcases far stronger acting skills. He's giving two exceptional performances here.
The cast and character list is huge so I'm not singling every single one out but I have to acknowledge exceptional work from Pilar O'Connell as the menacing bully, Captain Robbie Ross; you do forget it's a female actor playing a male role, she's so convincing with her swagger and sneer and male bravado. I also very much liked Maya Burton's tough woman of the streets, Dabby Bryant who boldly questions any and all authority. Not to mention the charm of Sharon Barto Gouran's beguiling young prostitute Duckling, mourning the loss of a man she could never admit she loved. And, Miguel Castellano does a lovely job of centering the play as Lt Ralph Clark giving a subtle yet commanding performance as a man far from home and family. All in all, it's a very strong ensemble of actors and talents.
I will give a knock though…the play is staged arena style with the audience on either side of the main playing space and since there is a wide range of actors here, from the very experienced and trained to the less so, AND there's a great many accents/dialects used, there are times when it's very difficult to hear some actors in some scenes depending on how they're positioned on stage and how well they're able to project their lines. It was a bit frustrating at times to miss large chunks of scenes due to positioning and projection.
That said, Strawberry Theatre Workshop's production of Our Country's Good is worth the time to see based on a fascinating script and overall plot as well as the individual strengths displayed with this cast and team of theater makers, especially for anyone interested in historical based theater.