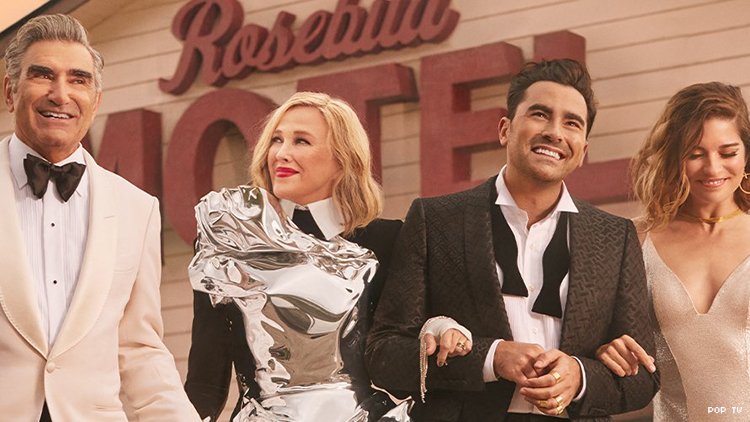 Schitt's Creek, the low budgeted comedy from Canada did the unthinkable this past week: it snagged NINE Emmy Awards including a sweep of all the major categories, winning Emmy statues for Best Comedy Series, Direction, Writing, and all four acting awards. On Sunday, September 20th, the show's co-creator Daniel Levy won awards for co-writing and directing the series final episode and as Best Supporting Actor. His father, SCTV comedy legend Eugene Levy who plays the patriarch of the show's Rose family won for Best Actor and fellow SCTV superstar Catherine O'Hara picked up the Emmy for Best Actress for her role as loopy family matriarch Moira Rose.
Annie Murphy as Rose daughter Alexis won for Best Supporting Actress and earlier in the week the show won Creative Arts Emmys for Casting and Costume Design. Because of the ongoing Covid-19 pandemic, the 2020 Emmy Awards were presented quarantine style over the last week with nominees gathered in their own homes or in small groups in venues and telecast via online streaming. The Creative Arts Emmys were presented over the course of several nights last week (there are dozens of awards in dozens of categories) with the main awards for best programs, actors, writers and directors presented Sunday night.
Schitt's Creek, has had an interesting journey over the course of its six seasons, with humble beginnings broadcast on the Canadian Broadcasting Corporation and picked up by the small U.S. cable outlet Pop TV for broadcast in this country. The "fish out of water" story of the rich and vapid Rose family who lose their fortune and find themselves forced to live in a motel in a tiny Canadian town wasn't particularly original but the sweetness of the family and the supporting characters won over audiences. Not to mention the charms of its veteran cast members, Levy and O'Hara much beloved for their work on the satirical sketch comedy series SCTV in the 1970s and 80s was able to draw in older audiences. The show's winning combination of a talented younger cast and topical stories featuring David Rose, played by Daniel Levy, a neurotic, gay/pansexual with a love for designer clothing helped the show develop a loyal following of fans, many of them LGBTQ. The show was then picked up for rebroadcast on Netflix and grew an even bigger audience. Dan Levy chose to end the series after 6 seasons, wanting to leave while the quality was still good, and the show's final episode featuring his character David marrying the love of his life Patrick was a bittersweet crowd pleaser.
The story of the Rose family seems to have been wrapped up but you also have to speculate that this huge Emmy success is likely to stir up interest for a return of the Roses at some point. I mean, David and Patrick having a baby WOULD be pretty funny….just sayin'.
AND, it's pretty shocking that a Canadian television show grabbed all this Emmy love. Before you know it, our Idiot-in-Chief Donald Trump will take to the Twitter to demand we build a wall between the U.S. and Canada to stop this takeover of our precious American awards.
He's probably still butt hurt he didn't get his own Emmy for that stupid show of his, The Apprentice. Pouty Orange Man bears a grudge for a looooong time. #VoteHimOUT
(Visited 2 times, 1 visits today)