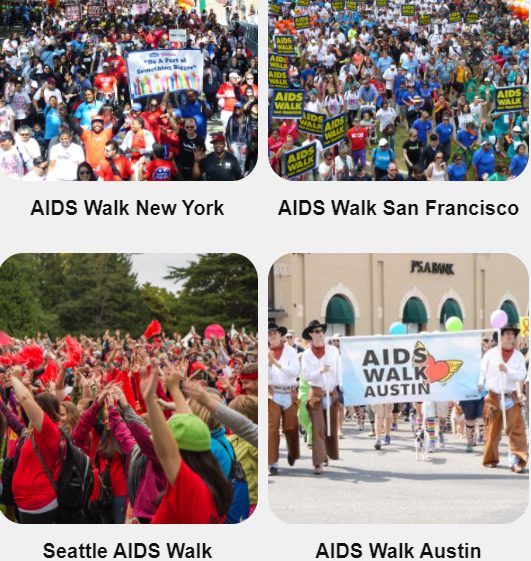 Just announced: Seattle's Lifelong group will join forces with 5 other HIV/AIDS health group organizations around the country for AIDS Walk: Live at Home, the online fundraising event created last year by GMHC of New York City and AIDS Walk San Francisco during the Covid-19 pandemic. Since distancing guidelines are still in place, the 2021 event will also be stream online and feature a vast array of entertainment.
In addition to NYC and San Francisco, HIV/AIDS orgs in Austin, Milwaukee and New Orleans will also take part in the event happening Sunday, May 16th and streamed live on aidswalk.net.
AND, obviously "walkers" and donations are needed…I mean, it IS a fundraising event, so go HERE to support Lifelong for this year's AIDS Walk.
More info:
GMHC of New York City and the AIDS Walk San Francisco Foundation today announced that after their successful 2020 event, AIDS Walk: Live at Home, this year, the culmination of their fundraising efforts will encompass all corners of the nation. Cities collaborating now include New Orleans, Austin, Milwaukee and Seattle in addition to New York and San Francisco. Funds raised will benefit GMHC, Vivent Health, AIDS Walk San Francisco Foundation, CrescentCare, and Lifelong.
With live segments planned, including Viewing Parties from New York's iconic Central Park Boathouse and the National AIDS Memorial Grove in San Francisco's Golden Gate Park, AIDS Walk: Live at Home will be a moving and powerful experience, featuring superstar performances and appearances. Last year's participants included Bette Midler, Gloria Estefan, Patti LaBelle, Matt Bomer, Vanessa Williams, Laura Linney, Glenn Close, and Alan Cumming. This year AIDS Walk: Live at Home will be broadcast on ABC7/KGO-TV in San Francisco and streamed live on CBSN and aidswalk.net.
"AIDS Walk: Live at Home will reflect the strength and individual character of all six landmark events and the communities that embrace them year after year," said Kelsey Louie, CEO of GMHC, Isaac Rodriguez of the AIDS Walk San Francisco Foundation, and Craig R. Miller, Founder of the AIDS Walks in New York and San Francisco among other cities.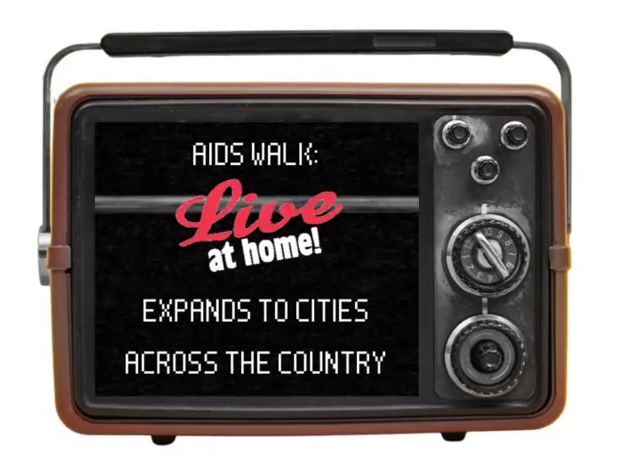 "Vivent Health is pleased to join with the nation's most visible HIV/AIDS fundraising events," said Michael Gifford, President and CEO at Vivent Health. "Through partnership with AIDS Walk Wisconsin and AIDS Walk Austin – both part of the Vivent Health family – we will connect in our shared goal to end HIV/AIDS and the racism, homophobia, sexism, stigma and poverty that perpetuate it."
"In Washington State and around the country, we continue to see Black, Latinx and Indigenous communities disproportionately impacted by new HIV cases," said Claire Neal, Lifelong CEO. "We are grateful for the nearly four decades of support from our community to deliver comprehensive care for our neighbors living with HIV and other serious illnesses and are excited to work hand-in-hand with like-minded organizations throughout the nation to spread awareness that racism remains a public health crisis for so many."
"The AIDS Walk events in each of the participating cities have their own unique characteristics. But the clients we serve all face very similar challenges. It makes sense for us to come together as one community and to unite some of the nation's most powerful and effective AIDS fundraisers from all regions of the country." said Louie.
"In doing this work, we have been brought together by one pandemic even as we continue to fight another. The public's recent revelations about racism, bias and hate in America are in fact at the heart of what AIDS Walks have been working to expose, confront and change for decades." said Miller. "Who gets healthcare? How quickly? Whose needs are addressed? Who gets heard? We have long stood, walked and marched to oppose the racist, sexist, homophobic and transphobic disparities that persist in America and throughout our healthcare and criminal justice systems. Protecting people who have been singled out, harassed, scapegoated and underserved is what we do. It is our legacy and it remains our commitment."
For registration information or to donate to AIDS Walk: Live at Home, please visit aidswalk.net. There is no registration fee.
About Lifelong
Lifelong's services are still just as vital today as they ever were, with Black, Latinx and Indigenous communities disproportionately affected by new HIV cases. Lifelong's wraparound care model supports the whole person, looking at how nutritious food, stable housing, and access to care helps people living with HIV have the best chance at lifelong health.
About AIDS Walk Seattle
This year marks 35 years of the iconic Seattle AIDS Walk and the continued fight for health equity in the Pacific Northwest. Since its beginning in 1986, the event has brought together thousands of walkers and volunteers to raise vital funds for Lifelong's HIV care and prevention. For more information, to register or to donate, please visit aidswalk.net/seattle.
(Visited 6 times, 1 visits today)