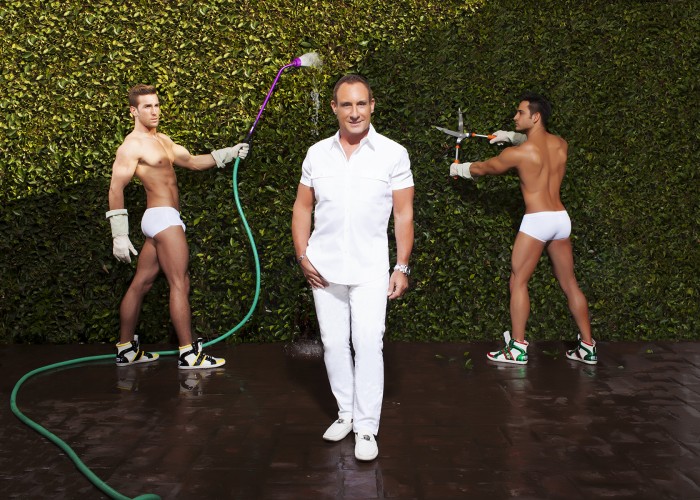 Sadly, the King of Circuit Party Producers, the one and only JEFFREY SANKER, lost his long battle with liver cancer over the weekend at Cedars-Sinai Medical Center in Los Angeles. He was 65 years old.
The Godfather of the White Party was honored by the group he created:
Dear White Party Family,

It is with heavy hearts that we inform you of the passing of beloved White Party founder Jeffrey Sanker. For more than four decades, Jeffrey's zest for life and love of celebration drove him to create a safe haven for the LGBTQ+ community to come together and celebrate our unique individuality and collective magic. He was named the Godfather of Parties, and to honor his unforgettable life, the White Party legacy will continue in Palm Springs and Puerto Vallarta through the Jeffrey Sanker White Party Foundation. We will continue to celebrate the extraordinary life of Jeffrey Sanker and the legacy he built and shared with us all, through our future White Party events. Thank you, Jeffrey, for all you gave to us. We love you, miss you and will continue to honor your legacy.

With great affection,
Chris Diamond
White Party Foundation
Sanker, a party producer/promoter who got his start in NYC in the 80s working at Studio 54 and Limelight, created White Party Palm Springs in 1988 growing it to a huge annual spring bacchanalia with thousands of bronzed, buff, horny gay male attendees and major name acts performing. Other White Party events occurred in numerous locations with White Party Puerto Vallarta becoming a tent pole event for the organization as well.
While much beloved by the thousands of lusty/party hardy gay men who flocked to his events, Sanker also earned criticism for the nature of the events which heavily depended on marketing to gay fit men a rather vapid culture of boozing, drugging, partying and rampant sexual activity.
As recently as late December of 2020, Sanker was heavily criticized in the press for attempting to stage a White Party event in Puerto Vallarta during the Covid-19 crisis. Local authorities pulled the plug on the event happening in P.V. which then moved to a near by town with less stringent enforcing of quarantine regulations. Sanker was accused of promoting a potential "super spreader" event just to make a buck.
Defenders of Sanker have pointed out that his events created jobs and supported gay businesses in all the cities he held events while also raising money for numerous gay causes including many AIDS charities as well as The Trevor Project.
Not to mention, the man put on a damn good show. Jeffrey Sanker was an old school showman who knew how to give his audience the show they wanted.
A toast to a gay party pioneer, Mr. Jeffrey Sanker.
Salud.
(Visited 15 times, 1 visits today)