Slant Eye for the Queer Guy – Bravo's "Queer Eye" Jai Rodriguez talks to
Seattle Gay Scene's: Teriyaki Temple!
(Editor's Note: the above sub header involving the use of the unfortunate term "slant eye" is entirely at the insistence of Miss Temple. Mr. Strangeways, an admitted person of the Occidental persuasion, takes NO responsibility for any intended slur against the lovely peoples of Eastern Asia…please direct all cards, letters and anthrax scares to Miss Temple in care of the digital addresses at the bottom of this post! Namaste!)
Queer Eye's "Culture Expert," #Jai Rodriguez talks candidly with @SeattleGayScene 's
@TeriyakiTemple about everything from Life after #Bravo, dating in Weho, dealing with Gossip Queens, and what's next for the multi-talented hottie (including his hosting job at #WPPS – White Party Palm Springs this year). Things get even hotter as he talks about his favorite body parts, enjoying the #HoneyHole and even invites TT into his bedroom to show her where all the "magic" happens.
Jai Rodriguez, the GAY Icon likes "fish!" In the past year he has invited seven (7) different "ladies" of all colors to stay in his bedroom! "I even had to separate them because they are so territorial they would fight and beat each other up. I finally got so tired of cleaning out their containers I had a custom tank with filtrated compartments made so they wouldn't hurt each other." Ok, let's be honest, if you're even as half as twisted like I am, you were totally thinking, "it rubs the lotion on its skin or else it gets the hose again" from Silence of the Lambs.
Luckily for us, the New York born Italian and Puerto Rican choir boy we all fell in love with 10 years ago still likes dudes and doesn't like that kind "fish" (the lady kind). He's just a (Beta) fish hoarder. He started collecting them after he starred in San Diego REPertory Theatre's "In the Heights" where his boss' name was Mr. Beta. "I fell in love them because they are so regal looking with their long, colorful, and dramatic fins. They look like they are wearing a silk kimono. If there was a drag queen fish, it would totally be the Beta."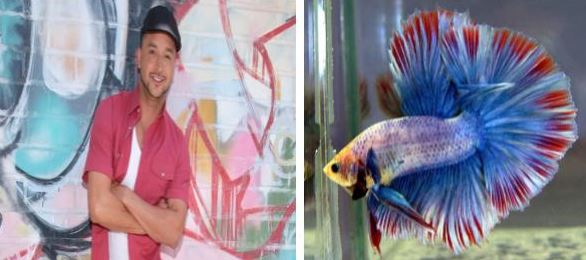 Now that we've cleared up that rumor up, let's talk about what Jai Rodriguez has been up to since Queer Eye. As mentioned above, the multi-talented member of the "Fab Five" has been a busy fellow.
He has worked regularly as an authority in culture and style with extensive hosting credits, including: "Styleyes Miami" (SiTv), "America's Prom Queen" (ABC Family), "Ultimate Style" (Style Network), two consecutive seasons of "Groomer Has It" (Animal Planet), and "Model Latina" (SiTv). As an actor, Rodriguez has appeared on numerous shows, including: LOGO'S "Rick and Steve," "Nip/Tuck," "How I Met Your Mother," "Bones," "Days of Our Lives," and "GIGANTIC" (TeenNick); however, it was his 2011 tear-jerking performance as transgender "Amanda Knott" on "Harry's Law" that showcased his extraordinary talent as an actor.

"Rodriguez is the only male actor who, after rising to stardom on a reality TV show, has successfully transitioned to a regular role on Primetime series, "Malibu Country" (ABC).
Actors who share the accomplishment include: Jennifer Hudson, Katherine McPhee and NeNe Leakes. – Broadway World
After Malibu Season was not picked up for another season Jai switched management companies that has taken a more aggressive approach. They've encouraged him to branch out to more dramas and even "helped evolve his look" (which I don't know what they are talking about as he has always looked super fine). Now that he's proven that he's more than just a reality show queen showing casing himself in a wide spectrum of media (television, radio, and theater) he's ready to come back to non-scripted television and would love to host a show like "The Chew" or even a reboot of "Queer Eye." No matter what route he decides, it's certain we will see more of him (on TV and his body).
Speaking of his body, things heated up while we talked about his more intimate body parts, mainly his favorite tattoo, which is covered by one of his favorite T-shirts he got in Seattle at the #honeyhole (right next to #RPlace – where he hosted Pride a few years back and where we were first introduced). "On my back, where a label would be, I have a tattoo that says 'Live Truth.' It's something that applies to me every day and to every part of my life. Living your truth to me means striving to make yourself better. As long as you're being true to who you are, reaching to be your best, not censoring your experiences and not hurting anyone else than you are living your truth. I don't pay attention to what other people say. I apply the #JoyBehar philosophy of 'So what who cares?' to the people who want to talk about me. And as long as I don't hear #WendyWilliams talking about me I'm all good. " It's evident that he lives by this mantra because despite achieving fame and success at a young age he stayed out of "trouble" and avoided the #Lohan #Beiber downward spiral. You'd think someone so grounded, successful and handsome would be off the dating market but surprisingly he's single and ready to mingle.
Despite living in #weho, Jai (still an eligible bachelor) has not become a jaded #meangay #plastic or a skank ho-bag. He is completely the opposite and a total sweetheart! He is NO Jai-Ho (Pussy Cat Dolls reference for ya). He's actually an old school romantic and even has the same dating problems that us "regular folk" do. "I like old school dating. Unfortunately, I have what many of us know as the three-week dating curse. You meet someone who you spark with, spend lots of time getting to know and everything is going great but then around the third week you realize there's a non-negotiable issue and then you have to move him into the dating 'just friends' column."
He's still optimistic though, like a true actor/screen writer he pines for a romance to be scripted like something out of a romantic comedy. "I want to have a Jess and Nick (#NewGirl on Fox) moment. I imagine we have been friends forever and one day we look across at each other and realize we are in love." Maybe he will meet his future Jess or Nick (I won't speculate on which one he is because I'm totally Klassy and I don't ask top/bottom questions during the interviews) from one of the 30,000+ gay men from all over the world at this year's White Party in Palm Springs (#WPPS).
Rodriguez recalls the first time he went to White Party. "A friend and I decided to go 7 years ago. I was a bit over whelmed by the massive amount of people and production that went into the event. They really know how to put on a party! There was so much to take in. I had such a great time that I was determined to come back. Some advice I'd give to anyone attending for the first time would be. Take in as much as you can, the weekend is what you make of it! You will meet so many new people and make so many friends that you'll want to come back every year. Besides the parties there are so many great restaurants in downtown Palm Springs to try (all within walking distance of the host hotel). The entire weekend was absolutely amazing but by far my favorite event is the T-Dance. It's an outdoor venue; the weather is the perfect and the beautiful backdrop of the mountains makes the experience so memorable. After the sunsets there's even a fireworks display!"
You can see Jai as he hosts the White Carpet arrivals and introduces the main acts at the White Party events on April 25th – 28th in Palm Springs. Superstar entertainment has become a hallmark of the events: Lady Gaga, Jennifer Lopez, Mary J. Blige, Carly Rae Jepsen, Icona Pop, Anastasia, Toni Braxton, Carmen Electra, Ke$ha and Robyn have all graced the stage at White Party.
When asked who he think he'll be introducing Jai says he doesn't know for sure but speculates it could be anyone #BritneySpears (who started her Residency at #Planet Hollywood. Stay tuned in May when we cover her new show in Las Vegas) to #MileyCyrus who's "White Hot" right now. Other websites have rumors of everyone from #JenniferHudson, #Rhianna to #ChristinaAguleria performing. Make sure to follow us as we tweet and post live from the event!
It's not too late to get tickets go to the 25th Anniversary White Party in Palm Springs go to www.jeffreysankertickets.com!
Don't forget to follow Miss Temple @TeriyakiTemple or be her friend on Facebook www.facebook.com/teriyakitemple
www.instagram.com/teriyakitemple
Twitter: @TeriyakiTemple
Or her other personality:
www.facebook.com/davidlucnguyen
www.istagram.com/davidlucnguyen
Twitter: @DavidLucNguyen
Tags: Interviews, Jai Rodriguez, Palm Springs White Party, Queer Eye for the Straight Guy, sgsapp, Teriyaki Temple