Seattle Gay Scene is excited to welcome back our little Asian Drag Dumpling/Ace Reporter, The One and Only, Miss Teriyaki Temple.  She finally escaped the sweatshop they lock her in down in San Francisco, and she's back out hanging out with her celebrity friends.    This week launches the first park of a three part series including interviews with Reality Star Frankie Grande ("Big Brother 16" on CBS, and Broadway Star).  Oh and he's Ariana Grande's older brother.
The following week Seattle Gay Scene (and Teriyaki Temple) will chat with the Grammy Award Winner LeAnn Rimes and discuss her upcoming projects, her love life and her ever growing voice as an LGBTQ Ally!
---
For now, Teriyaki catches up with Frankie Grande: Social Media Bad Boy, TV personality ("Big Brother 16"), Broadway star (Rock of Ages) and Big Bro of Reigning Pop-Princess (Ariana Grande).  They chat about everything from meeting Madonna, his favorite moments from the past year, his thoughts on the new Pope and gushes about his upcoming appearance as this year's White Party Ambassador in Palm Springs.  Could his approach to media (social media) make him the next Oprah Winfrey?
Unless you've been completely out of the loop or perhaps living under a rock (of ages) you have probably heard of Frankie Grande. Prior to this interview I admit I only knew of him by several nicknames including:
Ariana Grande's Gay older brother
That Gay guy on "Big Brother 16" that was always snuggling with the hot straight guy
One of YouTube's Gay Dude Channel hosts
That pretty boy that hosted the Grammy Awards Red Carpet half-naked
Franz from Rock of Ages on Broadway
Now take all of those nicknames and couple them with the bleach blonde hair (with purple tips), a tanned perfect body (who posts scantily clad pictures of himself on "topless Tuesdays"), his sister is a pop-star with "alleged" diva tendencies (btw totally not true) and add in an outrageous (yet endearing) personality on his hugely popular YouTube channel, what conclusion about this stranger would you make?   After I scratched the surface I came to the conclusion. . . .
FRANKIE GRANDE IS THE NEXT GENERATION'S VERSION OF THE GAY LATINO OPRAH!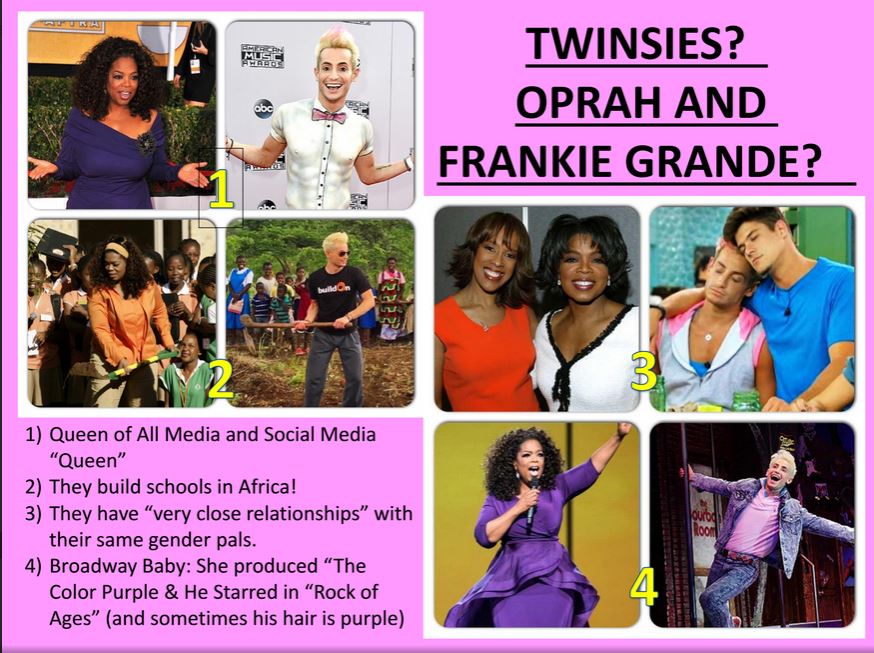 Last month I had the opportunity to catch up with Frankie while he was in Malawi (that's in Africa, for you less geographically inclined readers) as he partnered with buildOn . He was breaking ground on the Frankie J. Grande School using the money he won from his time on "Big Brother 16". We are so lucky he took some time out of his busy schedule to chat with us.
Teriyaki Temple: Can you tell me a little bit about the organization (buildOn) and how you became involved?
Frankie Grande: I founded an organization in 2009, Broadway in South Africa, doing community outreach with children in the South African townships. Broadway in South Africa dissolved in 2013 and I then began working with buildOn (2 years ago) and I decided to build my first school in Malawi.
Teriyaki: What's been the most memorable experience from this trip (or previous trips) to Africa?
Frankie: Breaking ground on the Frankie J. Grande School in Malawi earlier this month. The school is being built with the money I won on "Big Brother" in my grandfather's name.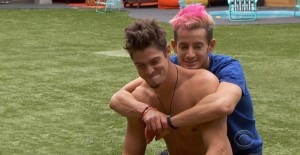 Teriyaki: Is there something you witnessed there that you wish you could share with everyone back home in the states?
Frankie: Over my past two trips I have witnessed how much pride and joy the communities take in helping build THEIR school, because it means so much to their moving forward. They want to change, they want to grow, and that inspires me.
Teriyaki: What other organizations or other causes are near and dear to your heart?
Frankie: Ever since my first stint on Broadway I have been working with Broadway Cares Equity Fights AIDS, as it is very near and dear to my heart, and I will continue to work with them.
Teriyaki: You've had a pretty amazing career in the entertainment industry from actor, singer, dancer, producer, director, social media personality, reality star and red carpet host. If you had to pick a favorite moment from the last year, what would it be?
Frankie: Opening and closing Rock of Ages on Broadway – both were such unbelievably overwhelming and joyous experiences that I will never forget for the rest of my life.
Teriyaki: Who's someone you've always wanted to meet and got a chance to last year?
Frankie: I finally got to meet Jessie J, and she is everything I have ever wanted her to be – funny, charming, talented, and beautiful. I love her.
More recently, it was Madonna! I got to meet her at the Grammys this year. She is the queen of all things. I have loved and admired her my entire whole life.
Teriyaki: While we are on the topic of Madonna: I read that you share the same religion. I understand that you and your sister sought spirituality through Kabbalah after being raised in the Catholic faith due to their stance on homosexuals/homosexuality. For readers who aren't familiar with Kabbalah, what differentiates it from other religions (Catholics, Christians, etc)?
Frankie: Kabbalah isn't tied up in political hierarchy. Its messages and lessons are easy to understand, very direct, and filled with positivity, love and light. It's about self-empowerment and focuses on the good within us, rather than punishing the bad.
There are no limits to what we can achieve. Limits are an unreal construct of the physics world, and we can exist above and beyond that.
Teriyaki: If you were able to sit down with the pope and discuss the way you were treated, what would you want him to know and possibly change in the way the Church handles the issue of homosexuality?
Frankie: I love this new pope. I think he is doing wonderful things for the Catholic faith, and for homosexuality. Basically, I would love for it to be made extremely clear that homosexuality is not a sin and not a choice.
Teriyaki: As your star continues to rise is there something you'd like to have the opportunity to do in 2015?
Frankie: I would love to play Hedwig in Hedwig and the Angry Inch on Broadway. I would also love to originate a role on television, as I have not yet had that experience.
Teriyaki: If you didn't work in the entertainment industry, what would you be doing?
Frankie: I'd probably be making use of my biology degree by studying insects in the rainforests or algae in the oceans. When I was younger I wanted to be a marine biologist!
Teriyaki: Do you feel that being openly Gay helped or hindered your career?
Frankie: I've never been anything other than open about my sexuality. And I believe this is part of the reason people love me.
Teriyaki: I recently saw on www.frankiejgrande.com you uploaded a video on becoming a 'Gaysha.' What would your drag name be (assuming you don't have one already)? And would you ever consider impersonating your sister Ariana?
Frankie: My drag name is Consuelo Manuella Raphealla Lopez, and I am giving you a super fierce Sofia Vergara! I have not yet impersonated my sister, however it could definitely happen in the future. I think it could be fun. She does have an up on me though, as she has the best body in the world.
[Teriyaki: Side note on Frankie's drag name – I was secretly hoping it'd be Areola Grande, because who doesn't love big nips?]
Teriyaki: It looks like this April you'll be the official Ambassador for White Party Palm Springs? What was your reaction when Jeffrey Sanker asked you to essentially co-host the event this year?
Frankie: I was honored and thrilled – the White Party is such a huge celebration of love, light and sexuality – my three favorite things. I fell in love with everything about it. It's such a great celebration of life and making new friends and new experiences and I'm honored to have been selected as the ambassador for this year. Last year I came with my sister and she was the headliner, so as you can imagine, it was extremely exciting, and extremely Gay – can't wait!!
Teriyaki: Will your White Party white carpet outfit be as daring as what you wore to host the American Music Awards (AMA'S) Red Carpet?  (For readers who can't recall his outfit check out the painted on white shirt all tied together with a pretty bow-tie below)
Frankie: Absolutely! It will be even more so. This is the opportunity to go Grande or Go Home! Get ready Palm Springs for my walk down the white carpet and my hosting duties with Kelly Osbourne.
Teriyaki: What are you most looking forward to at this year's White Party Palm Springs?
Frankie: I always love the musical performances, so I'm really looking forward to whomever Jeffrey has up his sleeve this year. His talent choices over the year have always surprised and amazed!
Be sure to join Frankie and thousands of other party goers from all over the world as they are dazzled by the super star entertainment that has become a hall mark of the White Party weekend.  Big names like Lady Gaga, Jennifer Lopez, Mary J. Blige, Deborah Cox, Carly-Rae Jepsen, Icona Pop, Anastasia, Toni Braxton, Carmen Electra, Ke$ha, Robyn and Ariana Grande have all commanded audiences at previous White Parties.  Stay tuned to find out who joins this list this year.
UPDATE: Producer Jeffrey Sanker announced today that legendary Grammy-winning, multi-platinum recording artist LeAnn Rimes will perform at this year's Circus T-Dance on Sunday, April 26th.
Said Rimes: "I am proud to have been a supporter of the LGBT community for as long as I can remember." Adding, "They have continued to embrace me and my music and I am so excited to be headlining the night at what is sure to be one of the best parties of the year."
FIND OUT MORE ABOUT WHITE PARTY:
Jeffrey Sanker's award-winning White Party Palm Springs – nine parties in three days – is the largest Gay dance music festival in the world. This annual event, held the fourth weekend in April, attracts tens of thousands of Gay men from all over the world for its beautiful desert oasis location, unforgettable parties and world-class entertainment. If you haven't made your plans to attend White Party Palm Springs, it's not too late! Visit: www.jeffreysanker.com.
(Visited 5 times, 1 visits today)