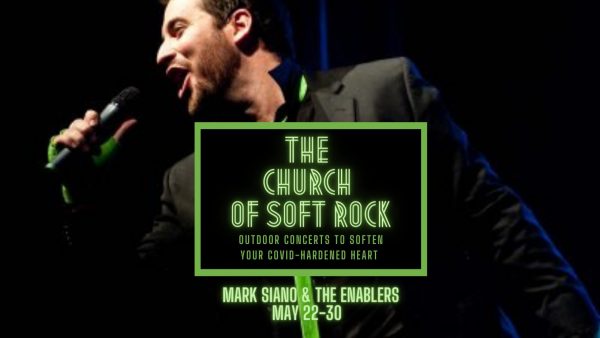 As more and more people get a vaccination against the Covid-19 coronavirus and hospitalization rates drop from the disease, more and more things continue to announce re-openings and one of the most anticipated is the the return of LIVE, in-person performances.
One of the first to announce such a thrilling thing is Seattle's own impresario and producer/performer MARK SIANO who made the bold announcement earlier this month that he would stage THE CHURCH OF SOFT ROCK at an outdoor stage in a parking lot in Seattle's SoDo neighborhood on the last two weekends of May.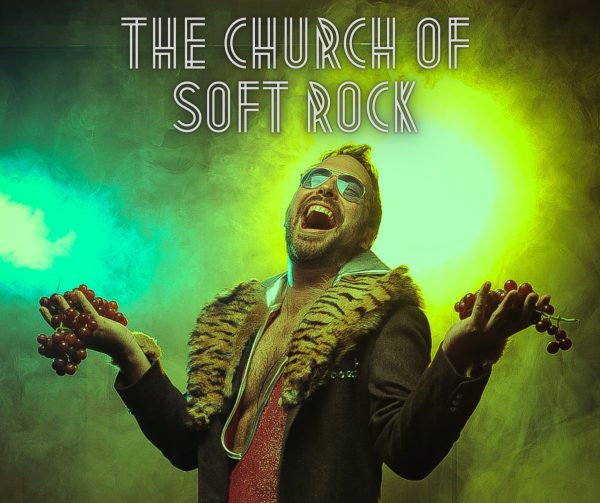 From the press release:
Back in business! Seattle's long time performing arts producer and impresario Mark Siano is leading his band The Enablers in a series of outdoor shows in Seattle's Sodo neighborhood May 22-30. In a world where Churches can still flourish, but the performing arts have been deemed superfluous, "The Church of Soft Rock" challenges the notion that music is not essential to the soul. This show is part music, part comedy, part sermon, and it's a great way to safely gather and enjoy some togetherness. The Enablers will be playing some of the smoothest Soft Rock jams ever with a healthy heaping of original music from composers Mark Siano and John Kranz. Mark and friends will convert an empty parking lot in Seattle's industrial neighborhood into an outdoor venue for a musical revival that will celebrate Seattle's path back to normalcy and to reclaim its spot as one of North America's top artistic cities.

Mr. Siano has had some recent success with helping launch Seattle's #MakeAJoyfulNoise https://www.youtube.com/watch?v=681OLV2ACCE and along with keyboardist and musical director John Kranz, they have created songs and scores to some of Seattle's most popular independent theatrical shows. Local credits include Seattle Vice (Triple Door, ACTLab), A Very Die Hard Christmas (Seattle Public Theater), Indy Jones (SPT), Modern Luv (Triple Door), and more.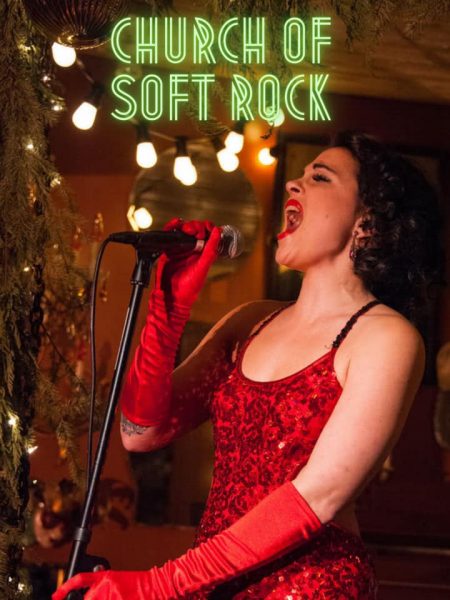 Prior to the pandemic Mark Siano had traveled to Berlin, where along with long time collaborator Opal Peachey, they were about to make their European debut with the annual favorite Bohemia (Triple Door, Cafe Nordo), but were postponed when shutdowns began in Germany. This is their first return to the stage and hopefully a sign of many more shows to come soon.

In the late 00s Mr. Siano started a cheeky series of shows based on Soft Rock medleys and music based stand-up comedy that helped garner a large following. Some favorite stories and bits from their Soft Rock heydays will be incorporated into these outdoor performances.
Performances:
Saturday May 22 -3:30pm feat. special guest Opal Peachey
Sunday May 23 – 4pm feat. special guest Helen Roundhill
Saturday May 29 – 3:30pm feat. special guest Opal Peachey
Sunday May 30 – 4pm  feat. special guest Helen Roundhill
More Info:
WHERE: Orca Bay Sodo Parking Lot – 2729 6th Ave S Seattle WA 98134
SEATING: Will be provided, or you can bring your own patio furniture, tailgating is also possible
PARKING: 2729 6th Ave S Seattle has parking, first come first serve
FAMILY AND PET FRIENDLY: Bring your dogs!
TICKETS: Please have confirmation email on your phone ready upon arrival
FOOD/DRINK: Ok to bring your own, this show will not have concessions
SAFETY: Please wear masks when moving about the lot, groups must be kept separated (5 per group for Phase 2) and limit 15 per group if Phase 3.
Snag those tickets HERE!!!
(Visited 7 times, 1 visits today)