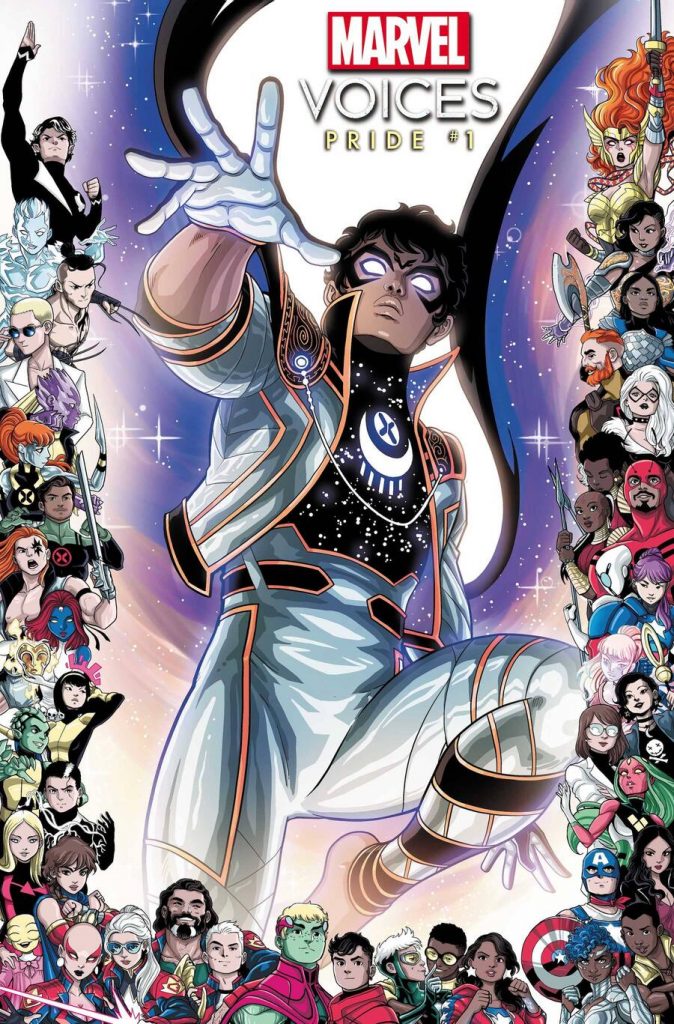 Just in time for Pride Month Marketing Opportunities, Marvel Comics gives us news of a brand new mutant superhero joining the Marvelverse: the unfortunately named SOMNUS!!!
(I'm sorry, but that name is AWFUL…like a sick portmanteau of "Some" and "Anus"….)
Anywho, yay for Marvel for creating more diverse characters as part of their enormously huge and complicated universe. Here's EVERYTHING you need to know about Some Anus!
Er, I mean, SOMNUS!!!
Via Marvel:
Last week, fans got their first glimpse at a brand-new hero set to debut this June—SOMNUS! Fans eager to learn more about this mysterious character will have to pick up MARVEL'S VOICES: PRIDE #1, where his fascinating backstory will be told by critically acclaimed writer Steve Orlando and, in her Marvel Comics debut, Eisner-nominated artist Claudia Aguirre.
A mutant who had an extraordinary impact on an X-Man long ago, Somnus' powers give him total control of people's dreams, but he was never able to follow his own. Now, Somnus is given a second chance at life, and he's determined to make the most out of it on the thriving mutant nation of Krakoa! With a mesmerizing costume design by artist Luciano Vecchio and unique mutant gifts, it's time for Somnus to step up in a big way and become the hero he was always destined to be.
"Somnus, Carl Valentino, is inspired not only by my own family history, but by my experiences with past generations of LGBTQ+ folks from across the country, people I wouldn't have met without comics," Orlando explained. "While there is still plenty of work to do, we've also come a long way as a community. Somnus is a chance to explore how my own late queer relatives may have felt, living in more prejudiced times. He's also a chance to celebrate past generations as a whole and acknowledge the strides we've made that they may not have lived to see. And with the Krakoan era being one of relative utopia for mutantkind, Somnus will bring a fresh perspective, and respectful gut check, to the young mutants of the present who may not know just how hard some had to fight for all mutants have achieved. Within the story and without, Somnus will be a new, complex character carrying a message of respect, power, and vision."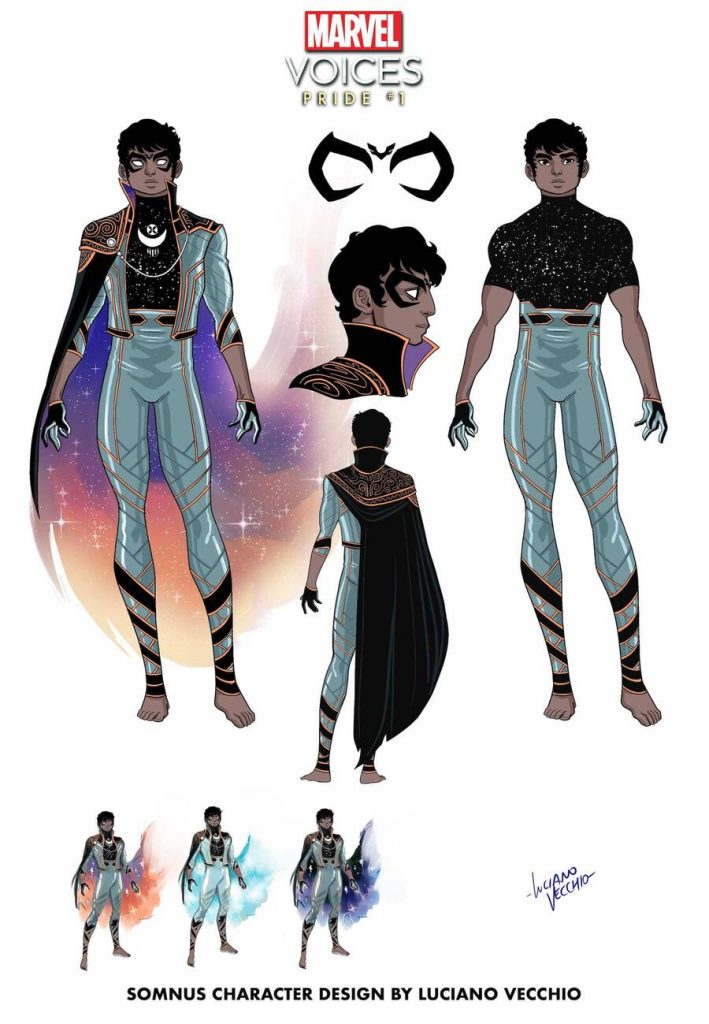 "MARVEL'S VOICES: PRIDE is ticking so many dream assignments for me! On top of doing the cover, a frame variant, and a story that I got to write myself, I also got to design a new queer character introduced in a story written by Steve Orlando," Vecchio said. "I'm so happy to finally collaborate officially with Steve and I fell in love with Somnus' concept and backstory right away. I got some input from him and editor Sarah Brunstad but also a lot of liberty to propose ideas. This time the design process itself felt almost like channeling. I wanted him to have an air of 'man of your dreams,' very charming and human but unreachable at the same time. Some visual elements are a mix of Mod fashion, a bit of Hellfire Gala influence, and a palette based on Etruscan vase art as a nod to the god he's named after."
Somnus will also be the star of Luciano Vecchio's celebratory MARVEL'S VOICES: PRIDE #1 Frame Variant cover! An homage to the iconic Marvel 25th Anniversary covers released in 1985, Somnus takes the spotlight surrounded by some of Marvel's brightest LGBTQ+ heroes. Check out the fully revealed cover above and don't miss this uplifting Marvel story when Somnus makes his first appearance in MARVEL'S VOICES: PRIDE #1 on June 23!
MARVEL'S VOICES: PRIDE #1
Written by KIERON GILLEN, ALLAN HEINBERG, ANTHONY OLIVEIRA, STEVE ORLANDO, TINI HOWARD, LEAH WILLIAMS, MARIKO TAMAKI, TERRY BLAS, CRYSTAL FRASIER, VITA AYALA, J.J. KIRBY, LUCIANO VECCHIO & MORE! 
Art by JAVIER GARRÓN, JIM CHEUNG, KRIS ANKA, JEN HICKMAN, PAULINA GANUCHEAU, JETHRO MORALES, BRITNEY WILLIAMS, J.J. KIRBY, LUCIANO VECCHIO, JAN BAZALDUA, CLAUDIA AGUIRRE & MORE!
Frame Variant Cover by LUCIANO VECCHIO (APR210818)
On Sale 6/23d
To be frank, the name of the country…Krakoa, is also pretty awful.
"Krak-oa"
(Obviously, Krakoa is a lazy verson of Krakatoa, a famous volcano in Indonesia). But, still.
And, I keed, I keed…Somnus is adorable and a needed addition to the Marvelverse.
(Visited 5 times, 1 visits today)