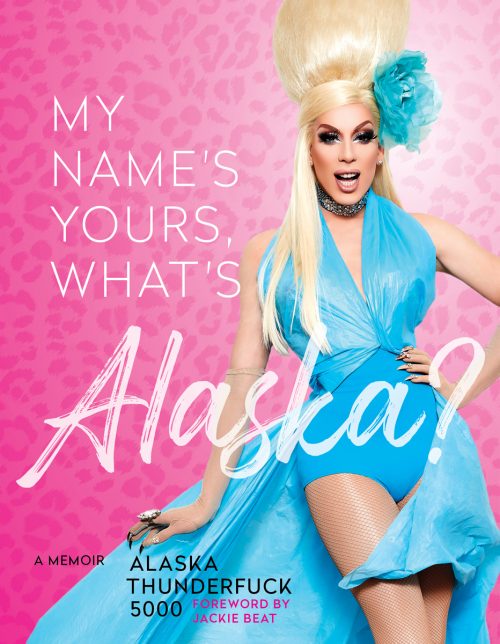 Put this on your holiday shopping list: popular Season Five RuPaul's Drag Race star Alaska Thunderfuck 5000 has a tell ALL memoir coming out on November 9th, just in time for stocking stuffing!
AND, it's a REAL book! From Chronicle Books and not some sad self-published mess!
Yay!
If you'll remember, she was originally on Season Five, the season where our own JINKX MONSOON was on and who eventually won the title that season. We're hoping for LOTS of juicy dish on behind the scenes DRAM-UH!
There had better be hair pulling and eye scratching!
More poo:
(San Francisco, CA) Alaska Thunderfuck 5000 is one of the most powerful and iconic Drag queens in the galaxy – but her captivating story begins as a small-town kid raiding her grandma's closet. My Name's Yours, What's Alaska?: A Memoir (Chronicle Books / $24.95 / November 9, 2021) is her intimate, alluring tell-all book coming this fall.
Told with signature wit and charm, My Name's Yours, What's Alaska? is an unfiltered look at Alaska's life and meteoric rise to fame. From childhood struggles to life lessons learned, the RuPaul's Drag Race All Star shares the challenges, life-changing discoveries, and victories that paved her path to superstardom. Today, she's a hit recording artist; global, in-demand performer; and heads a podcast network.
Of writing the book she says, "People have often asked me, 'Alaska- if you were to ever write a book, what would it be about?' The answer is simple- It would be about me, of course. In this book I plan to tell the T, the whole T, and nothing but the T— so help me Goddess. In telling my life story, from my birth until now, I hope to invite you into my world, to set the record straight, and to inspire the children of the world. Because if a poor skinny queer boy from Erie, Pennsylvania can grow up to be an extra-terrestrial starlet of stage and screen, then truly anus-thing is possible."
My Name's Yours, What's Alaska? spills the "T" on key moments, including:
Coming out as a teen and reigning as prom king
The fateful San Francisco Drag show that changed her life
The comic book character who inspires Alaska to this day
Her relationship with Sharon Needles and surviving their public breakup
The friends and family who supported her through highs and lows
Overcoming RuPaul's Drag Race rejection, to wear the All Stars crown
Alaska's first encounter with Lady Gaga
Behind-the-scenes memories from Alaska's time on RuPaul's Drag Race
In addition to being an entertaining memoir, My Name's Yours, What's Alaska? is an honest, emotionally resonate, funny, and unapologetic celebration of queerness, self-expression, and authenticity. Featuring exclusive photographs and illustrations, My Name's Yours, What's Alaska? is a fun, fresh, and wild ride right up to the finish line.

My Name's Yours, What's Alaska?
By Alaska Thunderfuck 5000 with Thomas Flannery
Foreword by Jackie Beat
ISBN: 9781797203225
6" x 8" • 240 pages • color photographs throughout• $24.95
Chronicle Books • Amazon • Barnes & Noble • Bookshop
About Alaska Thunderfuck 5000

A bizarre cosmic collision propelled Alaska to Earth…and onto the fifth season of "RuPaul's Drag Race," where she finished in the final 3 before returning and taking the crown as winner of season two of "RuPaul's Drag Race All Stars." She has released three chart-topping studio albums, "Anus," "Poundcake" and "Vagina", been a cast member of VH1's hit reality series "Scared Famous," released a young adult novel titled "Alaska Thunderfun and the Inner Space Odyssey", stars as Hattie in the short horror film "The Quiet Room" directed by Sam Wineman and has toured the globe spreading her otherworldly message of love, kindness and gender non-conformity. Alaska also co-hosts the wildly popular Race Chaser podcast with Willam and her YouTube videos boast over 60 million views with 15 million views alone (and counting) for 2017's "The T." She has over 1.8 million Instagram followers and over 1.2 million Twitter & Facebook followers. You can watch her first-ever stand-up comedy special "The Alaska Thunderf**k Extra Special Comedy Special." on the OUTtv USA Apple TV Channel. Alaska co-founded the LGBTQ+ Moguls of Media podcast channel on the Forever Dog Network. Her message to humankind? "If you're not wearing nails, you are not doing drag." Find her online at: alaskathunderfuck.com.

About Chronicle Books

Founded in 1967 in San Francisco, Chronicle Books is one of the world's most admired publishers and distributors of illustrated books, gifts, and games for all ages. Its highly acclaimed list spans art, photography, food, lifestyle, pop culture, humor, self-help, wellness, children's books, and stationery, among other categories. Chronicle is the home of numerous award-winning authors, bestselling series, and trend-setting titles. Chronicle Books is committed to partnering with artists and writers who represent the diversity of our world and to maintaining an inclusive and equitable working environment for its employees and business partners. For more information visit www.chroniclebooks.com.
(Visited 1 times, 1 visits today)