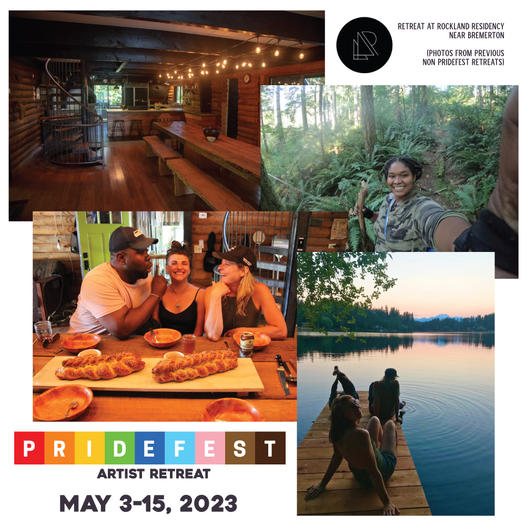 Seattle PrideFest is best known for producing the big festivals for Seattle's LGBTQ+ celebrations every June, primarily for the big Capitol Hill street festival on Pride Saturday and the huge festival at Seattle Center on Pride Sunday after the downtown parade.
But, they also like to produce other events through out the year and this year, they're providing an opportunity for LGBTQ+ artists to "get away" from it all at an artist retreat near Bremerton Washington May 3rd through the 14th.
And, if chosen, it's all FREE! (Though you have to get yourselves there.)
ALL the info below and a link to apply. Deadline is SUNDAY, February 19th!
PRIDEFEST ARTIST RETREAT: CALL TO ARTISTS
Thank you for your interest in the PrideFest Artist Retreat!
We are committed to providing opportunity to traditionally marginalized groups in terms of race, gender identity/expression, and sexual orientation. To do this fairly, our Selection Committee will contain BIPOC and LBGTQIA+ representatives. Our Retreat is free to allow greater access, funded through a sponsorship from Glamazon (Amazon's LGBTQ+ employee resource group). During the selection process, we are aware other groups can also be targeted for their age, ability, religion, gender and political beliefs. We strive to assemble a cohort of varied backgrounds and disciplines of art to stimulate an inspiring, sensitive and lively communal experience.
Please note: This is a Retreat for adults only 21+ years of age. No children, spouses or other family will be present on site during the duration of the Retreat. We do not allow guests.
Please begin your application by using the "Submit" button or "Guidelines" below. Dates and details to follow.
GENERAL GUIDELINES
Located in rural Bremerton, Washington, USA, in the Pacific Northwest, Rockland Woods hosts several artist residencies throughout the year and is a committed partner in the PrideFest Artist Retreat. Our selection committee members will be experts in the fields of music, writing and visual art. Our Retreat provides opportunity to dedicated artists with exceptionally strong work samples. In addition to innovative samples, a successful application will be genuine and thought provoking.
Resumes are not required. We accept emerging and established artists.
Details:
● Application Deadline: Sunday, February 19, 2023 11:59pm
● Retreat is 12 days: May 3-15 (arrive evening, leave morning)
● Must be 21+ years of age by May 3, 2023
● Cannot be currently enrolled as a student as a candidate for BFA or MFA degree
● 8 Residents will work at Rockland Woods. The only regular staff beyond residents is a coordinator and a chef, both who will live on-site during the retreat.
● Facilities: We provide private live/work spaces when possible, depending on studio needs. Buildings include aLodge, Barn Studios, The Saddle House apartment, Clean Studio, Treehouse, Lil Shop, furnished Canvas Tents, The Sheds Studio and The Norb 1948 vintage trailer. Studios: woodshop, ceramic studio with 1 wheel and 1 electric kiln (experience required)
● Property includes a lush 20-acre, 100-year old forest with trails, shoreline to a peaceful lake and view of Olympic Mountains.
● PrideFest expects its residents to use their time in any way they believe will benefit their creative process. There are no obligations tied to this opportunity. We gather for chef-prepared lunch and dinner followed by informal presentations (optional) in the evening.
● Residents provide associated costs for their own travel, supplies, and entertainment.
● PrideFest, in association with Rockland, provides accommodations, studios, utilities, household staples, chef for prepared lunch/dinner, food, promotion, guarded creative time and a welcoming community environment. PrideFest and Rockland reserve the right to remove any resident who does not provide an atmosphere of respect and safety for other residents and Rockland Woods. We expect inclusivity.
(Visited 37 times, 1 visits today)