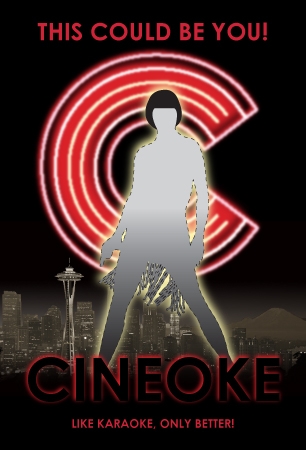 "The World's a Stage and we are merely all Players". Who here lives for all those musical movies such as
RENT, Moulin Rouge
and
Chicago
? (You know who you are, stand up and own it). It's that time of the month to head down to Belltown's Rendezvous Jewelbox Theater for their monthly sing along event,
Cineoke!, (presented by Three Dollar Bill Cinema).
You have hundreds of songs to choose from and it's like karaoke, only better. You're the star of your favorite movie musical. Pick any scene to sing along to, while the film and lyrics are projected onto the screen. There are hundreds of songs to choose from, or you can bring in your own special request. Just be sure to bring you favorite musical movie on DVD and show off what you've got hidden inside of you.
"Fans of movie musicals who secretly re-enact the "Call Block Tango" from Chicago (you know who you are) need not sing in the closet any longer. In the evolution of sing-a-longs, Cineoke! Is for the performer who wants to undo the shackles of conventional karaoke and go for all the theatrical gusto that comes with big Broadway productions"

–Athima Chansanchai, Seattle Post-Intelligent
Cover is only $5 the glitter and glam falls from the skies on Monday, January 10th at 7pm inside the Jewelbox Theater at the Rendezvous Café and Bar in Belltown. (2322 Second Avenue).
(Visited 1 times, 1 visits today)