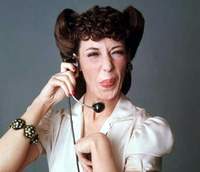 Lily Tomlin has been my Supreme Empress of All The World since I first witnessed her perform on stage some ten years ago at the Seattle Repertory Theatre in Jane Wagner's smashingly vivid one-woman show The Search for Signs of Intelligent Life in the Universe. That may sound like a super-silly way of looking upon a celebrity, but in all fairness to my claim of looking at her as such, I really do stand by that assessment. There really hasn't been a single project of hers I have not kept myself on top of since her radiant stage performance that evening, and it's more than likely I will be following her for the rest of existence.
By this point in my life, most everyone who knows me is aware she is my favorite working actress, and some have been around through my whole period of adoration. When I saw her perform at the Rep, I knew her only through her work as the voice of Ms Frizzle on "The Magic School Bus", and her performance in The Incredible Shrinking Woman. While brilliant at punching the laughs wherever she could, and as in favorable association to her work, I was also left paralyzed with astonishment at her ease and versatility. To see one woman, middle aged, all alone in the most simple outfit, perform a series of interwoven, thoroughly brilliant characters – often conversing between themselves – so effortlessly, just bouncing from one to the next then back to the other, and onto another… always fresh, always with full-energy, zest, appeal, and grace – never once failing to capture the distinct personalities that make each and every one an individual, entrapped in their own blender of problems and celebrations… it is, in a word, genius.
So, her most recent pit-stop on her "Best Of…" tour was here in Seattle, playing the beautiful 5th Avenue Theatre in downtown. A different theatrical offering, one that displayed the multitude of characters she has embodied, created, or co-created with Ms Wagner over the course of 40 years, once again in a single setting, relaying on pure talent and genius. I surprised myself, even, by my ability to recognize every character she introduced – including a super rare sketch involving a mother wading through her front yard turned literal war-zone by the neighborhood kids, one that I have read was a bit controversial back when originally introduced. Of course, we had the favorites properly introduced mid-way and toward the end of the evening's festivities, Edith Ann – the precarious 6 year old more often than not found sitting on a gigantic rocking chair, telling us some fable that she insists is truth; and Ernestine, the bitchiest tribute to the Telephone Operator possibly ever. The pageantry also mixed Lily's iconic "I'm worried…" opening that was featured in both her one-woman shows on Broadway, "Appearing Nitely" and "The Search…", my favorite being:
"I'm worried that if olive oil comes from olives, and peanut oil comes from peanuts… Where does baby oil come from?"
We sampled two slices of Trudy, the not-so-crazy-but-she's-totally-crazy New York City bag lady; a hysterical, unexpected, but perfectly welcome look into Madame Lupe, a beauty expert whose own patterns toward presenting herself as beautiful are best left to a reader's imagination; Judith Beasley, the homemaker who finds herself often inspired to come onto national television to inform you of the latest, brilliant product that has reinvented her way of keeping up a homestead, giving us the insight to her recent discovery of the joys in sex-toys; Lud and Marie, a take on Lily's own parents, though according to her, "their names have been changed to protect them" (a line I remember leading to the same sketch from her 1977 album "Lily Tomlin On Stage"); and (not to skip the rest) a brilliant assortment of others, including two monologues delivered by Lily Tomlin as Lily Tomlin… if that makes sense! All in all, another fantastic 2 hours spent with my favourite theatrical influence.
To wrap this up, for I could go off on any number of tangents right now… I must say, it was enchanting to see Seattle has such a beating heart for Lily. The audience was electric, alive, packed, and on its feet twice by the end of her show. Lily Tomlin has been, as I mentioned earlier, entertaining audiences for over 40 years, and by now has become a sort of national treasure. Her impeccable timing, and chameleon like versatility are unmatched by today's idea of physical comedy and live performance work, and to see she is still busting her chops, and giving every ounce of energy and individuality she has ever had is bewitching, and worth noting with proper appreciation. I hope her flame never goes out, and that my life will have many more experiences seeing her do what it is she does best.
Bless you, Lily Tomlin.
Tags: Lily Tomlin