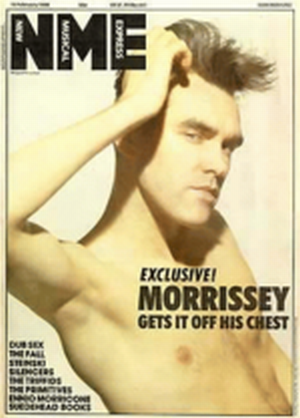 The Pony is honoring the man born as Steven Patrick Morrissey, aka the "Moz" or just Morrissey to his hordes of adoring fans, both for the solo work and for his seminal stint with "The Smiths", with a Birfday Bash for the singer on Sunday, May 22 starting at 9pm. The event, honors the man, his music, his influences, (Patti Smith, Lulu, Cilla Black, Bowie, etc) for your "visual and aural pleasure as he ushers in his 52nd year.
I've included my favorite Morrissey image, though it's rather poor quality…that pose and shaved arm pit have been driving me bananas for DECADES!
And, I'm still firmly convinced that he's singing, "You're the One for Me, Fatty" directly to ME!
Hot.