May 27, 2011

•
by
Seattle Gay Scene
It's official!! My annual pride party Hey Tranny it's Tranny is back! This is the first teaser of what is to come, for now you'll have to soak in mystery… Our lineup of DJ's includes Amoania, Devil Eyes, and Phyliss Navidad (L.A.) and perhaps some other surprises? All your favorite queens and queers from Seattle will be appearing, all under the wing of our fabulous party hostess Jinkx Monsoon. I am also very happy to announce that this year's party will be benefiting Gay City, an extremely important foundation on Capitol Hill that provides free HIV testing, awareness, education and so much more.
Hey Tranny It's Tranny Pride Party
Havana Social, 1010 E. Pike Street
Saturday June 25th, 2011
ALSO while we're taking this trip on the drag queen rumor mill, I heard some good news recently that could mean this big gay country's favorite party poppin', fundraising, gourmet cooking, 24 hour flawless, DJ'ing queen Juanita More! may be making an appearance in Seattle soon, and, the best part, on a monthly basis?! Yes please! Nark's got the scoop and will keep you posted.

Say yes to Juanita More Seattle!
(Visited 1 times, 1 visits today)
Related Posts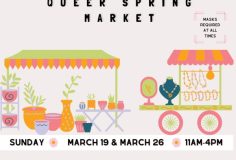 All Ages Events • Capitol Hill News • Community • Community Events • Community Health & Wellness • Community News • Living • News • Shopping/Retail • Weekend Calendar
Seattle's LGBTQ+ Center, the former Gay City, is hosting a
...