The title pretty much says it all! There's plenty of capitol "Q"-Queer action out and about in the Emerald City tonight, and I'm bursting at the seams to share it with the readers of Seattle Gay Scene. If you are a Seattle-ite, or just a visitor to our fair city, tonight is one of those prime nights for gettin' all dolled up and headin' out on the town! According to the weather man, you won't even need to bring a jacket! Isn't that a treat?!?!
Where to start, where to start…well, let's start with Fringe!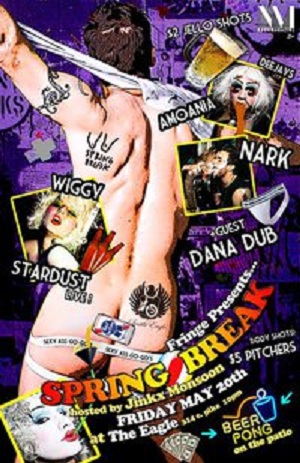 The quirky little party that NARK erected nearly a year and a half ago, when The War Room closed and the kids who had been attending Hard Times needed a place to congregate weekly to display their fantastical, glittery, costumed creations is back after a winter hiatus! Tonight's Spring Break themed party boasts Jello Shots, Beer Pong, Beach Balls (balls? hmmm….), DJ's Nark, Amoania, and Dana Dub, a perfomance by Wiggy Stardust, hosting from the ever-so-wonderful Jinkx Monsoon, and, well, private dancers. They are dancers for money. They'll do what you want them to do. Any old music will do. Wait, how did I just start channeling Tina Turner?
Anyway, I caught up with little NARK-e-NARK for a little Q & A about tonight's party and here's what he had to say….
READ the Interview AFTER the jump!
LAK : So Fringe returns, eh? Is this going to be a regular thing, or is this just a one night stand?
NARK: It's not just a one night stand baby, Fringe lovvves you, we have a date set every other month on the third Saturday, the opposing months will be Dickslap… You should still probably get tested though.
LAK : Oh yes, Dickslap! Your little middle finger to the WSLCB. I've heard good things though I've yet to make it! So about tonight, is there really going to be beer pong on the patio? …and is this a good idea with Amoania in the house?
NARK: Spring Break without beer pong is like sweat pants without Uggs, white t-shirts without cold water or frat boys without repressed homo feelings! Yes of course! With $5 Busch pitchers, I smell a lot of competition brewing.. and god knows what else. I cannot be held responsible if Amoania uses your ping pong balls inappropriately…
LAK : Jinx Monsoon & Wiggy Stardust? You will have some fire extinguishers on hand in case you need to control all this heat, right?
NARK: Wiggy is bringing fans made out of PBR and Oly beer boxes just in case, safe and burlesquey!
LAK : What are the top 5 jamz you will be sporting in your set?
NARK: 1. Coldcut – Find a Way [ft Queen Latifah] 2. Golden Bug – Sex Beat [Mustang Remix] 3. Juan Maclean – No Time 4. Newcleus – Jam On It
5. Sweaters – I Got What U Need [ft Lisa Dank]
LAK: I see that Dana Dub is playing. We go way back to the sandbox together. Will you tell him he better get bizzzzeeee? He'll know what I mean.
NARK: I'll write it on his forehead in glitter.
**extra notes from NARK: $2 Jello shots, Go-go's Kerry Niesen & Adaam King, a body shot girl and boy, beach balls, spring break party supplies (i.e. beer bongs, shot bongs, beer hats, etc) all given away for free!!!
Another hot happening tonight is goin' on underground. Literally. You know, that place that used to be Neighbour's 18+ overflow? Well it's been making waves with it's cutie patootie little Friday night weekly, The Get Down. Hosted by resident DJ Karl Kamakahi, this night is all about quality House music. All night long. Seattle House music royalty such as Bryan Lyons, Julie Herrera, Wesley Holmes and many other talented DJ's have been working it out on the decks, offering some quality House music for the queers every single friday night. This week features a co-presentation with Mindshift Records and headliner Evil Eddie Richards (UK).



This event also has absolutely excellent support from DJ's Murdoc (Mindshift, Condiment), Ctrl_Alt_Dlt (Sweatbox, From 0-1), Chad Neiro (Viva, chadneiro.com), Karl Kamakahi (De La Creme, the Get Down), and visuals by none other than the incomparable Hooker (12hr Notice). This event is gonna be nuts, completely worth your $10 cover!
After hitting these two events, you'll wanna keep the party going. Electric Tea Garden would be my suggestion. There's always something crazy crackin' up in that joint! A little birdy whispered in my ear that Tony Burns and JT Hooker have some serious tag-team action planned for around 6:30AM, WHEN THE BAR REOPENS. So stay out all night and greet the day, or pop back to your place for a disco nap and start your Saturday off with a little ETG love!
Whatever you do out there, be safe, use protection, don't get any on ya, and for gods sake, be nice to each other. The world is ending tomorrow, so you better start massaging that karma into place if ya know what I'm sayin'! Oh yeah, don't drive drunk either! Trust me, the taxi you take tonight is cheaper than the DUI you risk!
Check out The Eyes Of Laura Kendall for more from ME!
Tags: Fringe, The Get Down