September 28, 2011

•
by
Seattle Gay Scene
We have such an exciting evening coming up in Seattle this weekend with the musically charged mixture of two west coast legends visiting us at The Eagle on Saturday night, Juanita More and Victor Rodriguez! Individually, these two party powerhouses have fueled the best in nightlife in San Francisco (Juanita) and Los Angeles (Victor) from as early as the mid-80's; when combined in one place, asses are sure to shake uncontrollably.
This is a monumental evening as not only are these two combined in one DJ booth, but it is also Victor Rodriguez' first visit to Seattle or the Pacific Northwest in general, you're not going to want to miss this! I got the pleasure of interviewing Mr. Rodriguez about his upcoming visit.
Nark: Hi Victor, what's the first thought that comes to your mind when I say Seattle?
Victor Rodriguez: Trees and enviro-hotties.
N: So your biography says you are a jet setter, if you're not in L.A. or Palm Springs you're off in San Francisco or Puerto Rico and so on, DJ'ing, mingling, being amazing- and yet never to Seattle, what's up with that? We are a real city too you know.
VR: It's all about timing, I have been wanting to go for years. I can't tell you how much I'm looking forward to this trip.
N: Tell us a little bit about your beginnings in the night life world.
VR: I started working in an underground party called Plastic Passion in 1986, it was a really great weekly party that had different monthly themes. It started out in Old warehouses then moved to old hotel ballrooms in downtown L.A., the crowd was very mixed, all sorts. It really set a tone for me that followed me still today.
N: How do you compare the overall 'scene' to now?
VR: In L.A. We had a very cool boom about three years ago that very much had the same energy I witnessed back in the 80's. I felt blessed to do it twice. It was really nice to have the art, dance, fashion and music worlds have a strong presence in the club world, in an organic way.
N: You no doubt personally know all the biggest gay/queer/whatever performers, DJ's and public figures from the past 20+ years, who are some of your favorite people?
VR: The Horse Meat Disco guys, my Honey Soundsystem boys in San Francisco, my Spank and Stank kids (Christy Love and Jeremy of House of Stank) in New York, Billy Beyond, Gant Johnson, Tee Scott, David Mancuso, Frankie Knuckles, Bus Station John, Andy Butler, James Murphy and Pat Mahoney, Sleezy McQueen, Cole Medena, DJ Harvey, and of course my sister in crime Chris Bowen. My favorite figures I don't know are Patti Smith, John Waters, Irwin Allen, Herb & Dorothy Vogel and Minnie Riperton.
N: Give us a little idea of you're planning to serve up from the DJ booth?
VR: I'll tell you when I know, normally about five minutes before I start! But, as always, no top 40.
Get all this and more this Saturday night (10/01) at The Eagle starting at 10pm! (open afterhours, and cover charge is only 5 bones), for the introduction of Beep Beep!* A soiree brought to you by The Social Seattle, Fringe Presents and Nark Magazine. There will be a lot of looked served up and some of the best damn music you'll hear on the hill, alongside some good ol' jello shooting go-go dancing butt slapping Eagle fun, and since I'll be off for the night I get to hop around and capture all your looks for the party book. (Check out Nark Magazine's recent coverage of Juanita More's Bootycall Wednesdays in San Francisco last week here, and a Folsom recap on Queerty– here and here.)
(Visited 3 times, 1 visits today)
Related Posts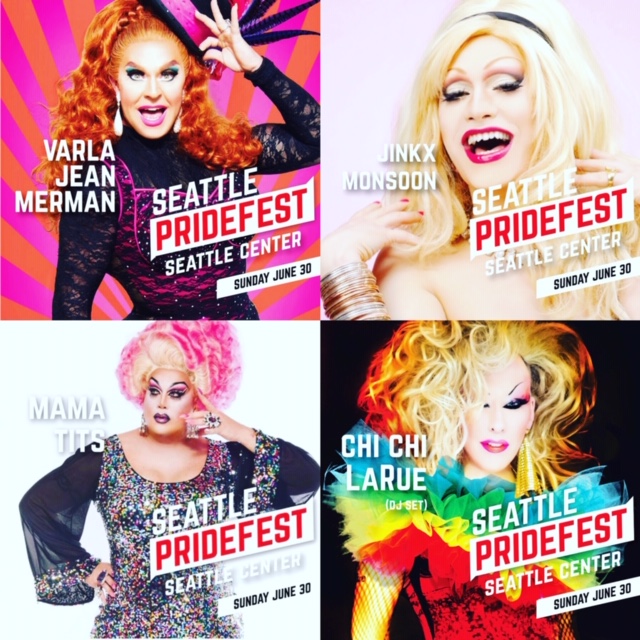 *Resist. Protest. Obstruct. Inform. • All Ages Events • Arts & Entertainment • Bars & Nightclubs • Capitol Hill News • Community • Community Events • DJ Dance Party • Family Friendly • Festivals • Free Stuff • Kid Friendly (Under 12) • Mark Your Calendars • News • Nightlife • Over 21 • Pride • Queer News • Queer Youth • Seattle Lesbian Scene • Seattle News • Seattle Pride 2019 • Seattle PrideFest • Seattle Transgender Scene • Stonewall 50 • Trans* Events • Trans* Pride • Under 21 Fun • We Love The Nightlife • Women's Events
Wanna know all the big outdoor/street parties/festivals going on next
...