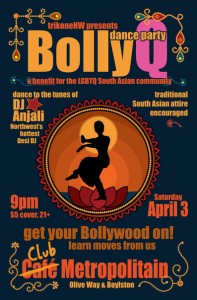 There is sooo much to immerse your nightlife itch this weekend and I've got your Weekend Nightlife Report here for your fingertips reach. First, Friday night is the closing night of Women in Peril at Annex Theater and your $10 tickets also gets you complimentary beer and wine and hors d'ouvres after the show. If you love shows like Bacon Strip, Working Gurl or Exorcist the Musical, then you won't want to miss out on this last night performance of Lifetime Movies Gone Wild.
Who doesn't love Bollywood? Add queer into the mix and there is one party to be the center of attention at. Saturday night at The Highline, there is a Queer Bollywood Party and Fundraiser that will spark up your clothing and spirits. This party is a also a fundraiser that will benefit Trikone Northwest's initiatives. With special guests DJ Anjali (Seattle's hottest Desi DJ), BollyQ is taking over The Highline and transforming (and transporting you and your guests) onto a set from an old Bollywood movie set. This is your chance to strut your Bollywood costumes and get your dance-groove-money-making-machine on!
Sunday afternoon at 4pm, at Neighbors Nightclub, you can catch a one night only performance of two celesbian Latina comedians, Sandra Valls and Mimi Gonzalez as they bring their unpredictable and always hilarious wit to Seattle. Lezberado is presented by Hot Flashes Dance and tickets are $15 to $20 (on a sliding scale) and is open to all LGBTQ folks. After this comedy show, you can stay and give your support to the La Femme Magnifique Washington and Washington Plus Pageant with hosts La Femme International 2010 Lily Armani and Le Femme Magnifique Washington Plus Katrina Davuall, along with the most influential drag queen in the northwest, Darcelle XV. The doors open at 6PM and there is a $15 cover which will benefit GLSEN. The contestants for the 2011 titles will enter into four different themes: Evening Wear, Theme Wear, Five Minute Talent Presentation and Las Vegas Showgirl. Each winner will receive a $250 prize and runner ups will receive a $100 prize. Show your support and see first hand who will be crowned as Washington's most prestigious and beautiful drag queens.
Finally,
(Visited 1 times, 1 visits today)