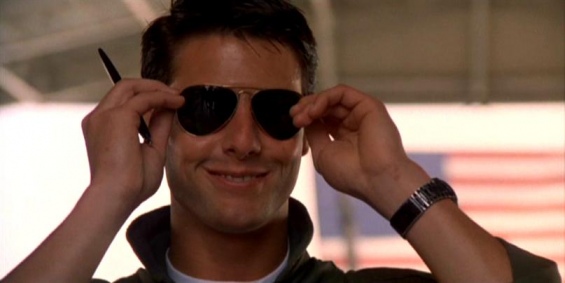 Yeah, he did it right… Is that why you fly the way you do? Trying to prove something? Yeah, your old man did it right. What I'm about to tell you is classified. It could end my career. We were in the worst dogfight I ever dreamed of. There were bogeys like fireflies all over the sky. His F-4 was hit, and he was wounded, but he could've made it back. He stayed in it, saved three planes before he bought it.

-Viper from the "Top Gun" film
Our lives changed when we added "Rocky Horror Picture Show" with audience participation in the theaters. Then it was the "Hedwig and the Angry Inch" phenomenon. Now we're about to get hot and heavy with HeckleVision's event with a high flying, shirtless volleyball playing, Kenny Loggins loving circle jerk with a screening of the Tom Cruise classic, "Top Gun". Highway to the danger zone is right as Maverick, Ice Man, Miss Charlie and even Seattle's very own Tom Skerritt battle it out in the sky and on land against the biggest threat to national security only with a twist: WITH YOU AND YOUR PHONE!
On July 12th, TOP GUN will be presented in glorious and fantastical HeckleVision, which means all your texts will appear directly on the screen as TOP GUN is screened at Central Cinema. The people at HeckleVision will leave all the censors off of H.V. if you promise to sing along to "You've Lost That Loving Feeling". TOP GUN is planned to run for two hours beginning at 7pm. Tickets can be pre-ordered and the prices are $6 for advanced tickets or $8 at the door. There will be food, beer and wine that you can purchase and you can have these luxury items brought to your table before, during and after the show.
(Visited 1 times, 1 visits today)