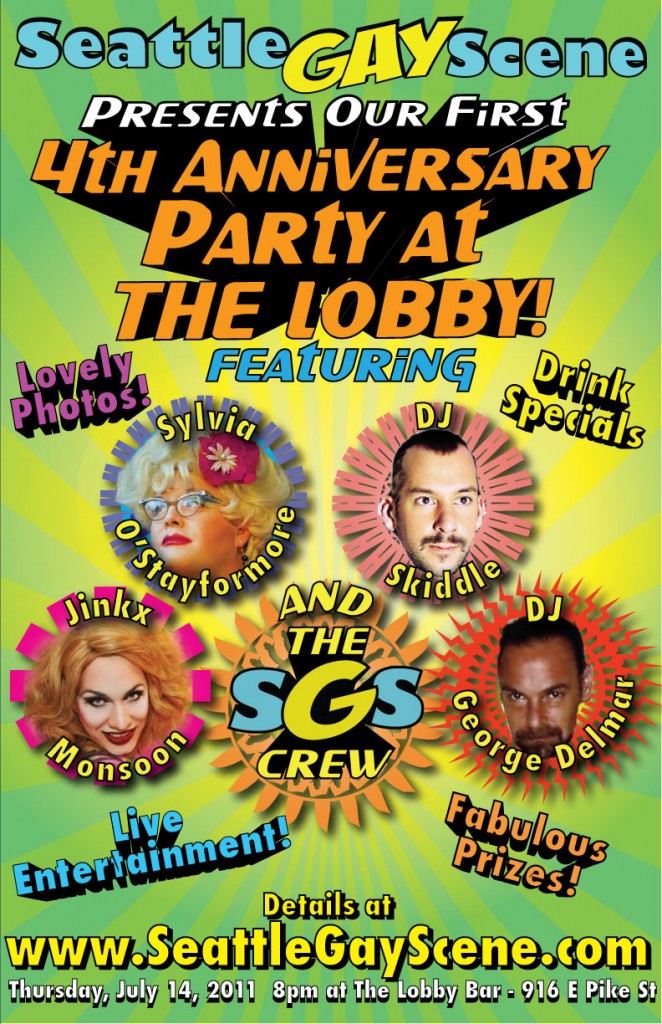 YUP! We turn four years old in July and to celebrate, we're throwing a big, PHAT birfday/anniversary bash at Lobby Bar on Thursday, July 14 starting at 8pm and going ALL night long! (Well, into midnight hopefully…)
We've got BIG name talent lined up including our Hostess with the Mostess, Ms Sylvia O'Stayformore bringing her special brand of moxie and sass, as well as a Special Guest Appearance from the biggest new star in the drag o'tainment firmament, Ms Jinkx Monsoon, the hardest working queen on the Hill.
If that wasn't enough, we have TWO popular dj's providing an event appropriate soundtrack; DJ George Delmar from Two Knights Events will spend the first half of the evening, followed by C89.5 FM's "Drive at 5" superstar, DJ Skiddle.
We suspect there will be a "Red Carpet Experience" and all sorts of Social Media opportunities and maybe some lovely Gift Bags and Door Prizes but don't quote us on that…we're throwing this bad boy together with very little warning… MORE will be announced as we get closer to the festivities.
Go to our Facebook invite to RSVP!
AND, don't forget we have TWO more events coming up on Friday, July 22 (Yes, TWO events on the same night…crazy, I know) with our lovely "The Goodtime Summer Funtastic Variety Show" at Re-bar, a tribute/travesty to those cheesy Seventies TV variety shows featuring the Captain & Tennille, Charo and the Starland Vocal Band, AND over at The Baltic Room, our co-production with Two Knights Events for "Daddyshack Disco" a wanton orgy of hot men and hot music.
"The Goodtime Summer Funtastic Variety Show" will star Ms Jinkx Monsoon, Mark "Mom" Finley", Anna Rexia, Cherry Sur Bete, Otter Pop, Jean du Jour, and those Darling Boys, Kerry & James plus more to be announced, and with dj Tony Burns providing the pre and post show musical entertainment. Oh, and Mr. Strangeways is hosting…yikes!
"Daddyshack Disco" will feature DJ George Delmar and some hot GoGo Men action plus all sorts of other perversions, to be announced…We're hoping we can lure "Bruno" out of retirement.
Mark your Calendars…it's a busy month!
(Visited 1 times, 1 visits today)