It's important for the LGBTQ community to support one another, both emotionally and financially. Obviously, Seattle Gay Scene wants you to spend some of your hard earned money at businesses that are either queer owned and/or operated, or at the very least friendly to the community. (and, by friendly, we mean that these businesses don't just want our money, they support us politically and socially…)
The GSBA, (Greater Seattle Business Association, aka "The Queer Chamber of Commerce") has the same goal and with their many events, they try to "hook up" LGBTQ and allied businesses with the community as a whole. On Wednesday, October 12, the GSBA will host "Pink $ Prime Time Expo" at Herban Feast in SoDo, in an effort to encourage the growth of "Pink Dollar" businesses.
Join us for the second GSBA Pink $ Prime TIme Expo.  Come mingle with GSBA members and guests and browse the over 50 tables of your fellow GSBA member exhibitors. See the many products and services GSBA has to offer and let them know about your business as well – all while tasting Herban Feast's amazing appetizers, sipping wine and chatting with friends. How could the evening be more fun!

We will also have a special wedding section in case you are planning a wedding or special event – you will have to search no futher for the services you need.
Obviously this is geared towards the business community, but the public is invited to attend…come check out what local queer businesses have to offer. But, you must pre-register to attend this event…go here to sign up.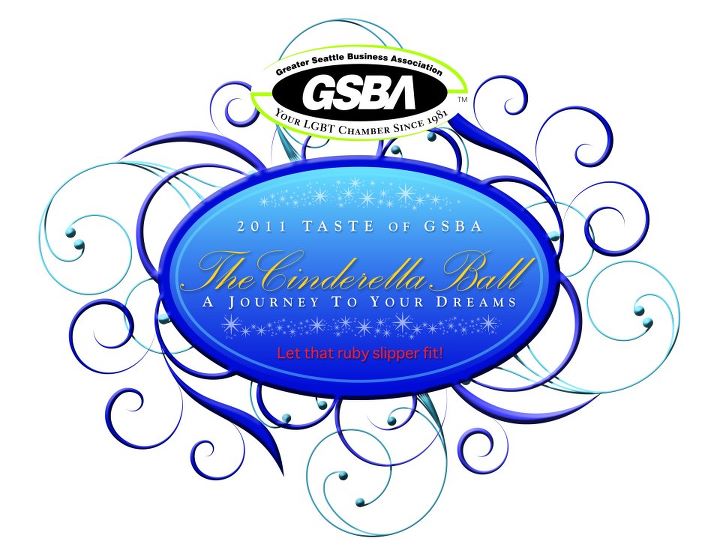 You can also go to the website to get information and purchase tickets for their big November fundraiser, "Taste of GSBA 2011…The Cinderella Ball: A Journey to Your Dreams" which is set for Saturday, November 19 at the Seattle Sheraton. Entertainment will be provided by the cast of the 5th Avenue Theater's production of Rodger & Hammestein's Cinderella, featuring two of our favorite local performers, Nick Garrison and Sarah Rudinoff as the Ugly Step Sisters, and food from these local businesses:
As You Like It Catering
Herban Feast Catering/Fresh Bistro
Hi Spot Café
Sazerac
Starry Nights Catering and Events
The Space Needle
Tuxedos and Tennis Shoes
Two Tartes Cafe & Catering
Who knows? Maybe you'll find your Prince or Princess Charming at this ball…
Tags: Cinderella, GSBA, Pink $ Prime Time Expo, Taste of GSBA: The Cinderella Ball, The 5th Avenue Theatre