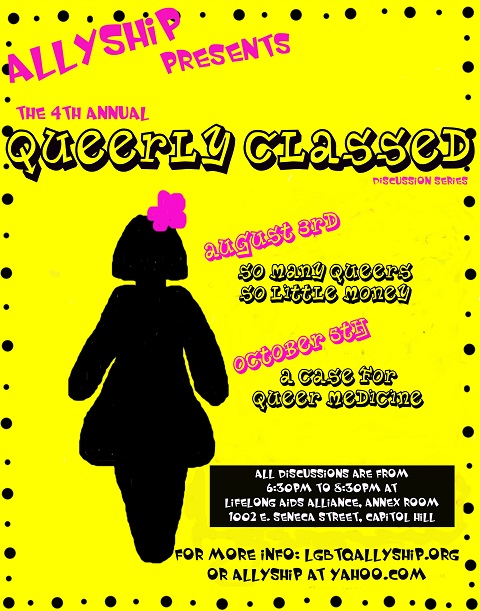 LGBTQ Allyship, the organization for social and economic justice, is presenting their final "Queerly Classed Discussion" for 2011 this evening from 6:30pm to 8:30pm at Lifelong AIDS Alliance, Annex Room, 1002 E. Seneca. The final discussion will focus on "The Case for Queer Medicine" and will focus on "the most pressing LGBTQ health care disparities locally and discover what the broader health care justice community is doing to remedy our broken health care system." The event is free to the public.
Headlining the panel tonight will be:
Gina Owens – a member of Washington Community Action Network (WA CAN) will speak about how people of color are affected by the current health care system through her own experience. Gina's daughter tragically passed away at the age of 28 due to lack of health care. Now Gina and her grandson are tireless activists for health care reform and stood next to President Obama in Washington DC as he signed in the Affordable Health Care Act of 2010.
Marcos Martinez – is the Executive Director of Entre Hermanos, a community based non-profit that serves the Latino gay/lesbian/bisexual/transgender community of Seattle and King County. Marcos serves on the state of Washington's HIV Prevention Planning Group; a stakeholder group that develops approaches to reducing new HIV infections in Washington state. He is board president of the Youth Media Institute, a Seattle nonprofit that provides young people from diverse communities with media training and civic engagement opportunities, with a social justice lens. And he is also on the board of the Minority Executive Directors Coalition (MEDC), a coalition of community leaders of color – and their allies – dedicated to achieving equity, equality and social justice
Sean Leao – is a local transgender activist that has co-founded Gendercast, a free podcast that discusses relevant and current topics specific to gender identity and what it means to live in a world in which one's gender doesn't match assigned sex at birth. Sean has worked in the health care field for seven years as a practice assistant, researcher, and patient advocate. He is currently pursuing a master's degree in Social work and Public Health. Sean's approach to activism seeks to empower every voice within the community and build an inclusive social justice movement that will both rally around shared oppression, and allow for every person to honor their individual experience and truth.
David Haack— has also been involved in the following Boards Equal Rights Washington Past Board Member and Vice Chair, Verbena- Board Member, Senior Services of Seattle – Board Member, South End Senior Care Coalition Founding Member and Past President, The Puget Sound Health Care Professionals – Founder and the newest addition, The NW LGBT Senior Care Providers Network.
Featured performers for the event will be Casey Tonnelly and Finn Cottem.
(Visited 3 times, 1 visits today)