YAY! We survived Day One of Halloween Weekend…did you? We spent our Friday at Gay City's BUMP! party at the Showbox at the Market with a buttload of people in some AMAZING costumes with some AMAZING music. We've started uploading the photos we took over at our Facebook page…please check them out, and tag yourself if you're in a photo. And, we know there was dozens of other events last night…if you have photos you wanna share, send them our way.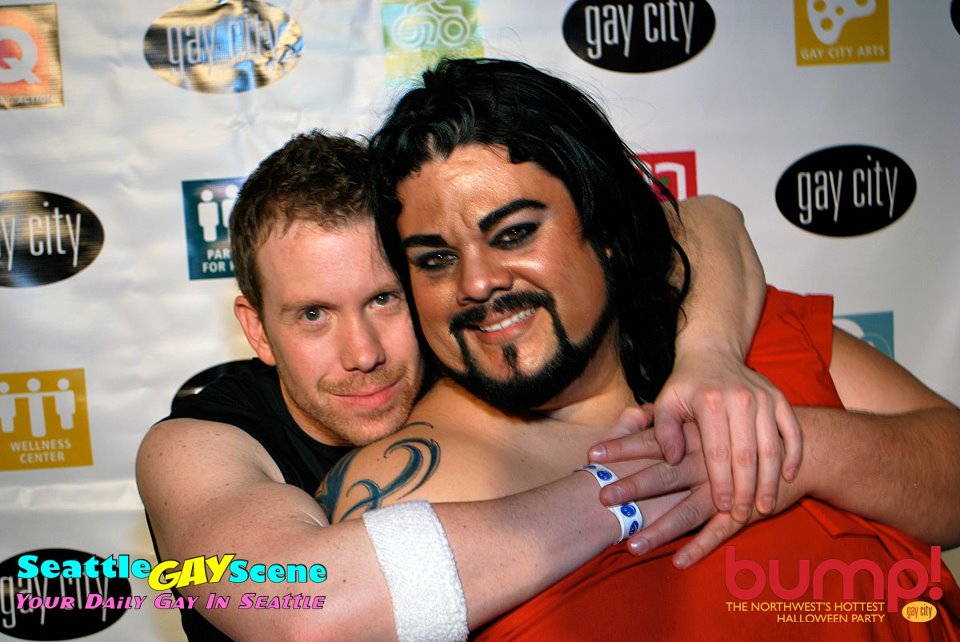 Meanwhile, we're on to Day Two of this long Holiday Weekend and there are even more events to choose from and more costumes to be put together. (Really, you need a costume closet to handle your Halloween wardrobe…) Big events tonight include Nark's naughty escapade, "Halloween Smash" at Havana w/ Riff-Raff, Nark, Lisa Dank and costume contest hosted by Jackie Hell; it's a fundraiser for Gay City. Then there's Sinfinite's "Ravage" at The Baltic Room w/ DragRace Superstar Morgan McMichaels & zexy adult star/DJ Tristan Jaxx and hostess Mama Tits. Not to mention "Horror Under the Big Top" at The Cuff; "Freak Show" at Neighbours; "Haunted Playboy Mansion" at Purr; "Dial-Up" at Seattle Eagle; and, well, EVERY bar/club/venue is hosting SOMETHING special, (some combo of "costume contest/prizes/drink specials").
As usual, please be careful out there…drunken stumblings on wet streets wearing costumes that impair vision, hearing, and movement are a recipe for disaster! AND, don't be wandering around by yourself; muggers/bashers sometimes emerge on weekends like this…AND/AND, drunken/high folks wearing slutty/easy to remove costumes sometimes forget to take precautions….please play safe and stick a condom in your shoe/wig/g-string if the "need" should arise. (Hetero ladies, that goes for you, too…do you want a drunken fumble in the back seat of a car with some dude dressed like a Smurf to result in a "surprise package" next July? Or, a nice case of the VD? We think not…)
That is all my fatherly advice…here's tonight's Calendar:
October 29, 2011: Saturday Halloween Weekend Events
The Rocky Horror Show LIVE! @ Re-bar. The Schoolyard's live stage production of the classic scary/camp stage musical. Do the Time Warp in person with a cast of brilliant local actors including Josh Hartvigson as Frank'n'Furter. 21+. Tickets in advance/Cash only at door.
Can Can Cabaret: This is Halloween! @ The Triple Door. The zexy dancers of Can Can Cabaret return to the Triple Door for their tribute to Tim Burton's "Nightmare before Christmas" complete w/Jack Skellington. Shows at 7pm (all ages) & 10pm (21+).
Horror Under the Big Top at Cuff Complex w/ DJ Blaine Soileau. Costume Contest at Midnight: $1000 First Place, $500 Second Place and $250 Third Place 9pm-3am, $10. 21+
Halloween at Lobby Bar: Drink specials all weekend. Enter to win two tickets to SF at 10pm. 21+
Capitol Hill Halloween Smash at Havana w/ Riff-Raff, Nark, Lisa Dank and costume contest hosted by Jackie Hell 9pm-2am, $7-$10. Proceeds benefit Gay City. 21+
Freakshow @ Neighbours Nightclub w/ DJ Randy Schlager 10pm-4am. 21+ (18+ at 2am)
RAVAGE – Halloween w/ DragRace Superstar Morgan McMichaels & Tristan Jaxx @ Baltic Room w/ hostess Mama Tits for an incredible night of spook-tacular drinking, dancing, and debauchery! 9pm-3am, $10-$15. 21+
Shake Your Ghoul Thing at Seattle Design Center w/ DJ Disco VInnie. Acrobatic troupe The Cabiri, Seattle GoGo Dance Talent, two luscious members of Le Faux, and lip reader Jilly Eddy will perform Lipsology. This is a private non-profit event with an open bar. Any profit made will be donated back to local charities. 8pm-2am, $45-$50. 21+
LeFreak Presents LeFright! @ The Wildrose. Haunted House Party with costume contest & DJ's Blü, Amateur Youth, Julia, Teenburger. 21+
Dial-Up Halloween Dress Down 90s Sexplosion @ The Eagle w/ DJs Chip & Mr Smith 9pm-3am. 21+
Hot Flash INFERNO @ Neighbours Nightclub w/ DJ Dirty Kurty 6pm-10pm, $10. 21+
Chocolate Kisses presents Trick or Treat @ Waid's w/ DJ Heartthrob spinning from the latest Hip-Hop/R&B 10pm-2am, $7-$10. 21+
Halloween Party at Bar Myx in Everett: Come On Out…If You Dare! Costume contest with cash prizes, drink specials, shot boys and girls, dancing w/ DJ Trent Von 7pm-10pm, No Cover. 21+
Halloween Gay Bingo @ Amore Infused. $2 dollar Bingo Cards or 3 for $5 w/ your fabulous hostesses Taylor Couture and Harmony 8pm, $10.
Haunted Playboy Mansion @ Purr. Costume contest, drink specials. 21+
Annual Halloween Party @ Madison Pub. Costume contest winners at 10pm: $300 for 1st, $200 for 2nd, $100 for 3rd, drink specials. 21+
Vogue Halloween @ Neighbours Underground (Broadway entrance). Seattle's long running Vogue crowd hosts a Halloween bash from 9pm to 3am. Costume contest/prizes.
Talcum Soulful Halloween Party @ Chop Suey. Seattle's queer friendly monthly soul party. Yes, there will be a costume contest/prizes. 21+
Desnudo @ Center for Sex Positive Culture. The men's nude dance party returns to Seattle with DJ Ntelect. Note: this is NOT a sex party. Naked: yes; Gettin' freaky with your "bait and tackle": No. Obviously this is 21+ with mandatory clothes check.
(Visited 1 times, 1 visits today)