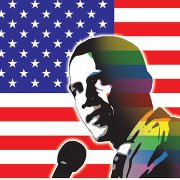 It's tonight, Tuesday January 24, 2012 at Lobby Bar starting at 5pm.
Join us Tuesday at the Lobby Bar to watch the President speak live to the nation about our state of the union and his vision for the future.

The LGBT & Allied Community have many things to celebrate due to the accomplishments of our President – the repeal of DADT, the expansion of hate crimes laws to include sexual orientation and gender identity, the Administration's decision that DOMA is unconstitutional and will not be defended by them in court, and many others. Equal Rights Washington endorsed Obama in 2008 and our watch parties of the debates drew thousands. Join us as we gear up for the 2012 elections and come together to hear about Obama's future plans!

Suggested donation: $10

UPDATE – Given the big news yesterday in which history will soon be made with the passage of marriage equality, we've added a special party to commence after the SOTU. Join us as we raise a toast to the extension of fairness, justice, and equality to thousands upon thousands of Washingtonian lesbian and gay families! It's time to celebrate!!!

Hope you can join us for a very fun evening!
(Visited 1 times, 1 visits today)