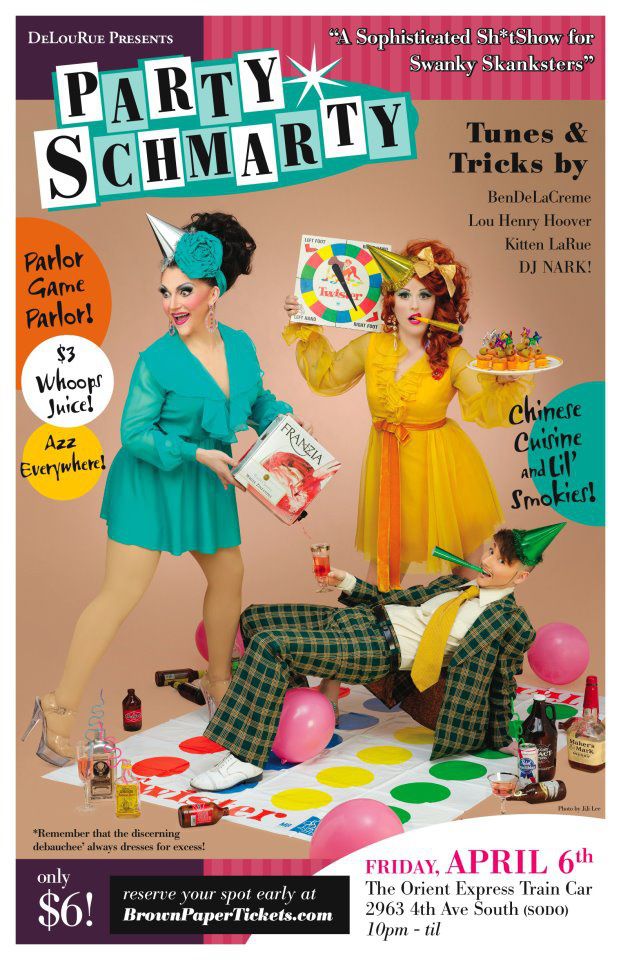 (I hope there's not a murder…is Poirot coming?)
Yes, those delightfully talented performers/producers: BenDeLaCreme, Kitten LaRue and Lou Henry Hoover are teaming up again for another fagtabulistic night of gaiety, variety and all sorts of non-sobriety. Not satisfied with their "Homo for the Holidays", they're giving us a treat for April: "Party Schmarty"! Here's the goo:
PARTY SCHMARTY!
"A Sophisticated Sh*tshow For Swanky Skanksters'"

Friday, April 6th
The Orient Express Train Car
10pm till close
$6
Reserve your spot on the train @ www.brownpapertickets.com

The producers of beloved theatrical extravaganzas "Homo for The Holidays!" and "Freedom Fantasia" dip their peep-toe pump into the party pool with PARTY SCHMARTY! : "A Sophisticated Sh*tshow for Swanky Skanksters".

Kitten LaRue (co-creator of legendary club night TRAINWRECK!) and drag superstars BenDeLaCreme and Lou Henry Hoover join forces with nightlife wunderkind DJ Nark to bring you the weirdest,
bangin'-est, most tucked away cheese platter of showbiz dance-party realness you can find in a train car/Chinese restaurant!

Why should I schlep my hard-earned $6 out to SODO for yet another party, you might ask? Here's the rundown (and why you'll never want to leave):

AMBIENCE: A collection of antique train cars with nooks and crannies for getting into trouble. Get twisted with a new friend in our "parlor game Parlor"!

AZZ EVERYWHERE: DJ Nark plays whatever the eff he feels like, and you will love it. DJ Kitten LaRue will be scratchin' the decks with her claws too, yo!

ASSERTIVE DRINKS: We'll be serving up $3 "Whoops Juice"….Don't you *DARE* ask what's in it!!!……(OK, it's lots of booze and sugar.)

SNACKS: Chinese food! Lil' Smokies! Andy Capp's Hot Fries!

ENTERTAINMENT: Kitten LaRue, BenDeLaCreme, and Lou Henry Hoover will be assaulting your eyeballs with dragtastic acts too declassee' for their other shows.

PRIZES for the swankiest skankster in the joint! Think "cocktail hour in the dumpster"… Or "do The Watusi till you puke"…. Or "yacht party in a kiddie pool filled with Miracle Whip." You get the gist.

*Remember that the discerning debauchee' always dresses for excesses!

All this delight for only $6!
Reserve your spot EARLY at www.brownpapertickets.com, or just bring six bucks to the door!

PARTY SCHMARTY! will be a RARE and wonderful event, just like the Halle-Bopp comet, so GET HERE.
(Visited 1 times, 1 visits today)