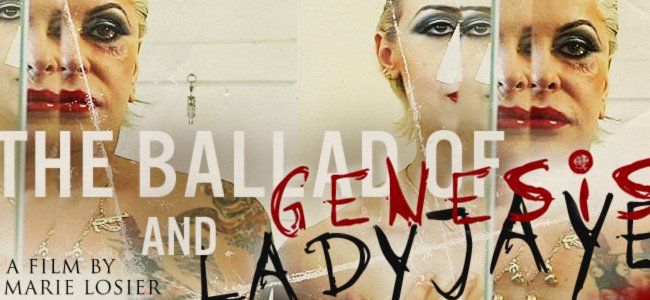 It's Lucky Number 7 for Three Dollar Bill Cinema's annual film festival for the trans community: the 2012 Translations Film Festival opens this coming Thursday, May 3rd for a four day long run, featuring a wide variety of feature films and shorts focusing on many different aspects of the transgendered/transsexual/transvestite communities.
"The festival has a powerhouse of films this year," says Jason Plourde, Three Dollar Bill Cinema's Programming Director.  "From the Opening Night premiere of the award-winning THE BALLAD OF GENESIS AND LADY JAYE to the closing screening of the groundbreaking Iranian film FACING MIRRORS, Translations is showcasing films on transgender artists, inventors, and provocateurs from around the world."
That Opening Night film, THE BALLAD OF GENESIS AND LADY JAYE, will appeal to a wide array of film fans. The documentary centers on performance artist/punk pioneer Genesis Breyer P-Orridge and soul mate Lady Jaye as they undergo numerous sex reassignment procedures with the goal of assuming physical aspects of each other, while creating a unique "invisible" third personality. They called their work the "Pandrogyne Project" and it's a fascinating study of a couple dedicated to not only their art and the social and political implications of that art, but also their love and dedications to each other. (It's also quite funny and very touching…and, as you watch the film and listen to Genesis speak, one wonders if John Cameron Mitchell might have based part of "Hedwig" from "Hedwig & The Angry Inch" on Genesis.)
THE BALLAD OF GENESIS AND LADY JAYE is the opening night gala for the 2012 Translations Film Festival and screens this Thursday, May 3rd at 7:15pm at SIFF Cinema at The Uptown with an after party at Solo Bar (2200 Roy Street). Tickets are still available. Regardless of your gender or sexuality, you'll want to check out this fascinating couple.
Translations then moves to Northwest Film Forum on Friday, (and, for the duration of the festival) for two screenings on Friday, May 4th: the northwest premiere of the Pedro Almodovar produced, Spanish language charmer, THE LAST SUMMER OF BOYITA which examines the life of an intersexed Argentinian boy. That screening starts at 7: 15 pm and is followed by a fun shorts program: ROCKIN' ROLES which includes several locally made shorts, including films by Lonnie Tristan Renteria, Clyde Petersen and our own Alex Berry's JINKXALIOUS starring Jinkx Monsoon.
For Saturday and Sunday, screening begin at 1pm and continue throughout the day. Highlights for Saturday include RADIO WARS (Saturday at 2:30pm) a documentary on Martine Rothblatt, the trans woman behind the invention of satellite radio, and the 7:15pm screening of I STAND CORRECTED, another documentary examining the life of jazz musician, Jennifer Leitham:
The world of jazz musicians has typically been a boys' club, homophobic at best. So what happens when a transwoman breaks in? Jazz bassist John Leitham had established himself as one of the top stand-up virtuosos in the business, hand-picked to accompany luminaries like Woody Herman and Mel Tormé. But John kept a secret from these colleagues: living as John on the road, but Jennifer at home. This compelling documentary reveals how Jennifer Leitham's bandmates handled her transition (Doc Severinsen most touchingly) and how her career survived the journey, proving that one can find allies in the unlikeliest of places.
Ms Leitham is scheduled to attend the screen and participate in a post screening Q&A.
If you're looking for something a bit spicier, then check out the 9:30pm screening of DOING IT OURSELVES: THE TRANS WOMEN PORN PROJECT, a very graphic look at just what the subtitle says: trans women making porn! It's definitely adults only…
The festival wraps up Sunday with 4 screenings including another great documentary with special guests:
In some ways, AUSTIN UNBOUND is familiar: a transman grows up uncomfortable in his body and copes with loved ones through his transition. However, Austin is also Deaf. Through this unique documentary, he not only reveals his personal journey, but also a glimpse of the Deaf community and culture he holds dear. Charming and brash Austin travels from Portland (where he performs in a talent show fundraiser for his surgery) to California (on a road trip for the operation) and back home again to family and friends. AUSTIN UNBOUND is a touching portrait of a remarkable young man and an engaging experience for both hearing and deaf audiences.
AUSTIN UNBOUND, Eliza Greenwood & Sel Staley; 2011; US; 45 min.

Playing with: MIND, Emma Crimmings; 2011; Australia; 26 min.
Using writing and fantasy as a way of exploring the nature of identity acclaimed Tom Cho embarked on a profound personal transformation revisited in this wildly imaginative film. Winner Best Transgender Short Film at the 2011 SLGFF!
AUSTIN UNBOUND screens at 4:30pm and both director Eliza Greenwood and the subject, Austin, are scheduled to be in attendance.
The 7th Annual Translations Film Festival wraps up at 7:15pm Sunday, May 6th, with the northwest premiere of the first narrative film from Iran to feature a transgender main character…FACING MIRRORS:
a story of an unlikely and daring friendship that develops despite social norms and traditional beliefs. Rana drives a cab in order to survive financially and pay off the debt that keeps her husband in prison. By chance, she picks up Eddie, who's on the run and desperately awaiting the passport he needs to leave the country. When the religious and inexperienced Rana learns that her wealthy passenger is FTM, conflicts arise, but could they eventually help each other out of their dire situations?
For more information, tickets and to check out trailers for all the films/programs, go to the Translations Film Festival page at Three Dollar Bill Cinema's website. AND, all films are on our Main Calendar.
Tags: Austin Unbound, I Stand Corrected, Jennifer Leitham, Northwest Film Forum, SIFF at The Uptown, The Ballad of Genesis and Lady Jaye, Three Dollar Bill Cinema, Translations Film Festival